It has been no secret that this season has been a tough one for the New York Yankees. One of the biggest names in MLB history, they have faced several difficulties on the pitch as players have failed to deliver consistent performances. Having endured one of the worst run of successive defeats recently, the Yankees seem to coming back on the right track. On Sunday they swept the Houston Astros for the first time since 2013.
The Astros have been on the rise since their move to the American League in 2013. In the past decade, they seem to have had the upper hand over the Bronx Bombers. The rivalry between these two has intensified following the postseason meetings between them where the Astros have got the better of them.
The reigning champions have faced a tricky situation this season. The sudden emergence of the Texas Rangers and the Seattle Mariners has put pressure on them. Their position in the AL West division has now taken a hit following this series sweep.
Related: "He'll never be that nasty" – MLB TWITTER buries Mookie Betts for AWKWARD reaction towards Ronald Acuna Jr.' home run
Twitter reacts as NY Yankees sweep Houston Astros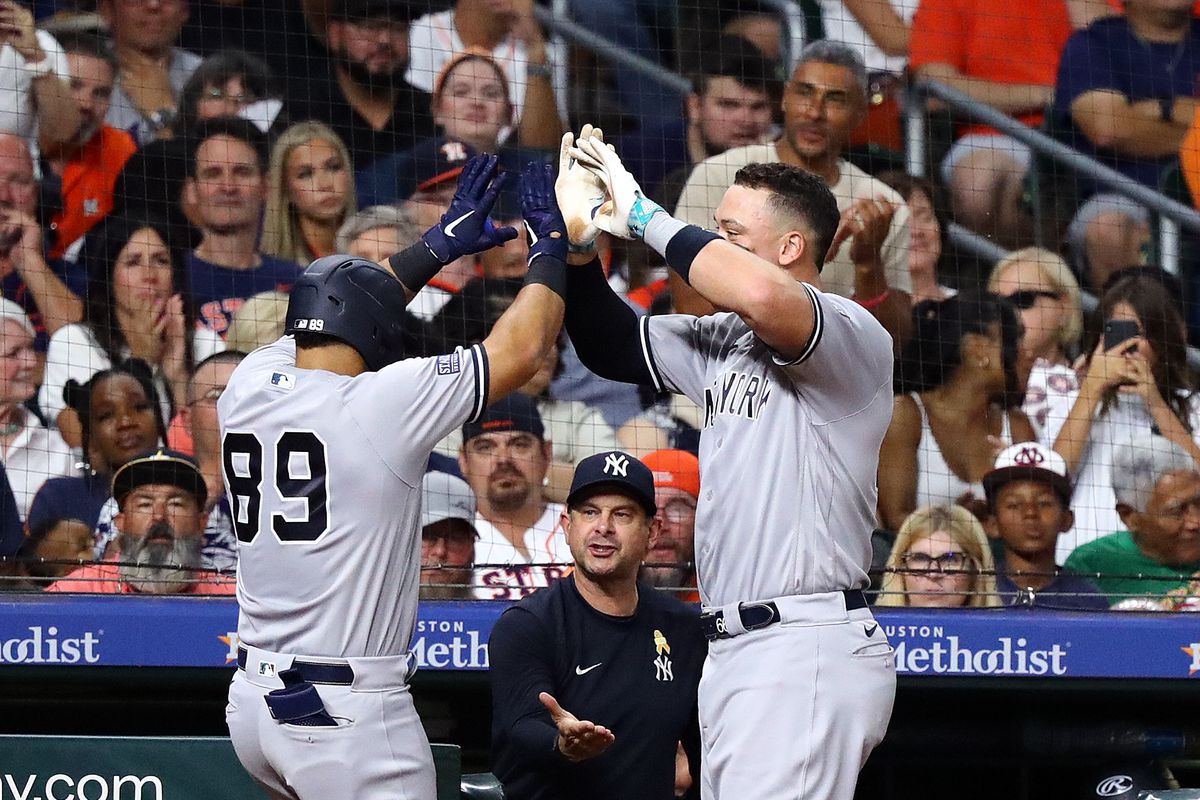 The NY Yankees might have had a difficult time on the field this season, but that does not make them a bad team. The quality their players possess makes them a dangerous team on their given day. With playoff contention likely out of their reach, the team seems to be playing with less pressure. They have also called up some of their top prospects who shined on their debut.
Jasson Dominguez, who hit a home run on his debut off Justin Verlander, stole the show again on Sunday. He connected the ball for a towering moonshot to give the Yankees the lead in the sixth. This happened after they came back from a run behind. The team later added four more runs as Gleyber Torres also went yard to win the game 6-1. Twitter (now X) was jubilant with this sweep and joined in the fun. One user would write "cooked those cheaters". Check out some other reactions from this series sweep.
The three wins in Houston have helped the Yankees improve their record to 68-69. They are now 8.5 games behind the final wild card. While they might miss on from postseason, they could still finish the season strongly and end on a positive winning record.
For the Astros, the sweep was the one thing they would have wanted to avoid. On Monday they start a massive three-game series against the Texas Rangers. This upcoming series could play a major dividend going forward as the run for the playoffs gets heated.
In case you missed it: