On Sunday, in the game between the San Diego Padres and the New York Yankees, first baseman Anthony Rizzo suffered an injury scare while trying to tag out Fernando Tatis Jr. The Yankee player suffered a neck injury after his body got tangled with Tatis' leg. He was left with major discomfort after the play and immediately sat down to get treated.
The incident took place in the sixth inning. The Padres star was trying to steal a base for his side. While trying to avoid getting picked off, he rushed back to first base. At the same time, Rizzo manged to get the ball and tried to tag him out. His effort did prove to be successful as the inning came to an end. However that play came with a price. He was later replaced from the match.
The 33-year-old has been in great form as of late. In his first 52 games of the season, the first baseman has been batting with an average of .303 while slashing 11 home-runs. The Yankees who have performed with inconsistency so far this season, would surely be praying for his quick return. He has become a key figure of their batting line-up.
Related: WATCH: Fernando Tatis Jr. hilariously conducts Yankees fans as chants of 'steroids' reverberates at NY stadium, MLB Twitter reacts
Anthony Rizzo reported to be fine according to manager Aaron Boone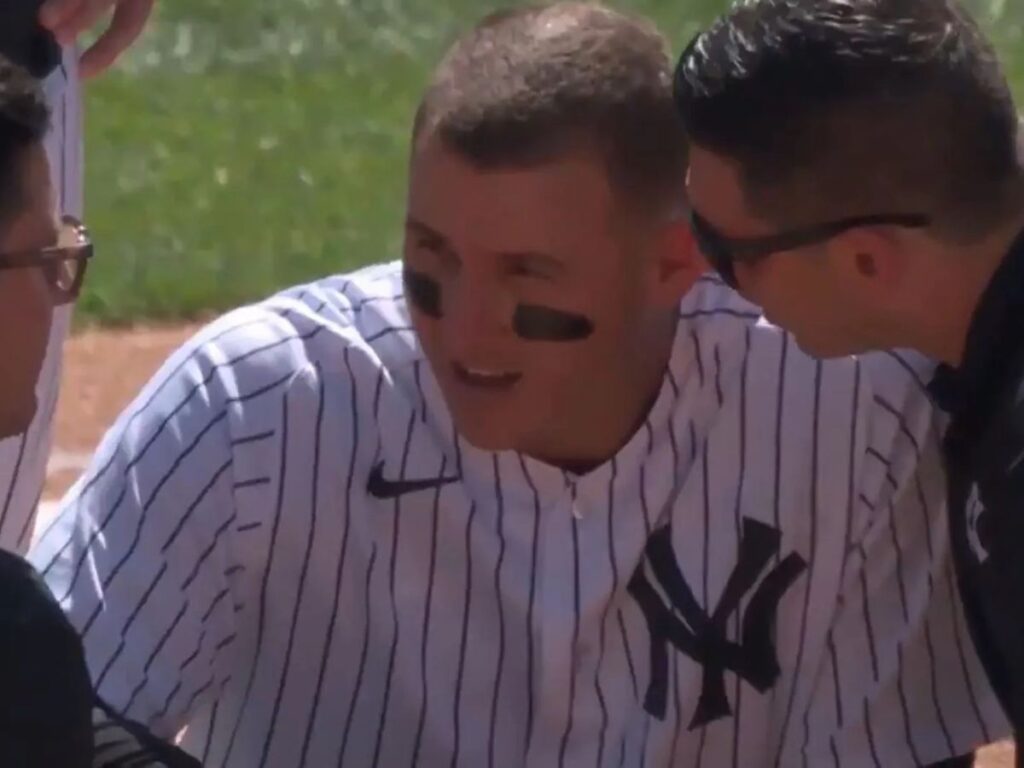 The play at first looked to be a routine one. However the severity of the incident came to light after Anthony Rizzo stumbled to the ground. The Yankee first baseman was able to get up and leave the field on his feet, a moment which received applause from the Yankee fans present in the stadium on Sunday.
When asked about this condition after the game, Manager Aaron Boone he (Rizzo) is fine. Boone later explained that Rizzo has underwent the concussion protocol and did well to get through it. Whether he will be able to take part in the game against the Mariners on Monday, remains to be seen. Here are some Twitter reactions for the incident.
Was Fernando Tatis Jr at fault at this play? This might become a taking point but the fans have quickly labeled him as the target. Tatis though is no stranger to public hatred. The Padres star received heavy boos from the Yankee fans in the series opener. Chants of "steroids" were thrown at him. However he silenced those critics by slamming a home-run at his next at bat.
In case you missed it:
Braves' Austin Riley APOLOGIZES to Chipper Jones for skipping MLB legend's name from Mount Rushmore list
WATCH: Marcell Ozuna BLASTS Will Smith with the back off his bat during Dodgers vs. Braves game, MLB Twitter reacts