Aaron Judge is a baseball player for the New York Yankees of the Major League Baseball. He plays as a right-fielder for his team. During the 2013 MLB Draft, Aaron was drafted by the Yankees. In 2016 he made his debut in the major leagues. He was named the Rookie of the Year after showing off his impactful performance. Currently, he is a 3 All-Star winner with 2 Silver Slugger Awards.
In 2021, Aaron signed a contract with the Yankees worth $25.4 million per year. He has made $17 million from his plays alone and has signed numerous deals with companies. The Yankees right-fielder can currently be estimated at around $13.7 million. This upcoming star has made quite a name for himself by not only playing in the MLB but also stirring the waves in his personal life. Right now he is married to Samantha Brackseick who is Aaron's long-time girlfriend.
Aaron Judge and Samantha Brackseick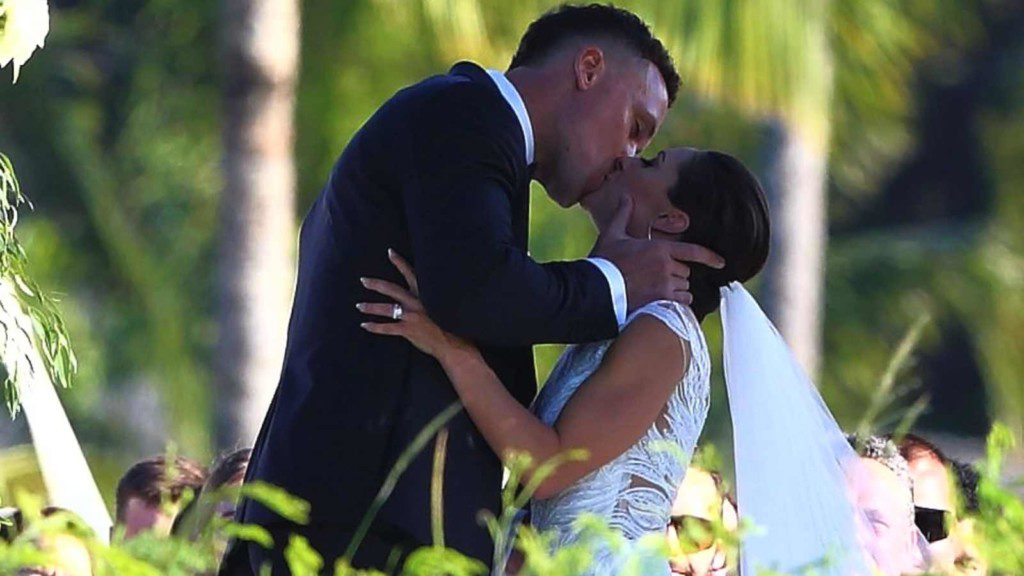 Both Aaron and Samantha have been private about their relationship. They both attended the same high school, Linden High School back in the days. And not only that they both attended the California State University together too. Though there isn't any information about when they started dating, it can be assumed that they were high school sweethearts, as said on clutchpoints.com. 
Also Read| "Will make an offer" – Yankees manager Brian Cashman shares update on Aaron Judge extension
After being in a relationship for a long time, the sweethearts got married in December 2021 in an outdoor ceremony in Hawaii, at Montage Kapalua Bay Resort. Their wedding, though private was attended by their loved ones and their friends. They started dating back when they were in high school and later reunited attending California University. The two are said to have breakup before reuniting once again in 2019.
Since then the couple is seen together, and Samantha attended the Yankees games to offer him support. She was spotted in the stands with the model Chase Carter. In 2020 Aaron supported her when she was accused of DUI. Later in the 2021 summer, Samantha celebrated her 28th birthday with her special one and also with the respective partners of Yankees players with the team.
In June 2021, Samantha was photographed wearing a diamond ring which started the rumors of them getting engaged or married. Rumors also emerged that Aaron and Samantha would wed in Hawaii after the Yankees players began posting content of the dreamy locale. Soon after they tied the knot in December 2021.
Also Read| "Want to wear pinstripes as long as I'm playing baseball" – Aaron Judge hopes to stay with Yankees