Bec Rawlings is a former MMA fighter from Australia. In her MMA career, she fought in the UFC and Bellator before retiring. She had a losing record as a Mixed Martial Artist. Rawlings famously lost to Paige VanZant via knockout in 2016. She had transitioned into a bare-knuckle fighter since retiring from MMA. In a recent press conference, she had a hilarious t-shirt to stop fans from bullying her.
Bec Rawlings wore a "Don't Bully Me. I'll C*m" t-shirt at a press conference. Fight fans had pointed out her losing record to make fun of her. It was a hilarious moment that made the reporters laugh at the press conference. Fans also took to Twitter to make fun of her yet again.
Bec Rawlings competed in The Ultimate Fighter in 2013. The season consisted of famous fighters like Carla Esparza, Rose Namajunas, and Tecia Torres. Coach of the season Gilbert Melendez, took Rawlings in the seventh pick. However, she lost in the first round to Tecia Torres via decision. Rawlings went 2-6 in the UFC, including losing to Paige VanZant, and left for Bellator in 2019. She fought twice in Bellator with a 1-1 record.
Rawlings left Bellator in 2021 and decided to sign with the Bare-Knuckle Fighting Championship (BKFC). However, she had previously competed in BKFC in its early days. She won her first three bouts in BKFC. However, she fought Britain Hart in a losing effort. Rawlings will face Christine Ferea for the BKFC Flyweight Championship at BKFC 41.  
Related: "Give her a thousand bucks," Sean O'Malley has unique advice for Israel Adesanya on dealing with 'toxic' ex-girlfriend
Fans React to Bec Rawlings and her raunchy T-shirt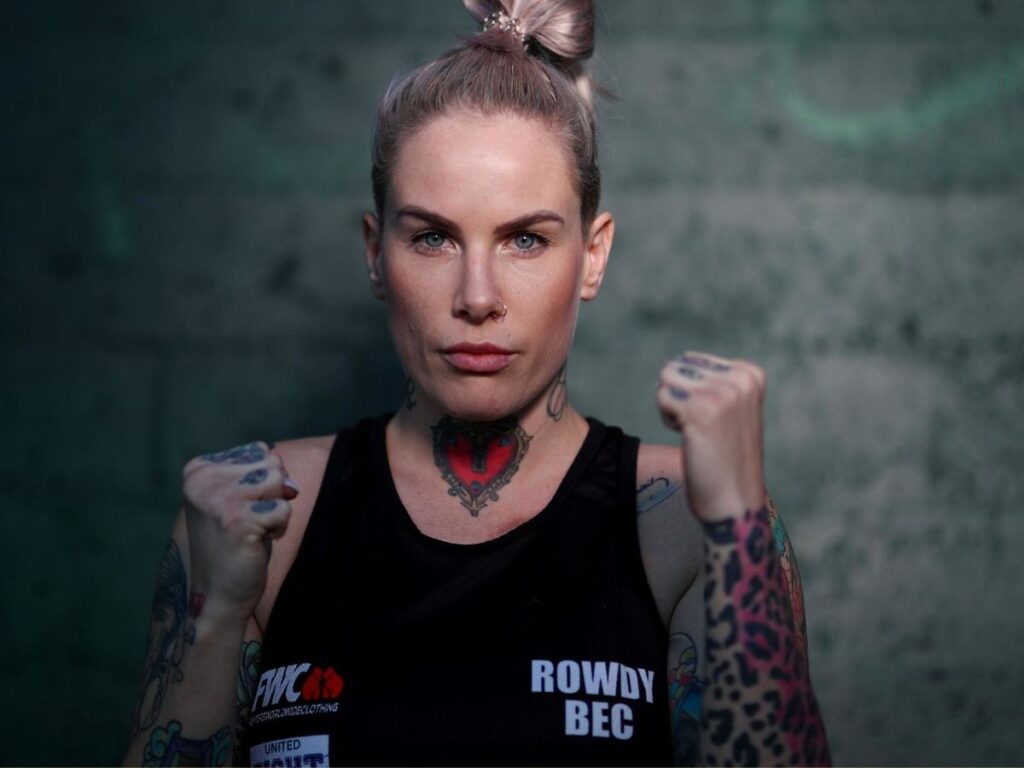 Bec Rawling wore a hilarious T-shirt to counter bullying tactics employed by fans. However, they went on Twitter to troll Rawlings. They reacted hilariously on Twitter. A fan even commented that it was a good uniform. Check out some of the fan reactions:
Bec Rawlings will fight for the BKFC Flyweight title against Christine Ferea. The former UFC fighter will look to capture a championship title for the first time in her career.
In Case You Missed It!