NBA free agent Austin Rivers seems dissatisfied with the structure of the NBA's minicamp. During his recent guest appearance on the 'Off Guard' podcast, the 11-year NBA veteran guard reiterated a noteworthy off-court aspect of mini-camps.
According to the 31-year-old, these mini-camps frequently revolve around one predominant focus – women – especially given that these camps are held in cities like Miami or Las Vegas.
"You're not doing mini camps in Alabama. They're in like f Miami or we're doing mini camp in Vegas, guys. It's lock in, focus. Like we're gonna be in the gym for two hours and the rest of days (…) The off the court is never in question. It's always good. It's always centered around one thing: it's women, women and then more women. So like never have to worry about that because every guy in the league loves that. So I would like to see in the future more guys get in the gym with each other," Rivers stated.
Despite Austin Rivers' acknowledgment of the heightened on-court competition among players during these training camps, his advice to fellow athletes remained consistent. He firmly advised fellow athletes to invest more time and energy in improving their weaknesses, physical abilities and overall game in the gym. He underscored that these programs should not primarily center around pursuing women's interests, as they often do.
Rivers last played for the Minnesota Timberwolves in the 2022-23 season and is currently a veteran in the league heading toward his 12th year in the league. The guard has played 11 seasons for seven teams, including the Los Angeles Clippers and the Denver Nuggets, where he has averaged 8.5 points, 2.1 assists and 2.0 rebounds in 707 regular-season games. It is definitely going to be interesting for the spectators to see where Rivers will land this coming season.
Also Read: "We spent thirty minutes debating whose son had the biggest p***s" – Michael Jordan once revealed BIZARRE locker room conversation he had with Bulls teammates
Austin Rivers foresees Nikola Jokic retiring within the next 5-6 years
Although Nikola Jokic has already achieved everything in the NBA, the Denver Nuggets star is still just 28 years old and undoubtedly has a lot of prime years in the league. Jokic is speculated to realistically continue his dominance in the league for most of the next decade. Nevertheless, his former teammate Austin Rivers holds a different view, suggesting that Jokic may not stay in the league for such an extended period.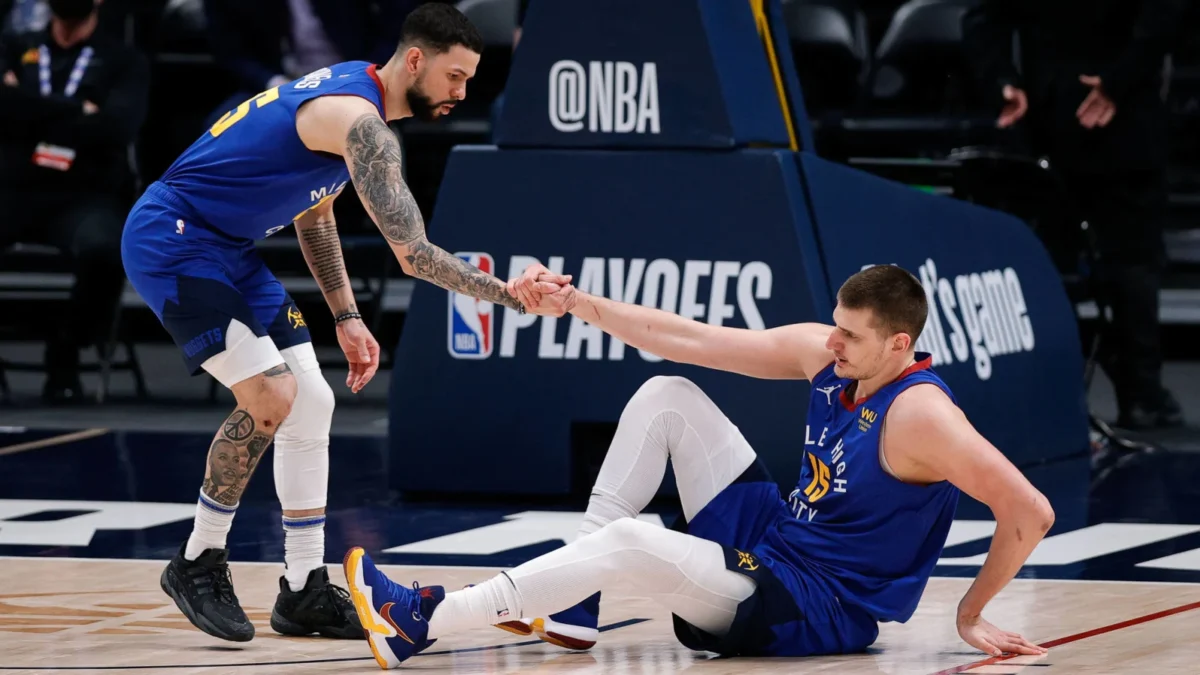 The former Nuggets guard and teammate to Jokic, Rivers, on the same segment of the "Off-Guard" podcast, he made a bold prediction stating that the "Joker" will retire in the next 5-6 years. "No chance… I have him playing another 5-6 years… I have him playing until like 34-35… I don't see him hanging around," Rivers stated.
Despite his remarkable success in the league, which includes an NBA championship and two MVP awards, Jokic doesn't appear to be someone who derives immense pleasure from his time on the basketball court. This perception was underscored by his quick return to Serbia after winning the title.
Sharing a revealing anecdote, former teammate Rivers shared an incident from the 2022 playoffs when the Nuggets were eliminated by the Golden State Warriors. Rivers recalled that Jokic had already returned to Serbia just two days after their exit. Rivers believes that Jokic isn't driven by the typical trappings of NBA stardom, such as fame, and he envisions Jokic retiring around the age of 34 or 35 and going back to Serbia to be with his family and horses.
In Case You Missed:
Do follow us on: Facebook | Instagram | Twitter
Follow FirstSportz on WhatsApp Channel