Michael Jordan is often deemed invincible by the media and most of the 90s NBA fans and rightfully so, for his formidable 6-0 record in the NBA finals. But there was one team in the Eastern Conference that posed a major threat to Jordan's legacy and they were none other than the Detroit Pistons led by Isiah Thomas. The Pistons won NBA championships in 1989 and 1990 and Thomas was named finals MVP in 1990.
However, Thomas has not earned himself a great reputation among the masses thanks to his constant rants about the past and repeated attempts to re-ignite his feud with Jordan. He recently made another attempt to ignite the feud on a showtime's 'All The Smoke' podcast. However, former Bulls forward Charles Oakley, who has a close relationship with Jordan, criticized Thomas stating, "Mike does not want to be your friend Isiah. He came in (to) your city and took your city. That's why you're really mad. He took over Chicago."
Thomas responded to the above tweet stating, "I remember us kicking your ass a lot, someone please check my record vs any team he played on! Sit down be Humble". Besides, In a recent tweet, Thomas was also seen celebrating his victory over the Chicago Bulls 35 years ago. Although such an accomplishment is worth celebrating, Thomas' intentions are perceived to be beyond mere nostalgia. Thomas, however, was arguably the second greatest point guard of the 1980s, which even the great Michael Jordan has acknowledged.
Related: NBA fans SLAM LeBron James' response to brutal loss to Paul George-less Clippers
Isiah Thomas and the Pistons ran a system to keep MJ at check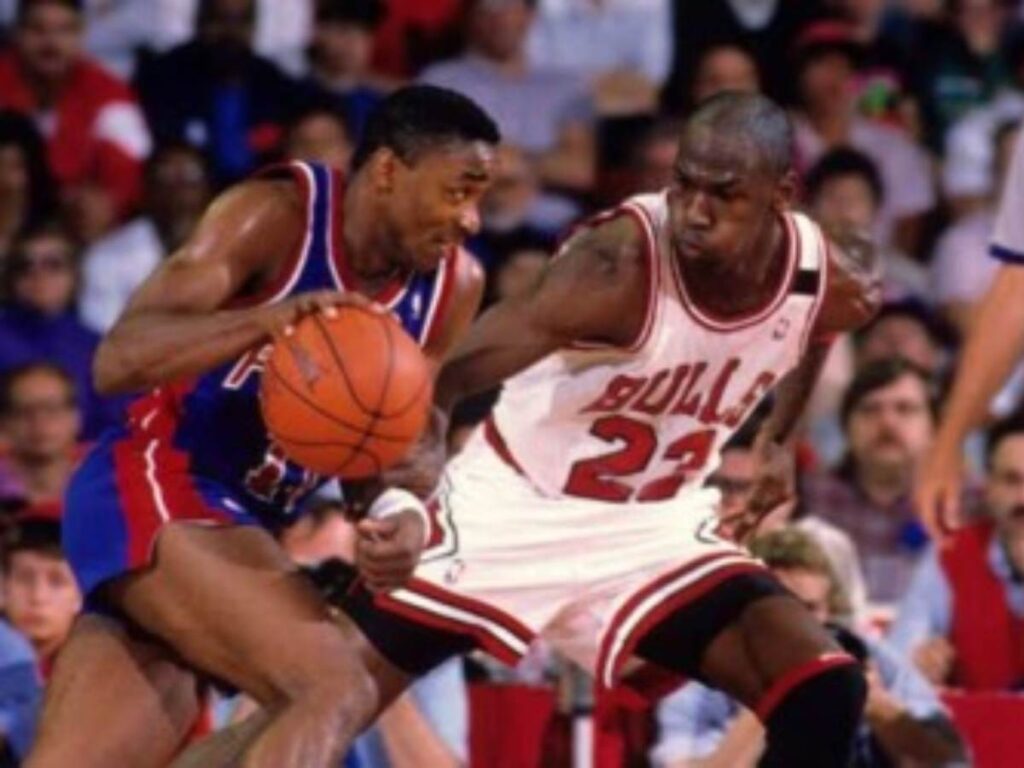 The Jordan Rules were a defensive strategy employed by the Detroit Pistons in the late 1980s and early 1990s to try and contain Michael Jordan, who was one of the most dominant players in the NBA at the time. The Pistons would use physical play and double teams to prevent Jordan from scoring, often resulting in him getting knocked to the ground or forced into tough shots. This strategy was effective, as the Pistons beat the Chicago Bulls in the playoffs for three consecutive years using the Jordan Rules.
However, Jordan was not one to back down from a challenge. He spent the off-season working on his physical strength and conditioning, making himself more difficult to knock down and better equipped to handle the physicality of the Pistons' defense. He also worked on his game, developing a reliable jump shot and improving his post-up skills to take advantage of the double teams.
In 1991, the Bulls finally beat the Pistons in the playoffs, with Jordan leading the way with a dominant performance. By adapting his game and improving his physicality, Jordan overcame the Jordan Rules and cemented his status as one of the greatest players in NBA history.
In case you missed it:
LeBron James engages in a heated tussle with a Kobe Bryant fan after getting humiliated by Russell Westbrook
NBA Twitter HYPES Russell Westbrook up for trolling LeBron James during the Clippers-Lakers game