Damian Lillard has had a terrific season with the Portland Trail Blazers. However, the Blazers need help finding a way to win. Lillard took to a press conference to say – "We pretty much fallen out of the race for the 10th spot unless we go there and win every game." The Blazers sit 13th in the Western Conference on a six-game losing streak.
"I love to play, I love the competition, and I haven't been ready to give that up. But it does come to a point when you stop putting your competitive nature out front," said Dame. The Portland Trail Blazers' all-time scoring leader expressed his distress towards their season by questioning his motivation to play. Lillard feels he has reached a point where he is questioning his reason to compete on the floor.
"Other teams created separation; we are on a losing streak," said Lillard while honestly discussing why the Portland Trailblazers are out of the playoff picture. Dame ended his segment on a note that left fans puzzled when he mentioned having to make a decision based on his reason to compete on the floor. From this interview, it looks like Lillard is unhappy with how things are going in Portland, and fans are urging him to make a move.
Also Read: "Means a lot to me," Austin Reaves counts his blessings and shows gratitude to LeBron James for his support following a career night against the Magic
Damian Lillard will be a legend in Portland regardless of his decision to leave or not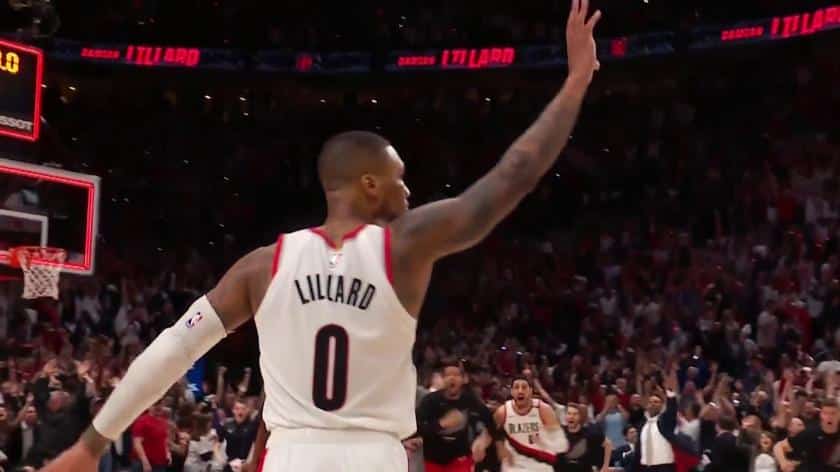 The Portland Trail Blazers drafted Damian Lillard in 2012, and he has been a star ever since. Lillard hit a buzzer-beating three-pointer with 0.9 seconds left in just his second year to take the Blazers past the first round for the first time in 14 years. Every year, Portland has been a staple in the playoffs since Dame's debut until last season. Portland missed the playoffs for the first time since 2014 last season, while Dame was injured for some time.
Lillard has had multiple magical playoff performances in Portland, scoring 50+ points in a loss to the Denver Nuggets in 2021. The fact that the Blazers lost a playoff game despite Dame scoring 50 is one of the glaring reasons why Dame is starting to want out. Lillard scored 50 points in an iconic walk-off buzzer-beater win against the Oklahoma City Thunder in 2019 during his most successful post-season.
Lillard made it to the Conference Finals for the first time in 2019, only to get swept by the Golden State Warriors. Lillard has averaged a career-high 32.2 points per game this season, and Portland still finds itself 3.5 games away from a play-in spot. Damian Lillard has often pledged to be a Blazer for life, but recent years seem to be testing his patience.
In case you missed it:
What did Donald Sterling do? Details of one of the Most Infamous Scandals in NBA History
Who is Domantas Sabonis' Wife Shashana Rosen?
Do follow us on Google News | Facebook | Instagram | Twitter