Supermodel and reality TV star Kendall Jenner has reportedly split from Devin Booker, star for the Phoenix Suns. Despite no official confirmation, both have unfollowed each other on Instagram and deleted most of their photos together. Meanwhile, rumors have been spreading like wildfire that Jenner has found a new flame in Bad Bunny, the Puerto Rican rapper and singer.
Speculations about their relationship began after Jenner and Bad Bunny were spotted together at a Halloween party in Los Angeles last year, leading fans to wonder if they were more than just friends. Adding to the rumors, Bad Bunny recently released a new song called "Te Boté 2," which includes lyrics that many think might be dissing Booker.
In one verse of the song, Bad Bunny raps, "You left him because he was boring / He didn't know how to treat you / He didn't give you what you deserved / He was just another player / Now you're with me and you're happy." Some fans believe that Bad Bunny is referring to Jenner and Booker and boasting about taking her away from him.
Those born under Scorpio are a risk — "Las de escorpio son un riesgo" — but then he contrasts the warmth of the sun in Puerto Rico with the one in Phoenix — "Pero el sol de PR abraza má' que el de Phoenix / Ella lo sabe …" — in the first verse that caught attention. However, neither Jenner nor Bad Bunny has commented on their relationship status or the song.
Fans of both celebrities have taken to social media to express their opinions on the rumored feud between Bad Bunny and Devin Booker. Some have lauded Bad Bunny's lyrics as clever and catchy, while others have criticized him for being disrespectful and insecure toward Booker. Some fans have found the drama amusing and have even made jokes or memes about it.
Also Read: "I had sex four times a night every night," Larsa Pippen discloses STEAMY details about her s*x life with ex-husband Scottie Pippen
What does Devin Booker think about Kendall Jenner and Bad Bunny?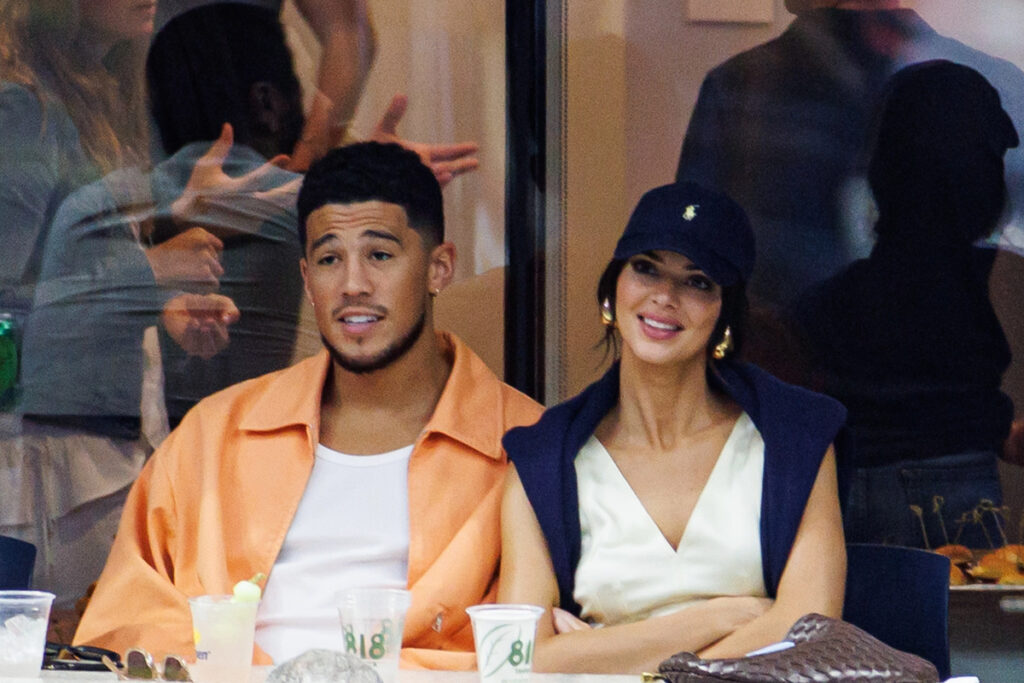 According to a source close to Booker, the basketball player is heartbroken over the rumors of Jenner and Bad Bunny dating. The source revealed that Booker is still in love with Jenner and hopes to reconcile with her someday. "He's heartbroken over Kendall," the source said. "He thought they had something special, and he doesn't understand why she ended things. He thinks she's amazing, and he misses her a lot."
The source also revealed that Booker does not approve of Bad Bunny and believes that he is not good enough for Jenner. "He doesn't like Bad Bunny at all," the source said. "He thinks he's arrogant and disrespectful. He doesn't think Kendall should waste her time with him." However, the source acknowledged that Booker respects Jenner's decision and hopes that she finds happiness, even if it means not being with him.
As the rumors continue to swirl, it remains to be seen whether Jenner and Bad Bunny will confirm their relationship or whether Booker and Jenner will reconcile. In the meantime, fans will undoubtedly continue to follow the drama closely and share their thoughts on social media.
In Case You Missed:
Who is Shaquille O'Neal's Girlfriend? Know All about Annie Ilonzeh
"Model will receive $1 Million for each year married" Michael Jordan learned his lesson from his $168 Million divorce with Juanita Vanoy
Michael Jordan is 'horrible' at picking players despite being the 'greatest' CLAIMS Skip Bayless