Steve Kerr the Warriors' coach recently paid a visit to a Liverpool training session, and Mohamed Salah was overjoyed to be in the company of a "basketball icon. "The Reds draw a slew of celebrities from sports, entertainment, and beyond, including Calvin Harris during the last victory procession and now Kerr, coach of the Golden State Warriors.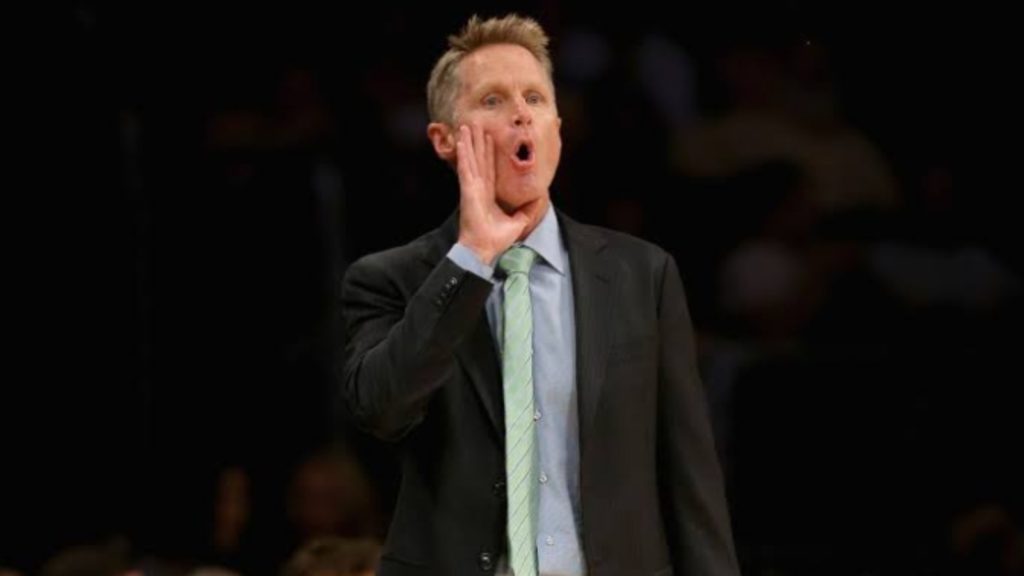 Kerr is a basketball icon, having coached after finishing his playing career, making him a cumulative nine-time NBA champion. The American coach has long admired Liverpool and Jurgen Klopp, having first become acquainted with the club through Mohamed Salah, who grew up in Egypt. Kerr and Salah were recently photographed rubbing shoulders at Kirkby, with Salah capturing the occasion on social media, writing: "With a basketball superstar!"
Steve Kerr In Liverpool
Also Read: WATCH! Shaquille O'Neal gets hilariously socked in the face by internet's SMALLEST sensation Hasbulla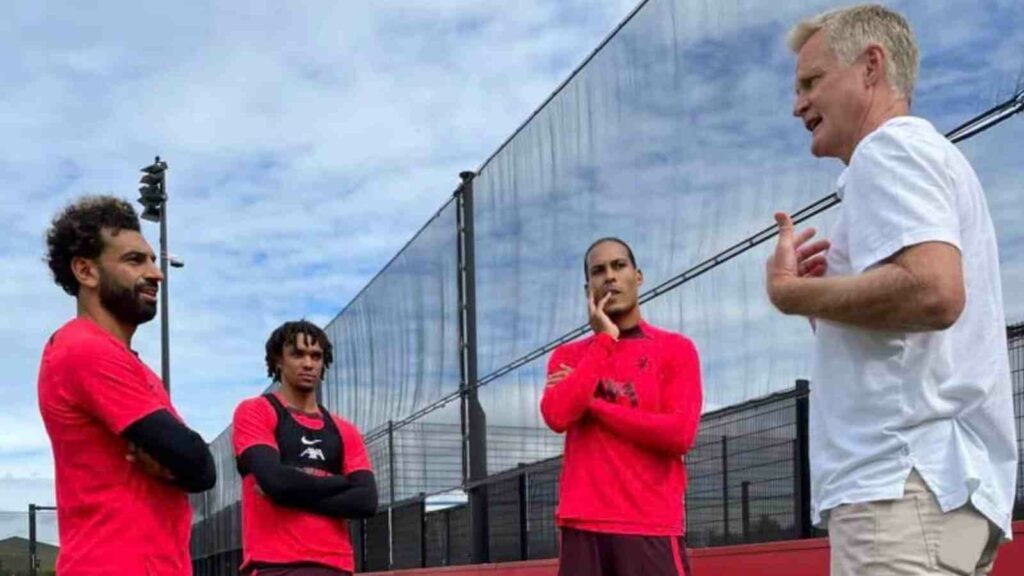 Warriors head coach Steve Kerr has returned from a trip to England, where he paid a visit to Premier League club Liverpool. A selfie of him with Mohamed Salah went viral when the Liverpool striker shared it on Twitter. He also said that Liverpool sensation Mohamed Salah converted him to a Reds fan.
Salah, who joined Liverpool from Roma in the summer of 2017 for an initial cost of £36.5 million, has grown in stature both on and off the field. During his tenure at Anfield, the Egyptian has helped his current team win seven titles. Salah has 159 goals and 64 assists in 259 outings since joining the Merseyside club. Aside from his achievements on the field, the Egyptian is well-known for his humanitarian endeavours.
In an interview with ESPN, nine-time NBA champion Steve Kerr expressed appreciation for both Salah and Liverpool. He said "I started following the Premier League maybe five or six years ago and I had seen Mohamed Salah play and read about him. I was just so impressed by his character and what he had done in his hometown, helping to build a school."
S"I knew how beloved he was in Egypt, so I said: 'That's my guy!' I wanted to cheer for Mohamed Salah and when I found out he played for Liverpool, I said: 'OK, that's my team!' So, I've been a Liverpool fan ever since." Kerr also discussed the parallels between football and basketball, saying:
"I met with Jurgen Klopp the other day, which was a great thrill. Watching the game, it's very similar in terms of concepts. Even though there's 11 players in soccer and only five in basketball, it's still very much a game about three people – whoever has the ball and whoever is closest to that player. It's all very similar."
Also Read: "Real American TrailBlazer" Brittney Griner felt ecstatic while owning to her sexuality
Also Read: "I mislead the media" Aaron Rodgers made candid confession on manipulating on purpose with 'immunized' comment
Do follow us on Google News | Facebook | Instagram | Twitter