LeBron James is getting closer to shattering even more NBA records. Currently, in his 20th season, the King is on the verge of shattering the all-time regular season scoring record. To overtake Kareem Abdul-Jabbar, James must now average just more than 16 points per game in all 82 games this season. Given this, many believe he is on his way to becoming the greatest player of all time. It's a title that has sparked debate, with many believing it should go to Michael Jordan.
Adding his two cents on the debate, Isiah Thomas recently in an interview said, "LeBron James, to me, is the best who has ever played, and not only does the eye test verifies it, but then now you look at his body of work in terms of data and statistics to support it. I mean, we've never had another player dominate other than Kareem Abdul-Jabbar for two decades… LeBron James has had a 20-year career that only matches Kareem's."
He went on, citing LeBron James' postseason triumphs and records as one of the main markers of his brilliance, "This year, he'll probably pass Kareem as the No. 1 scorer of all time. He's top 10 in assists. This year, he'll probably pass Magic Johnson in terms of assists. He'll probably when you look at rebounds and everything else and then you look at playoff points, LeBron James is one, two, three in every single category."
Also Read: "Best show in America" NBA Twitter rolls out on floor laughing as Charles Barkley spells 'spectacular' on Live TV
Fans react to Isiah Thomas' take on Lebron James and the goat debate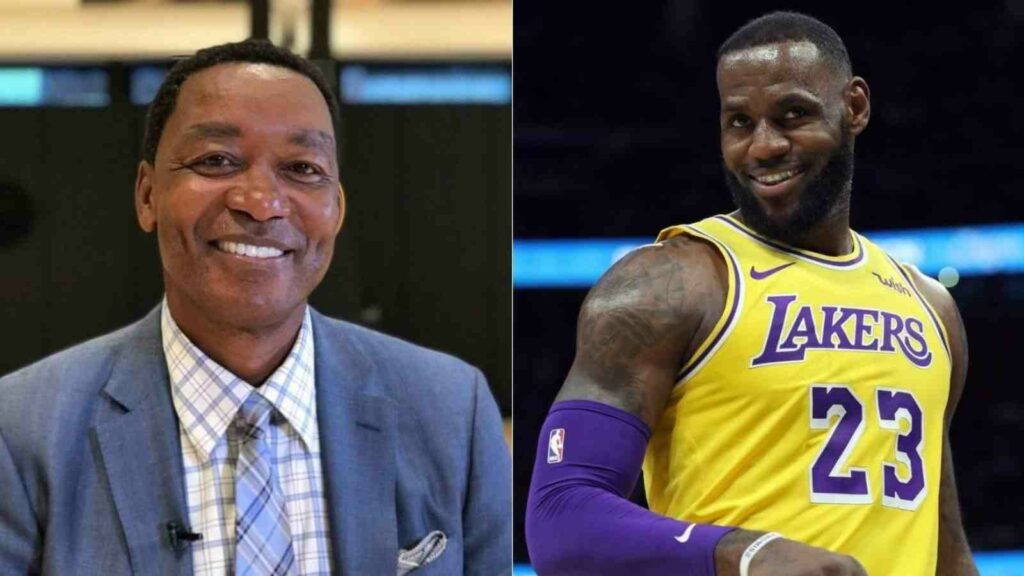 It's no secret that Michael Jordan and Isiah Thomas aren't exactly the best of mates. Throughout Jordan's early career, he and the Bulls were routinely defeated and eliminated by Thomas and the Pistons. MJ was compelled to step up his game due to the Bad Boy Pistons' supremacy in the East. After years of struggle, he and the Bulls defeated the Pistons and began their reign of terror. Their animosity went over into Team USA Basketball, with Thomas famously being excluded from the Dream Team in 1992.
After Thomas' recent interview, Jordan's fans couldn't calm down and took to Twitter to express their displeasure with the former Pistons' great's views. While the Twittersphere mostly agreed with IT's views but there were a few who didn't agree with him. Here are some of the replies.
Obviously, this is Thomas's point of view, and it has sparked a controversy within the NBA community. At the end of the day, whether LeBron James wins another ring in his career or not, he will be recognized as one of the finest players to have ever played in the NBA when he quits.
Also Read: "We wanna make sure he's continuously in a great space" Anthony Davis reassures that the Lakers intend on keeping Russell Westbrook this season
Also Read: "I didn't enjoy the way it was being pushed" Jonathan Isaac takes a brave stance on the FORCEFUL nature of the vaccination mandate
Do follow us on Google News | Facebook | Instagram | Twitter