Boston Celtics legend Paul Pierce trolled championship-winning teammate Ray Allen ahead of the Celtic's game 7 against the Miami Heat. The Celtics returned from a 0-3 deficit in the Eastern Conference Finals to tie the series at 3-3, becoming only the 4th team in the history of the NBA to do so. However, none of the last three teams could win game 7, and Boston has a chance at creating history.
Paul Pierce and Ray Allen were part of the last Celtics team to win an NBA championship in 2008 when they beat Kobe Bryant and the Los Angeles Lakers in 6 games. Despite winning a ring in Boston, Ray Allen left for the Miami Heat, their fierce conference rival, in 2012. As a Celtics fan, Paul Pierce posted on Instagram exciting Boston for game 7, saying, "Celtics in 7 lfg," one user commented urging him to bring KG and Ray Allen to the building with him to support Boston.
Paul Pierce and Kevin Garnett were reportedly annoyed at Ray Allen at the time for leaving Boston, and 11 years on, Pierce has not forgiven Allen for his switching of loyalties, saying – "not sure who Ray would be pulling for," in reply to a fan's comment. Allen went on to win a championship in Miami in 2013 and hit one of the most legendary shots in game 6 of the 2013 Finals to send it to overtime and save their season, so Pierce took a dig at his loyalties.
Also Read: Joel Embiid, James Harden to potentially get CHAMPIONSHIP WINNER at 76ers next season
Ray Allen left Paul Pierce after losing to LeBron James and the Heat in 2012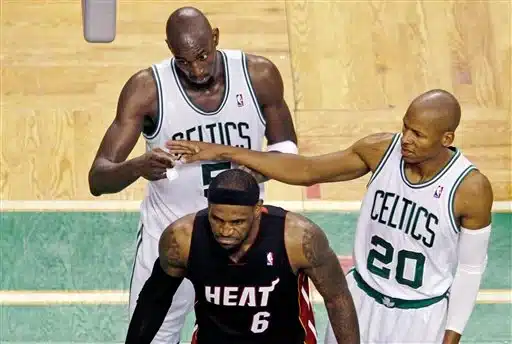 One of the reasons that fueled the dislike between Allen and Celtics legends like Pierce and Garnett, even more is the frequent matchups they had against Miami while they were teammates. The Celtics and the Heat met in the playoffs for three consecutive years from 2010-2012, and Allen was a part of all those Celtics teams. They beat Miami once in 2010 but lost the next two, and Allen joined them the very next season after they lost.
The Miami Heat already had a 'big three' of their own in 2012, with Dwyane Wade, LeBron James, and Chris Bosh leading the way. LeBron James won the first championship of his career in 2012 after getting past Boston, and Ray Allen immediately jumped ship as Kevin Garnett and Paul Pierce started aging along with him. Allen chose a bench role in Miami while being a starter in Boston, which irked Pierce and Garnett further.
Pierce and Allen would never face each other in the playoffs as Boston lost to New York in the first round in 2013 without Ray Allen, and following that, the Celtics disbanded their team and went into rebuilding mode. Ray Allen made another final with the Heat in 2014 in a 2013 rematch against the San Antonio Spurs but fell short and retired following that season.
In case you missed it:
Do follow us on Google News | Facebook | Instagram | Twitter