Dwight Howard has been playing in the T1 league for the Taoyuan Leopards ever since he got cut by the Lakers. The Leopards got into a huge brawl which saw 12 ejections including Dwight's. The video shows an elbow to the face followed by a huge fight that involved the coach throwing hands. The Leopards are 4-11 in the T1 league and these ejections just make matters worse.
Dwight Howard was not on the court during the brawl and later got himself involved. He is seen saying, "get that man out of here," in reaction to the opposition coach who tried to punch his teammate. The game had a long delay with the ejections but eventually resumed and the Leopards ended up winning the game. Twitter, however, was enjoying trolling Howard over what Shaq's reaction would have been. It is worth noting that, Dwight Howard and Shaquille O'Neal have had a long-standing beef and Shaq has never missed an opportunity to troll him.
Here are some of the reactions to the brawl that got Dwight Howard ejected:
Shaquille O'Neal already took a jab at Dwight Howard during the All-star game. Shaq said, "Dwight Howard's team is 3-11 in Taiwan right now," when Chuck complimented Dwight's career. Shaq has always felt that Dwight is a copycat of him who is not as successful. Dwight used to idolize Shaq but after Shaq tried to diss his game at every opportunity, their relationship soured.
Also Read: "Such a soft generation," Twitter erupts as Chicago Bulls shuts down PG Lonzo Ball for the remainder of the season
The history of Shaquille O'Neal vs Dwight Howard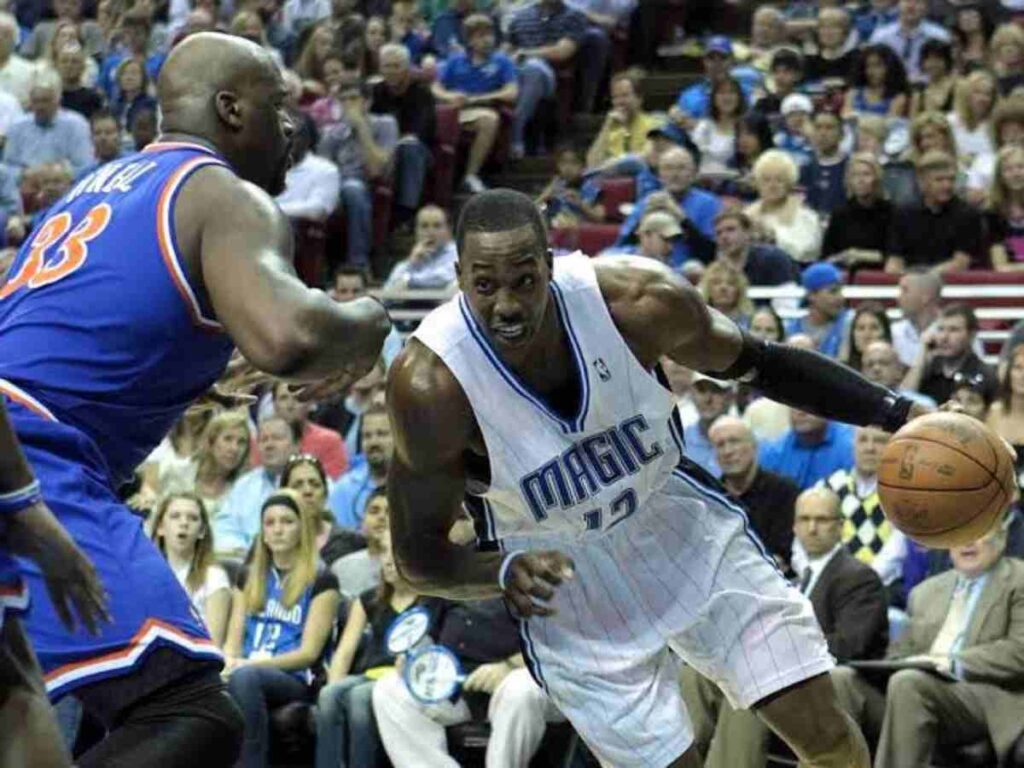 Shaquille O'Neal and Dwight Howard had very similar career paths which is what started all of this. Both of them were drafted by the Orlando Magic, and both made the finals in Orlando and lost. They also moved to the Los Angeles Lakers to get their first ring. The only difference is Shaq was way more dominant for longer and is a 3X Finals MVP. Dwight does have an impressive list of achievements but they are quite pale in comparison to Shaquille O'Neal.
It all started when Dwight decided to wear a superman costume to the dunk contest. Shaq was not a fan of that and believed Dwight was trying to call himself Superman. Shaq famously called himself the Superman of the league while he was playing and has a tattoo of the Superman logo. Ever since then, Dwight has been on the receiving end of constant mocking from Shaq.
When Dwight Howard finally won a ring Shaq still found a way to criticize him by discrediting his contributions. "Sit your ass down, you didn't do nothin'", said Shaq when Dwight won his ring as a role player in LA. The Shaq – Dwight Howard feud might go on forever but Dwight does not seem to care. He has stopped responding to what Shaq has been saying for the past few years.
In case you missed it:
Do follow us on Google News | Facebook | Instagram | Twitter