Paul George showed off his athleticism and creativity with a stunning 360-degree dunk in the third quarter of the Los Angeles Clippers' game against the Oklahoma City Thunder on Tuesday night. However, his night ended on a sour note as he suffered a leg injury in the final minutes of the fourth quarter and had to be carted off the court.
The highlight-reel play happened with 4:17 left in the third period, when George received a bounce pass from Mason Plumlee near the free-throw line. He then drove past two defenders and soared to the rim, spinning in mid-air and finishing with a one-handed slam that brought the crowd at Crypto.com Arena to its feet.
The dunk was reminiscent of some of George's best moments from his early years with the Indiana Pacers, when he was known for his explosive leaping ability and fearless attacks on the basket. It also gave the Clippers a 74-66 lead over the Thunder, who were playing without their star guard Shai Gilgeous-Alexander.
George finished with 18 points, seven rebounds, five assists, three steals and a block in 33 minutes of action. He shot 7-of-16 from the field but missed all five of his three-point attempts.
Also Read: Who are the shortest NBA players in 2023
Paul George suffers leg injury late in Clippers' loss to Thunder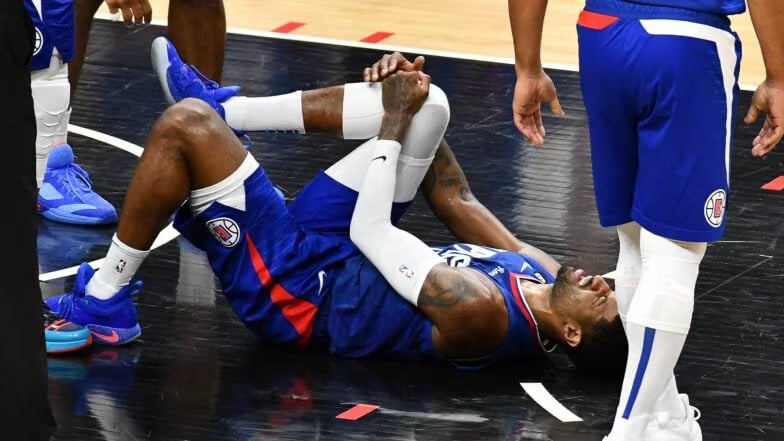 Unfortunately for George and the Clippers, his night took a turn for the worse in crunch time. With less than two minutes remaining in regulation and the Clippers trailing by one point, George collided with Thunder forward Luguentz Dort while going for a rebound. He landed awkwardly on his right leg and immediately grabbed his knee in pain.
He was helped off the court by teammates and staff members and taken to the locker room on a cart. The Clippers did not provide an update on his status after the game, which they lost by one point after Kawhi Leonard missed a potential game-winner at the buzzer.
George has been dealing with various injuries throughout his career, most notably a gruesome compound fracture of his right leg during a Team USA scrimmage in 2014. He missed most of that season but made an impressive comeback and regained his All-Star form.
This season, he has been one of the best players in the league, averaging 25.5 points, 7.1 rebounds and 5.3 assists per game while shooting 45% from the field and 40% from beyond the arc. He has also been instrumental in leading the Clippers to a fourth-place spot in the Western Conference standings, despite missing Leonard for most of the season due to a torn ACL.
The Clippers will hope that George's latest injury is not serious and that he can return soon to help them secure home-court advantage in the first round of the playoffs.
In Case You Missed:
"Model will receive $1 Million for each year married" Michael Jordan learned his lesson from his $168 Million divorce with Juanita Vanoy
Is Aaron Wiggins related to Andrew Wiggins? Are they brothers?
76ers HC Doc Rivers ASSERTS Joel Embiid is the 'clear' MVP this season after claiming he was robbed of the title last year