The Chicago Bulls had not had the best of the NBA 2023-2024 season. Not everything sailed smoothly, even after the triumph against the Miami Heat. As the buzz around NBA trade talks continues to swirl, Zach LaVine added a dramatic twist on Saturday night. This came after he quickly exited after the thrilling 102-97 win against the Heat. The win over the Heat broke their three-game losing streak.
Following the win against the Miami Heat, LaVine ignored the Bulls' PR request to stay for the post-game interview. He pushed her off, and the video went viral on the internet. The star pushed her and stormed out of the court in a hurry. The incident was not a good look for the player or the Chicago Bulls. Many called it just the tip of the iceberg of the Bulls' problems.
However, Lavine did address the situation after the game, citing a miscommunication for what happened. When asked further by a reporter that he looked kind of ticked when he pulled away, LaVine replied that he was happy that the team defeated the Heat.
The two-time NBA All-star scored 13 points on 5-10 shooting from the field, with six assists, eight rebounds, three steals, and one block in the 35 minutes he played against Miami. Regarding this incident, while some fans supported him and argued for a better team for him, many considered it disrespectful. They also deemed it done in bad taste.
Zach LaVine's behavior could be an indication of problems in the Chicago Bulls
The Chicago Bulls have a problem on their hand ahead of this season's road. The Bulls had a shaky start this season despite some star performances from Zach LaVine. One of which was the 51-point game, but in a losing cause.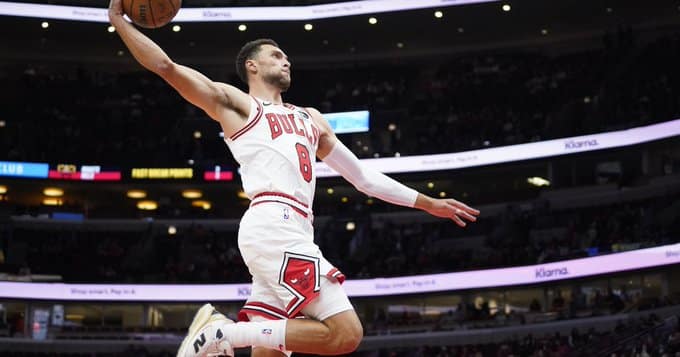 LaVine has performed consistently for the team, but many of them resulted in losses. This ignited trade rumors in the Basketball world of the NBA. According to speculation, this incident might be due to his frustration, indicating severe problems in the Bulls camp. The Bulls will likely want a huge haul to trade LaVine.
The star shooting guard has averaged about 22 points this season, with five rebounds and three assists per game at 42.7% shooting from the field. While the road ahead may be hard for the Bulls, they have enough time to regroup themselves and return to a winning streak. Otherwise, they should consider trading LaVine to prepare for an extensive rebuild.
In case you missed it: