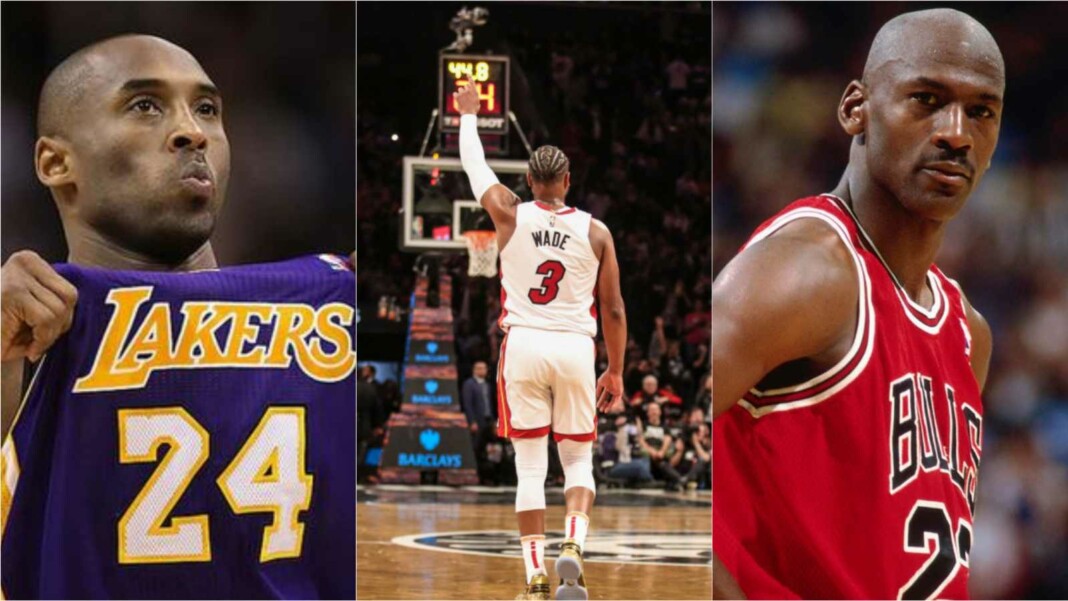 With the NBA getting all attention here is a list of Top 5 greatest shooting guards of All-Time. The evolution of NBA has got the players adopt to quick scoring methods. And shooting is the quickest of them all. NBA shooters in the league have graced their tenure in NBA. There are so many unmatched SGs that run and used to be the hype for the game. Here is the countdown to Top 5 best of them in the history of NBA.
Michael Jordan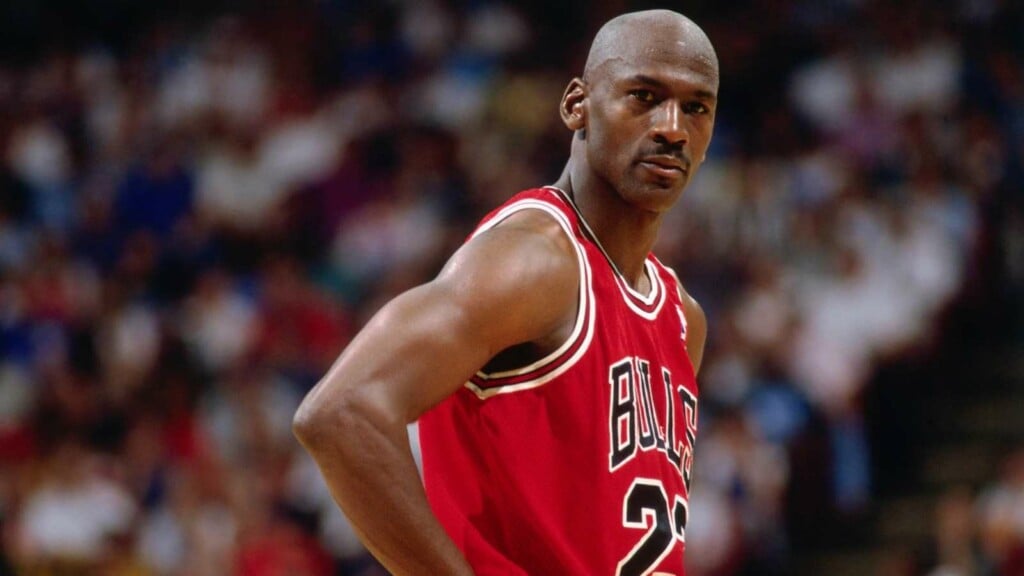 Nobody can deny that Michael Jordan isn't a part of Top 5 greatest shooting guards of All-Time. Making his start with Chicago Bulls, the GOAT candidate was incredible. Right from the start the honorary Hall of Fame member Michael Jordan was a showstopper. The best combination of brains, guile, athleticism and competitiveness in NBA history. He could do everything, and no one's done it better at any position. People understandably talk about his six championships and 10 scoring titles, but Jordan once reeled off 10 triple-doubles in an 11-game stretch and led the NBA in scoring and steals in the same season three times. He ended his greatest career with 30.1 PPG, 6.2 RPG, 5.3 APG and .497 FG%.
Achievements:
5-time MVP
6-time NBA Champion
6-time Finals MVP14-time All-Star
11-time All NBA Selection
9-time All-Defense
10-time NBA Scoring Champion
Rookie of the Year
Hall of Fame
Kobe Bryant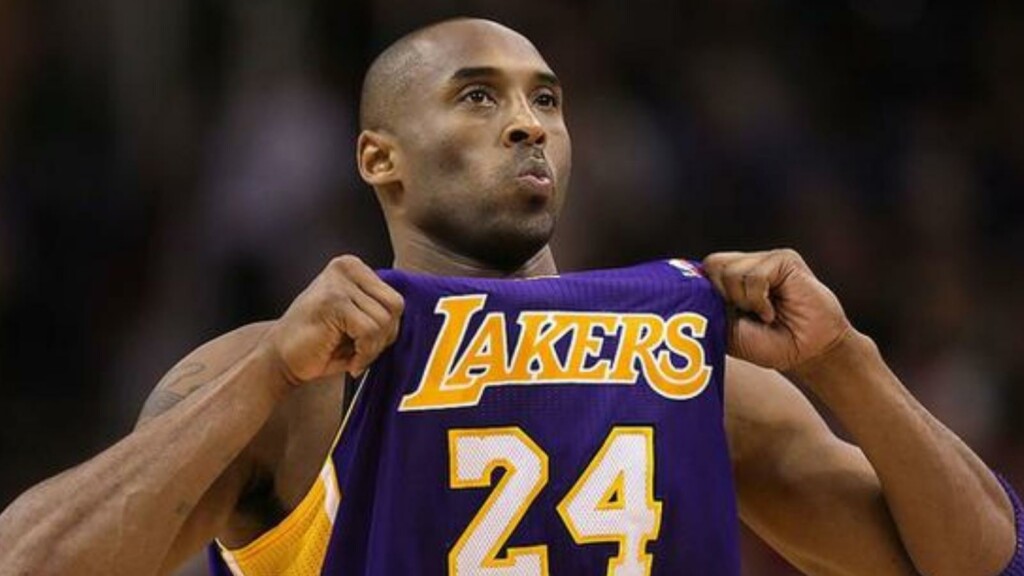 When one counts legendary shooter, Kobe Bryant marks his way into Top 5 greatest shooting guards of All-Time. The former veteran Kobe Bryant was a revolutionary figure in the NBA during the early 90s Lakers. While everyone still feels so much about the star it is very sad that the star recently lost his life in 2020. Was Kobe the next Michael Jordan? Not quite, but he came as close as anyone who tried and created a legend of his own in the process. The greatest maker of tough shots in NBA history, and that means as both a compliment and a criticism. With so much, Kobe Bryant was one of the humble player to ever play this game. He ended his career with 25.2 PPG, 5.3 RPG, 4.8 APG and .449% FG.
Achievements:
1-time MVP
5-time NBA Champion
2-time Finals MVP
15-time All-NBA Selection
2-time NBA Scoring Champion
Hall of Fame
Ray Allen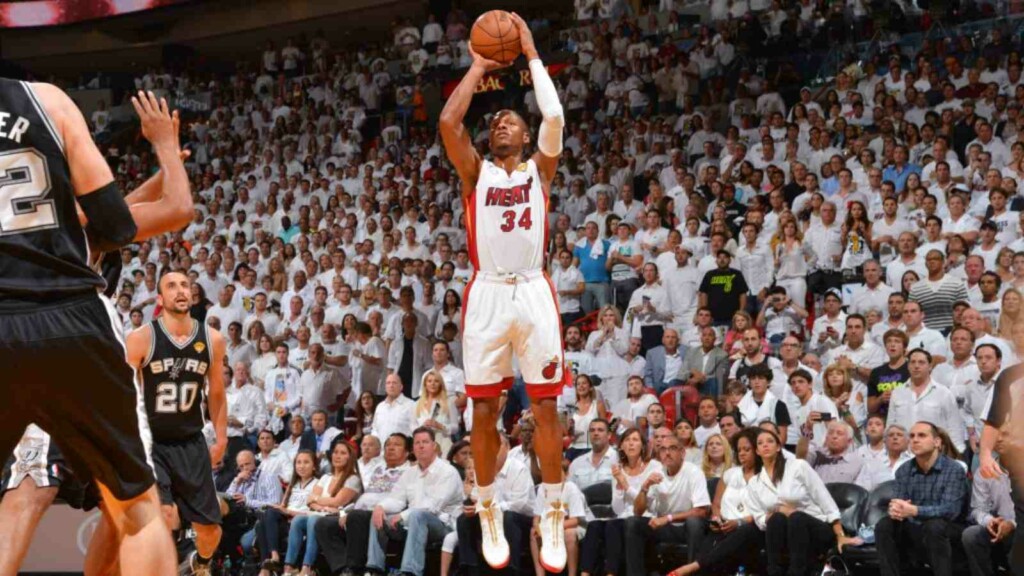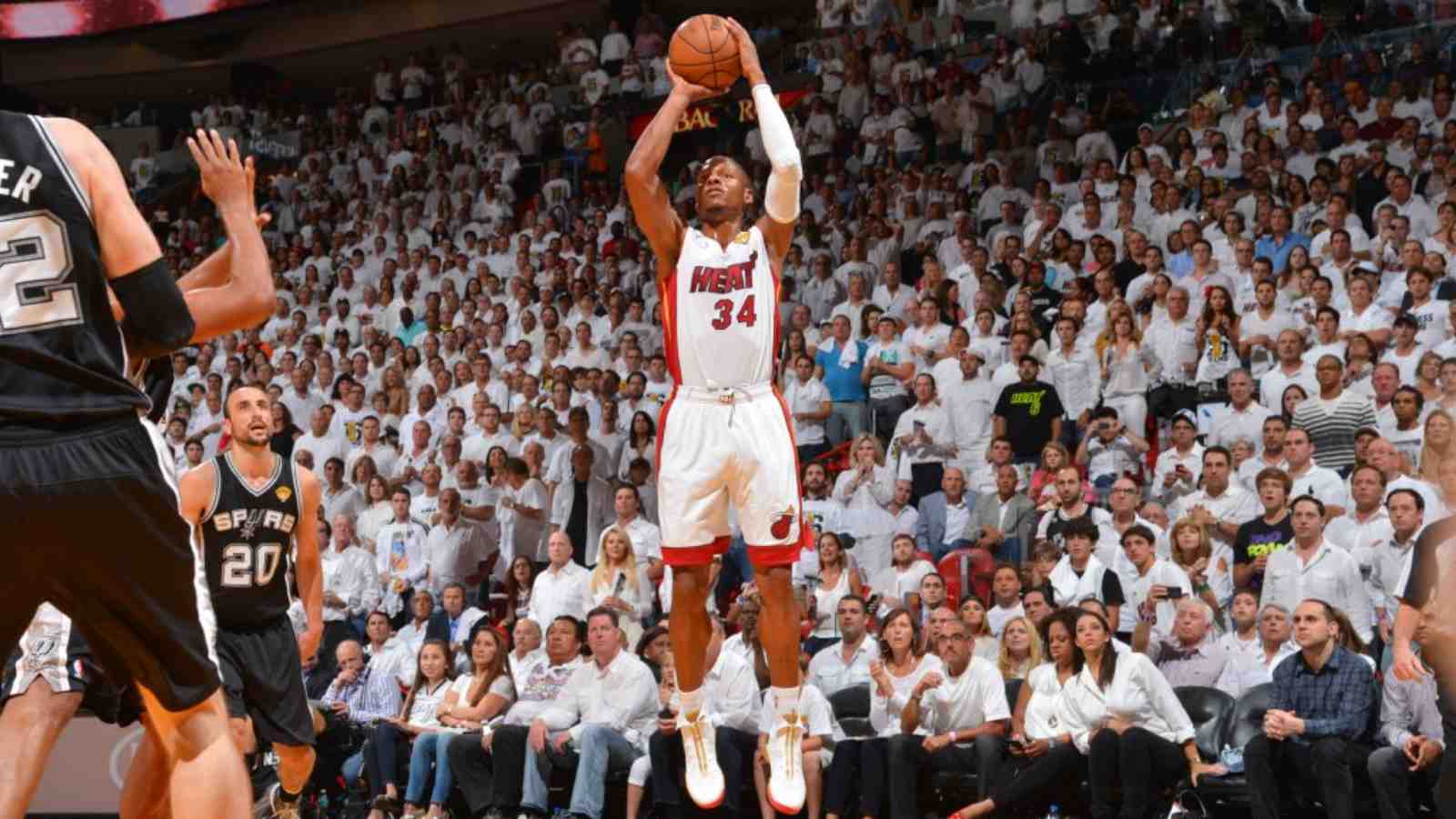 The Top 5 greatest shooting guard of All-Time is can never go without legendary Ray Allen. Making his debut with Milwaukee Bucks and being a franchise legend at the Miami Heat, Ray was a great player. The legendary trio of LeBron James, Ray Allen and Dwyane Wade ruled the NBA in the last decade. Coming off with incredible record making 3-point shooting, Ray Allen is already in the best records. He still is in top 3 of the highest number of 3-pointers made. He really proved how, in the 21st century, a player could provide elite value without dominating the ball. Maybe the purest shooter of all time, Ray Allen's stroke is the basketball equivalent of Ken Griffey Jr.'s swing. The all-time leader in made 3-pointers, nobody created more fear off the ball than Allen. His great huge scoring record include 18.9 PPG, 4.1 RPG, 3.4 APG and .400 3-Pt%.
Achievements:
2-time NBA Champion
10-time NBA All-Star
2-time All-NBA Selection
USA Basketball Male Athlete of the Year
All Rookie Second team
Jerry West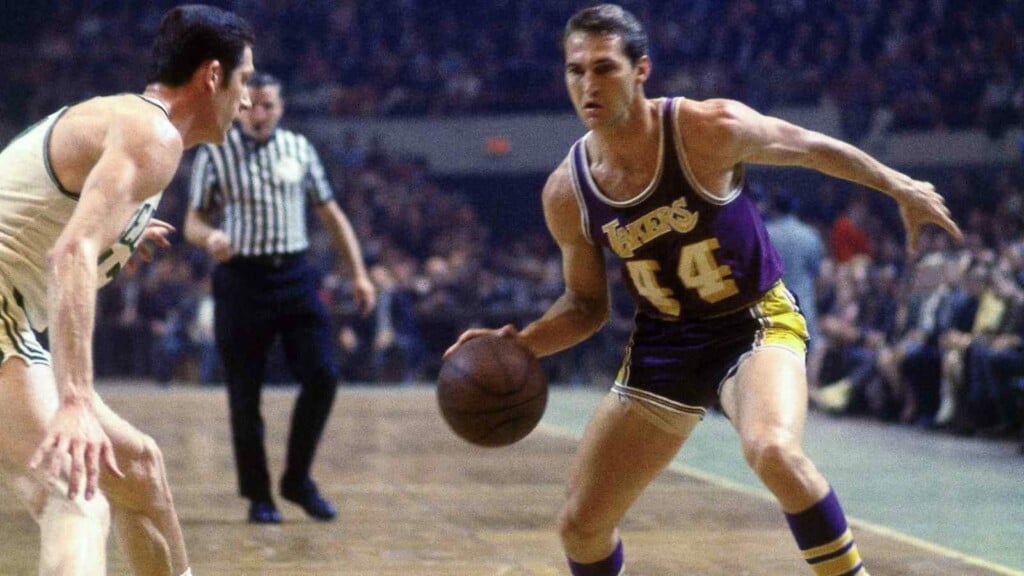 The legendary Los Angeles Laker Jerry West has to be in the Top 5 greatest shooting guards of All-Time. Playing with the Lakers for a span of 14 years, Jerry West was one of the best shooters in NBA. A legendary performer in the postseason, West averaged 40.6 points per game in the 1965 playoffs and remains the only player from a losing team to win Finals MVP (in 1969). As relentlessly competitive and prolific as Jordan; there's a reason West's silhouette is the NBA's logo. During his outstanding career he averaged 27 PPG, 6.7 APG, 2.6 SPG and .474 FG%.
Achievements:
1-time NBA Champion
1-time NBA Finals MVP
14-time All-Star
12-time All NBA Selection
5-time All-Defense Selection
Hall of Fame
Dwyane Wade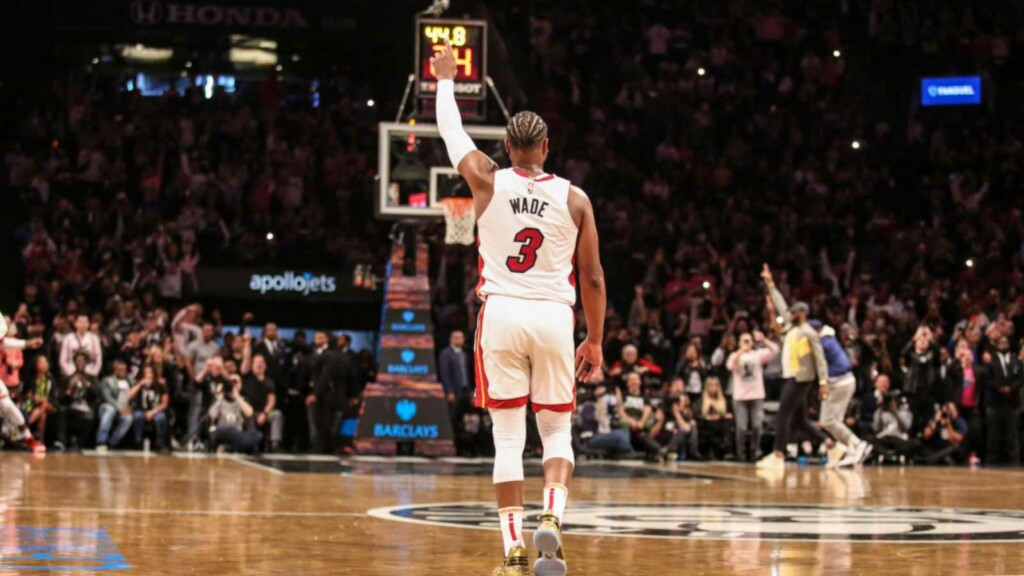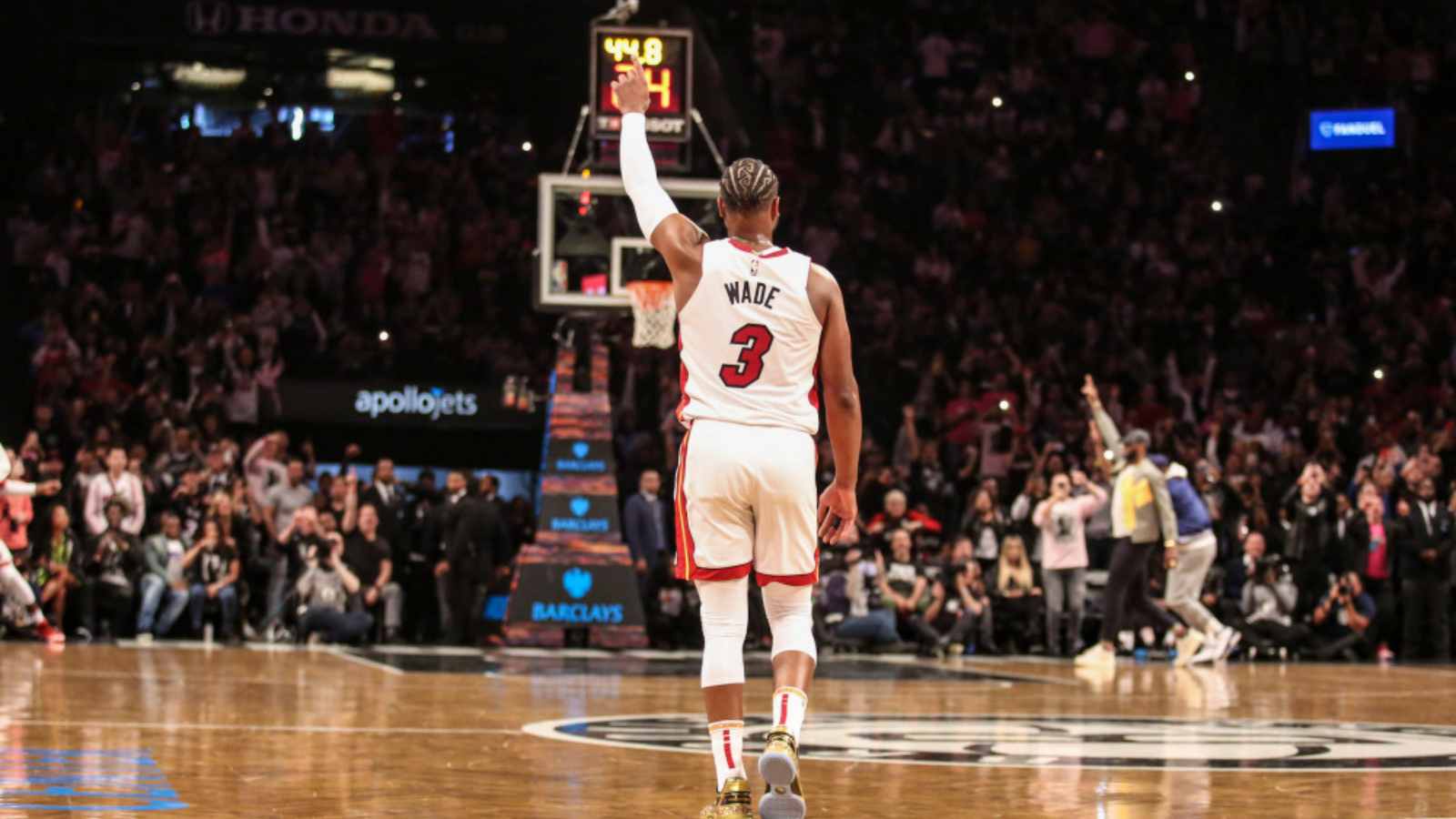 Dwayne Wade is a must name in the Top 5 greatest shooting guards of All-Time. He is one of the rare athletes who, in his prime, could do anything on either end of the floor, whether it was flying to the rim or, as one of the best shot-blocking guards of all time, denying at the rim. It's a testament to Wade's uncanny shot-making and driving ability that he's considered one of the greatest shooting guards of all time despite never developing a reliable jump shot. Wade's willingness to adapt his game to fit around Hall of Famers Shaquille O'Neal and LeBron James in service of winning titles will be his legacy. His tenure made him a Miami Heat legend. He finished with 23.8 PPG, 4.9 RPG, 5.8 APG and .489 FG%.
Achievements:
3-time NBA Champion
1-time Finals MVP
11-time All-Star
8-time All NBA Selection
3-time All-Defense Selection
1-time NBA Scoring Champion
Also Read: Nikola Jokic Net Worth, NBA Salary, Endorsements, Girlfriend and more
Also Read: Kevin Durant Net Worth, Salary, NBA Career, Endorsements, Contract and more