If not the best, Chicago Bulls have surely been one of the best team in the NBA 2021-22 Season. With the inclusion of DeMar DeRozan, Alex Caruso, Lonzo Ball and Nikola Vucevic since the start of the previous season, the Bulls have formed a team around Zach LaVine after enduring a tough end in the 2020-21 season, wherein they could not make it into the playoffs. With the likes of DeMar DeRozan especially, the Bulls seem to have equipped themselves with a new marquee scorer.
The veteran hasn't been at his best for several seasons in the past and has struggled playing in teams like San Antonio Spurs, however since he has made his way into the Chicago Bulls, DeMar DeRozan has been among the early season MVP picks and has returned to his All-Star level, as he has led the team on the offensive end game after game. Now ahead of the Bulls vs Nuggets showdown, it is being reported that DeMar DeRozan has been made to enter the NBA Health and Safety Protocol. As a result, of which he has miss at least 10 days.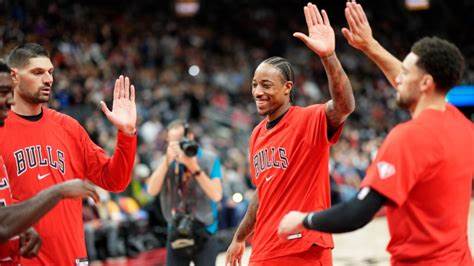 DeMar DeRozan misses for Bulls after entering NBA Health and Safety Protocol
It is unclear how long DeRozan will be out but he is definitely going to miss the game on Monday night as the Bulls take on the Denver Nuggets. In order for DeMar DeRozan to come back, he needs two consecutive negative PCR tests in 24 hours, or be isolated for at least 10 days.
The Chicago Bulls have been playing some great basketball this season as they are 16-8 and second in the Eastern Conference. Many of the team's success can be put on the way that DeMar DeRozan has played so far. He currently leads the team in scoring at 26.4 points per game which is best for fourth in the entire NBA.
With DeMar already showing the level that he can lead the Bulls up to, there is no denying that his team is going to significantly miss him against the Denver Nuggets. Having said that, take a look at how hoop fans reacted after knowing DeMar DeRozan entered the NBA Health and Safety Protocol.
Also Read: Charlotte Hornets vs Philadelphia 76ers Live Stream, Prediction, Preview, Injury Report,…
Also Read: Miami Heat vs Memphis Grizzlies Live Stream, Prediction, Preview, Injury Report,…