With the Green Bay Packers falling 40-33 against the Philadelphia Eagles, the problems seem to mount for head coach Matt LaFleur. Additionally quarterback Aaron Rodgers too had to be taken off in the third quarter after suffering a blow to his ribs.
Aaron Rodgers, who already has been playing with a broken right thumb in an injury he sustained in Week 5, said that he wasn't able to rotate his upper body and was having trouble breathing. Backup quarterback Jordan Love had to come in place of him.
For Green Bay Packers, they next have Chicago Bears in their way and there's no need to say that Rodgers wants to play against them given the history. As a starter he has a 24-5 record against the Bears and also issued the infamous statement – "I still own you", last time out.
Also Read: "Pure Garbage," Jets Wilson gets reprimanded on NFL Twitter as teammates turn on the QB after a DREADFUL performance against the Patriots
Aaron Rodgers expected to feature against the Chicago Bears after positive scans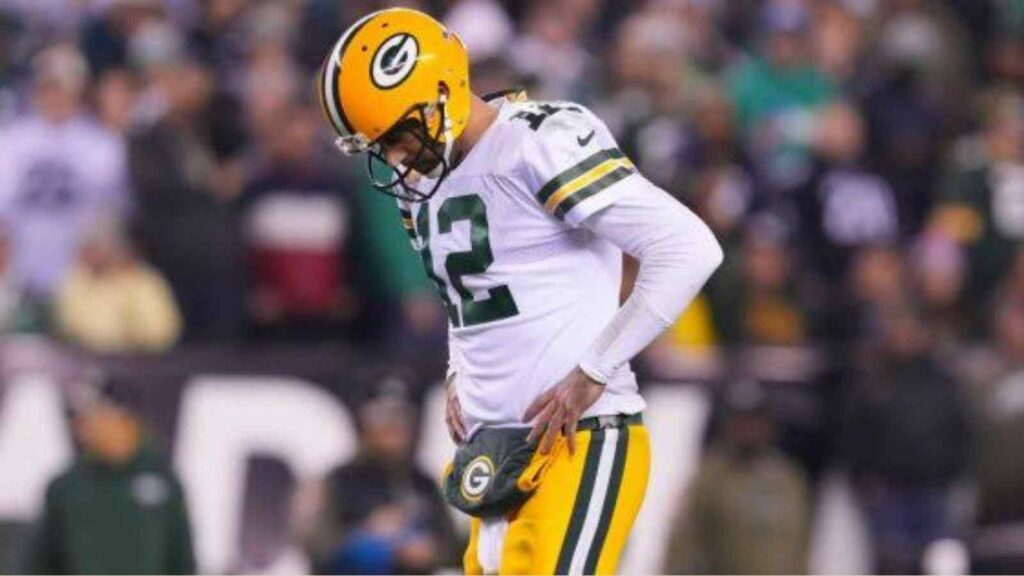 Rodgers revealed some good news to his fans on his weekly appearance on the Pat McAfee Show on Tuesday and said that he's raring to go against the Chicago Bears. The scans have shown gold results, and he's ready to play against the Bears. "I plan on playing," Rodgers said.
"And not just cause it's Chicago," Rodgers said. "That's what you do. When you're a player you go out there and if you can play, you play. You don't need some doctor to give you an excuse. If you can go out there and compete and you have competitive greatness in your body, in your heart, in your mind, you go out and play."
Rodgers added that nowadays there's a sense amongst players to not play if they aren't at their hundred percent, but that's not the case with him. For him, that doesn't make any difference as he is always wanting to compete.
"I would assume that's probably more prevalent now than maybe it used to be," Rodgers said. "I think there is understandably, I guess, there's fear around what does it mean if I'm not a hundred percent and I don't play my absolute best going out there. Can I live with that reality? And I think many people can't. For me, I can because I know what competitive greatness is."
Do follow us on: Facebook | Instagram | Twitter
Also Read: "COME ON THEN!": Cowboys LB Micah Parsons continues his pursuit to recruit Odell Beckham Jr, gives frenzy shoutout AGAIN on Twitter
Also Read: "Pure Garbage," Jets Wilson gets reprimanded on NFL Twitter as teammates turn on the QB after a DREADFUL performance against the Patriots