The Los Angeles Rams gave up their future in 2021 when they traded for former first-overall pick Matthew Stafford. Luckily, it paid off, and they won Super Bowl LVI. However, they had to part ways with their first-round picks in last year's and this year's draft. Their first pick of the 2023 draft was in the second round and they selected TCU guard Steve Avila 36th overall.
Then with pick number 128 in the fourth round, the Rams selected national sensation, Georgia's quarterback Stetson Bennett. The Mailman, as he is commonly known, will serve as backup to Matthew Stafford who was also a Bulldog.
Stetson Bennett has had an inspiring journey and his hard work and efforts have finally paid off as he was drafted by the Rams. Bennett started off as a walk-on at Georgia in his freshman year. He then transferred to Jones College and after a year of being their starting quarterback, he returned to Georgia to serve as a second-string quarterback.
Related: "The pic is in!" Chiefs' heiress Gracie Hunt sets the NFL Draft on fire with her 'sexy' yellow outfit
Stetson Bennett had a great journey from being a walk-on to 2x CFP National Championship winner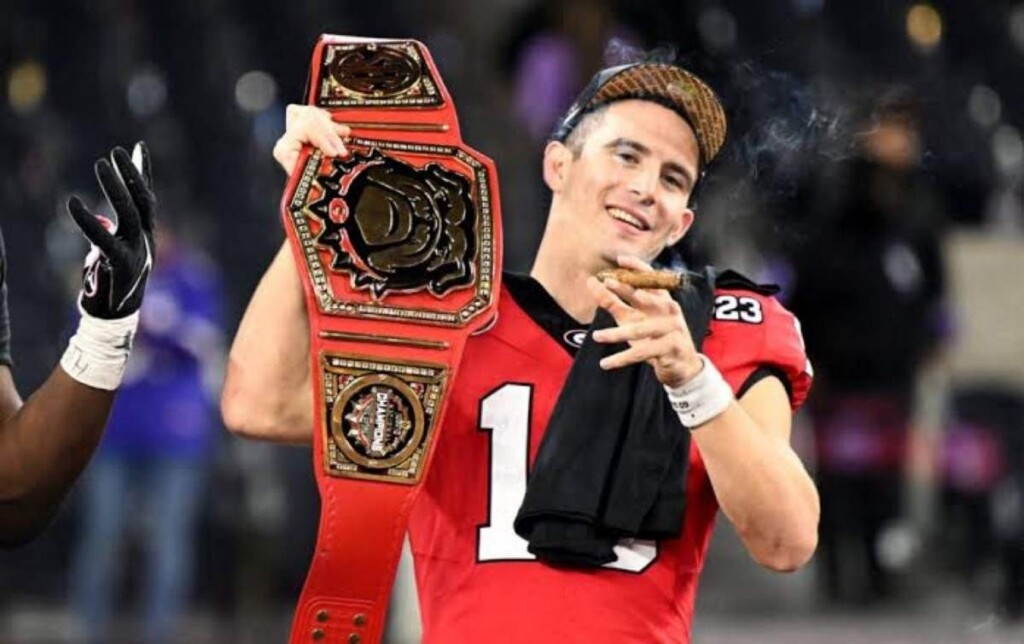 Stetson Bennett became the starting quarterback for the Bulldogs in 2021 and he led the team to an 11-1 record. He led Georgia to the SEC Championship but lost 41-24 to Alabama. However, later on, he delivered Georgia their first CFP National Championship since 1980 in a rematch against the Crimson Tide.
Then in 2022, Bennett went off again as he guided the team to an undefeated 13-0 season. The Bulldogs won the SEC Championship and also won the CFP National Championship for a consecutive time. The Mailman delivered one of the biggest victories as the Bulldogs dominated 65-7 against the TCU Horned Frogs in the national championship game.
Despite having a solid resume, the Rams fanbase wasn't too convinced with the organization selecting Stetson Bennett. This might be because of his off-the-field issues. The 25-year-old was arrested in January in Dallas, Texas, on public intoxication charges. The Georgia legend had a few too many drinks and went on banging doors in a residential complex at 6 a.m.
Here's how fans reacted to Bennett being a Los Angeles Ram.
For the time being, Matthew Stafford will line up under center and Stetson Bennett will be the second-string quarterback. He will have a great mentor in Stafford who is also from his alma mater. Bennett is said to be extremely confident and might come off as cocky, but he has earned the right to be so given his dominance in college football. It'll be amazing to see if he can carry forward the same energy in the NFL!
Do follow us on: Facebook | Instagram | Twitter
In case you missed it!