Tua Tagovailoa was carried off the field on a stretcher after injuring his head for a second time in a week during the game against the Cincinnati Bengals. Tua's former teammate and mentor Ryan Fitzpatrick a former quarterback turned commentator was on the commentary panel for the game and saw the brutal sight up close.
Tagovailoa was drafted in the first round of the 2020 NFL Draft backed up Fitzpatrick for a year and learned the ropes of being an NFL quarterback from him. Fitzpatrick an NFL veteran developed friendship and brotherhood with the former Alabama Quarterback in their year together and was deeply affected when Tua Tagovailoa suffered what looked like a serious injury during the Miami Dolphins-the Cincinnati Bengals game.
Also Read: "You're better than Vince Lombardi," Donald Trump makes a CONTROVERSIAL comment on Robert Saleh after Jets' 31-30 comeback win against the Browns
"I'm having a tough time right now." Ryan Fitzpatrick on Tua Tagovailoa injury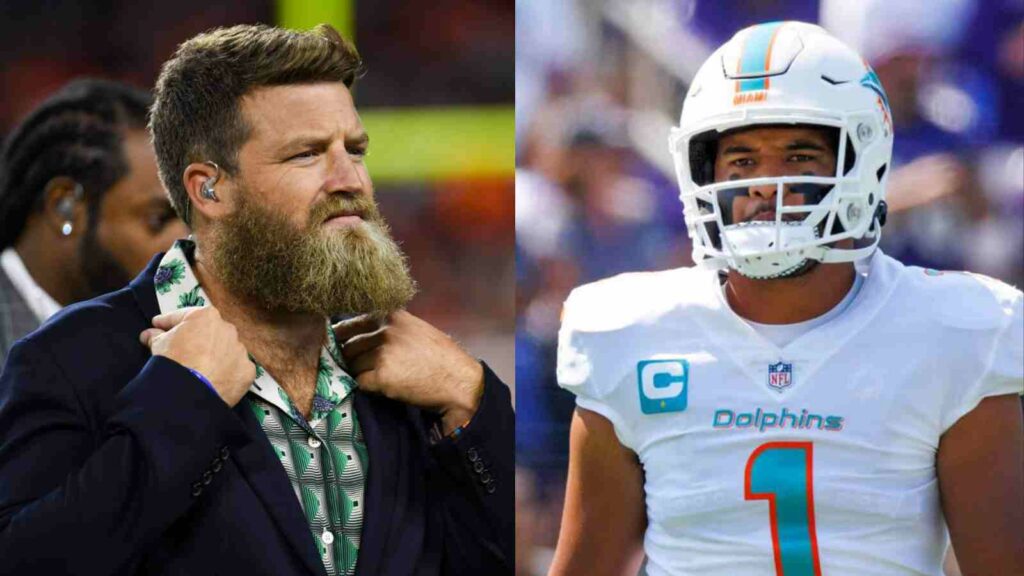 Tua Tagovailoa had a good start to the season with his team entering the game against the Bengals 3-0 but Tua had some mishaps along the way like when in a win against the Buffalo Bills just days ago and yesterday he suffered another injury to the head when his head slammed into the turf during an offensive drive.
It was a scary scene with many preying for Tua's health as he was stretchered off the field for further evaluation. For those who know Tagovailoa personally like his friends and family, it was much more stressful than others but not many were in a situation like his mentor and friend Ryan Fitzpatrick who was calling the game and he acknowledged the difficulty he faced after the game.
Fitzpatrick who is part of Amazon's new football broadcast along with other former players like Richard Sherman, Tony Gonzalez, and Andrew Whitworth said-" As a player, you've gotta move on, you've gotta play the game. As the announcer, analyst, I'm having a tough time right now.".
He continued-" I've played a lot of football, that's one of the toughest scenes I think I've ever seen. For him as a brother, getting to spend a few hours with him last night, as happy as I've ever seen him, to see him do that, get knocked out, go limp, whatever it was, and you could just feel it, not just the fans but both teams, that was a scary scene."
Fitzpatrick has really seen a lot of football during his career and he knows what he is talking about when he called Tua's injury scary. All our prayers are up for Tua. This injury might make things difficult for the Dolphins as there have been demands for an investigation about the concussion protocol following the head hit in the Bills game.
Do follow us on: Google News | Facebook | Instagram | Twitter
Also Read: WATCH "This left hand is legendary." Ryan Clark remembers the viral moment when CeeDee Lamb snatched the phone from his girlfriend's hands-on draft night
Also Read: "Your plays suck man," Jimmy Garoppolo vents out ANGER at 49ers HC Kyle Shanahan's playcalling