The Kansas City Chiefs led by their MVP quarterback Patrick Mahomes defeated the Philadelphia Eagles in a thrilling Super Bowl on Sunday. However, their victory became somewhat controversial because of the contentious holding call during the final minutes of the game. Many people believe that there shouldn't have been a penalty on the Eagles, but Shannon Sharpe, on the other hand, firmly agrees with the holding call.
During the final minutes of the fourth quarter, the Chiefs had the ball in the Philadelphia territory with scores tied at 35 a piece. The Chiefs failed to convert the third down after Patrick Mahomes overthrew his wide receiver JuJu Smith-Schuster and it looked like the Chiefs would settle for a field goal, which would've led to Jalen Hurts and the Eagles getting the ball with 90 seconds left on the clock in what could've been a legacy driver for the third year QB.
However, the refs called a holding penalty on the Eagles' defensive back James Bradberry, which eventually led to the Chiefs getting a first down and running out the clock to win the game in a last-minute field goal. The holding call, which became a decisive moment in a big game, caused a massive controversy on social media and many players and experts shared their opinions on the call.
In that trend, the former Denver Broncos tight end and Fox Sports analyst Shannon Sharpe weighed in on the controversy with his insights. The Hall of Fame tight end agreed with the call.
Related: "Embarrassed for the Chiefs," Eagles' Britain Covey's wife VICIOUSLY BLASTS the Chiefs following their 'controversial' Super Bowl win
Shannon Sharpe believes the holding call in the Super Bowl isn't really debatable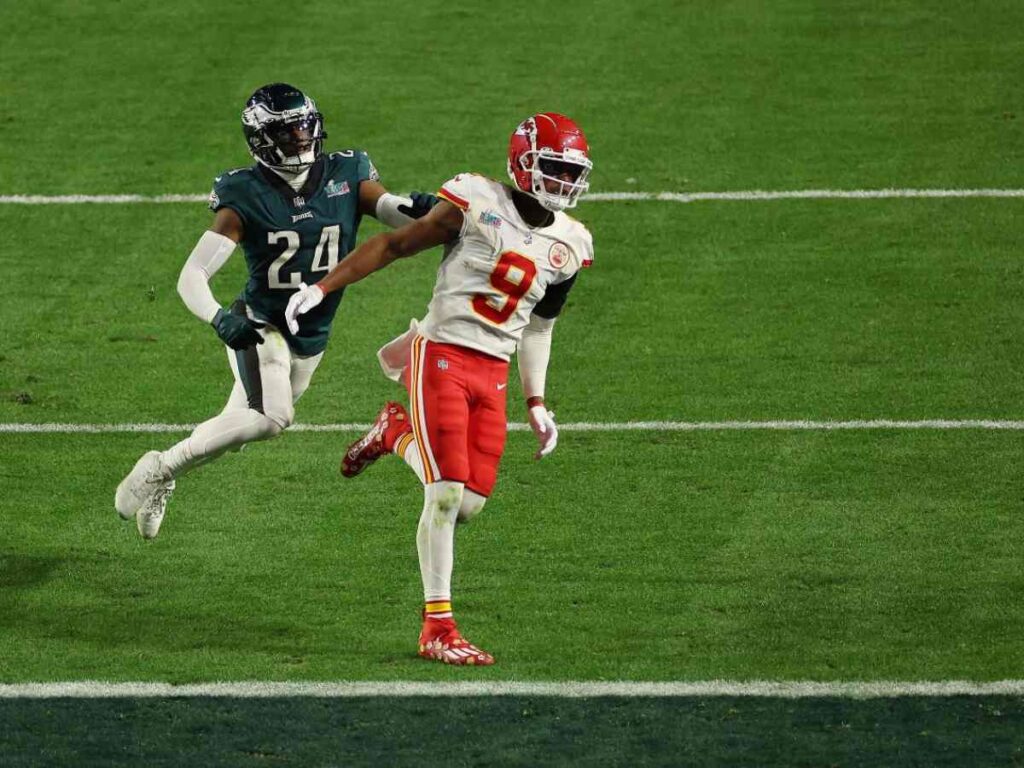 While speaking in a recent episode of his show UNDISPUTED, Shannon Sharpe believed that it's the right decision to call the holding penalty on the Eagles' DB James Bradberry, no matter the situation.
"Yes it was a flag, James Bradberry admitted as much, that he held him, it's really that Simple," said Sharpe in a recent episode of his show. "He got out of position, he knew he was beat and he held JuJU."
Sharpe went on to say that the moment shouldn't impact the referee's decision to make that call. "Just because it's the Super Bowl doesn't mean you don't make that call," said Sharpe.
Like Sharpe, many people, even James Bradberry, admitted that he did in fact held Juju Smith-Schuster. The Chiefs went on the win the game and became the Super Bowl champions and the Chiefs will have bragging rights over other teams' fans at least till next February.
Do follow us on: Facebook | Instagram | Twitter
Related : "There's no disputing that," Stephen A. Smith gives HOT take on the controversial Eagles' James Bradberry call during the Super Bowl
Related : Vikings legend Adrian Peterson makes amends with Damar Hamlin after THRASHING him over his 'blasphemous' Super Bowl outfit