The Miami Dolphins have suffered a huge setback ahead of their crucial playoff encounter against the Buffalo Bills. Head coach Mike McDaniel has confirmed that starting quarterback Tua Tagovailoa will not be available for the Bills game this weekend.
Tagovailoa suffered a second concussion injury this season during the Dolphins' 26-20 defeat against the Packers in their Week 16 game. The 27-year-old is all set to miss his third straight game after failing to regain fitness during the pregame training sessions.
"As of today, Tua has not been cleared by doctors to resume football activities on the field with his teammates, so because of that and because of the time that he's missed, I can rule him out for Sunday," McDaniel said on his starting quarterback.
Tua Tagovailoa has had a torrid season with him suffering numerous concussion issues and being at the centre of attraction regarding the NFL's dicey rules involving this particular injury.
Related: "TB12 is a fact!" Renowned journalist ASSERTS the Raiders are strongly looking to sign Tom Brady next season
Skylar Thompson is the leading candidate to take over quarterback duties for the playoff game against the Bills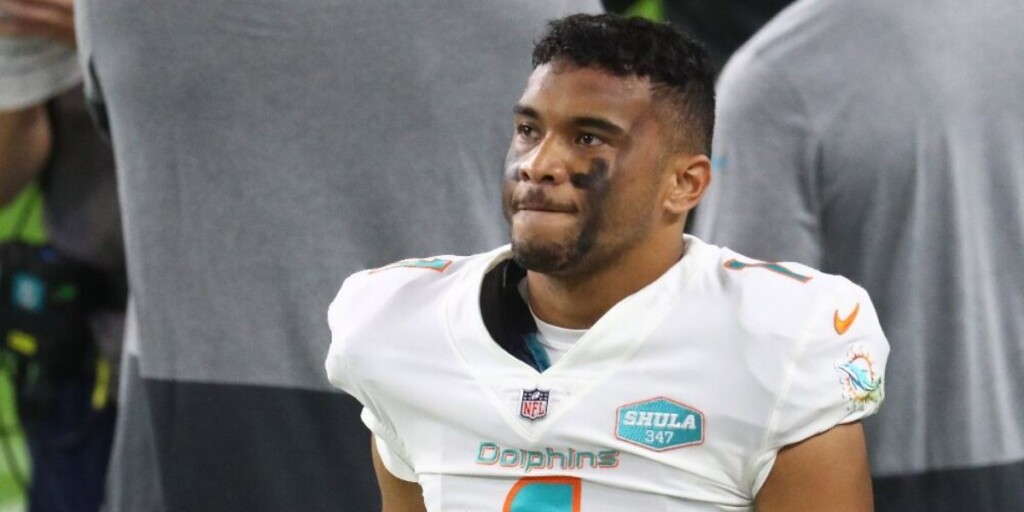 McDaniel confirmed that they are preparing to start rookie quarterback Skylar Thompson for their most important game of the season so far. However, Teddy Bridgewater is a far way off from making an appearance with him yet to recover from his finger injury.
"His biggest thing is that he knew he had to be in a position where he had to be fully functional on Sunday, that took some strain, and really just some guts and work ethic," McDaniel said of Bridgewater.
"That's not an easy thing to do, and as it stands right now, he's working to prepare himself to be capable on Sunday. But as a result of that, he can't afford any setbacks or really anything that's conflicting against the healing process in the week. As a result, we will be approaching the game today, the Wednesday game, as Skylar Thompson as our starting quarterback."
Thompson now has big boots to fill, and the Dolphins faithful will hope that he comes up to speed very soon against Josh Allen and co. this Sunday. The rookie did a decent job in his previous outing against the New York Jets, leading them to an 11-5 victory which was extremely crucial given the playoff scenarios for the franchise.
Fans React to Tua Tagovailoa's news on Twitter
Do follow us on: Facebook | Instagram | Twitter
Related: "Our window is always open," Cincinnati QB Joe Burrow believes the Bengals have the potential to establish themselves as a DYNASTY
Related: "That was as thorough a butt-kicking," Jerry Jones warns the Cowboys about playoffs after humiliating loss to the Commanders