Colorado Avalanche captain Gabriel Landeskog hoisted the Stabley Cup after defeating the two-time reigning champions the Tampa Bay Lightning at Game 6 on Sunday. After rejoicing the Cup in his hands, Landeskog handed it to defenceman Erik Johnson. Johnson knew the potential plan of hoisting the Stanley Cup handoff from the team captain for a while.
Erik Johnson noted, "'Gabe' was telling me the last couple of years, 'When we win it, you're getting it first"."If that doesn't give you the motivation to get it done, I don't know what does. Just a super, humbling gratifying feeling. I mean, it's amazing." Johnson was the first team player to receive the Cup from Landeskog after defeating Lightning 2-1 in Game 6.
Also Read| "Youngest defenceman in 52 years" – Avalanche's Cale Makar wins Conn Smythe Trophy as playoff MVP in Stanley Cup Final
Gabriel Landeskog handed over the Stanley Cup to Erik Johnson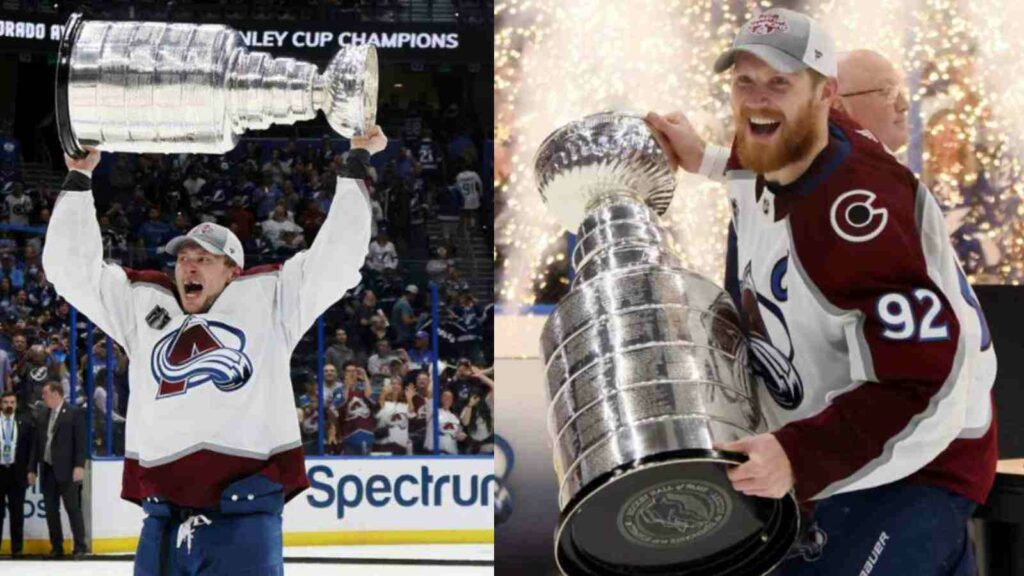 NHL Commissioner Gary Bettman couldn't be present to hand over the Stanley Cup after Game 6, to Colorado Avalanche's captain Gabriel Landeskog as he was tested positive for Covid-19. In place of him, NHL Deputy Commissioner Bill Daly took the stage to hand over the Cup who in turn handed it to Avalanche defenceman Erik Johnson who has been with the team for more than a decade now.
As of now, Erik Johnson has registered 329 points in 857 NHL games, including 238 points in 654 games with Colorado. In the Stanley Cup Playoffs, he has 5 points in 20 games. After the game-winning buzzer stopped, Landeskog tackled him hard. The Cup later rotated around the other teammates some of them being Andrew Cogliano, Nathan MacKinnon, Jack Johnson, Nazem Kadri, and so on.
Also Read| "Huge turning point" – Mikhail Sergachev and Ondrej Palat turn Game 5 in Lightning's favour
As per nhl.com, Johnson said, "I thought I drilled my head on the ice. 'We did it!' It was just elation". "It was the best feeling ever. So proud of all our guys, our support staff. Everyone sees us on the ice, but there are truly so many people behind the scenes that get it done for us that allow us to go out there and do it. Oh, just amazing. So grateful."

Avalanche coach Jared Bednar became the first coach to win the Stanley Cup, the Kelly Cup, and the Calder Cup. Finally, Erik Johnson stated, "I've been in the league 15 years, had a lot of ups and downs but just stuck with it, believed in myself, surrounded myself with people who believed in me and most importantly, my teammates. I'm so proud of my teammates". "They all worked their [tails] off, the support staff that gets us ready to play, it's amazing."
Also Read| "Twenty-plus years of just dreaming" – Colorado Avalanche lifts maiden Stanley Cup title since 2001