The off-ice drama surrounding contract talks may be almost as captivating in the world of professional hockey, where players often become household names for their tremendous on-ice exploits. NHL star Steven Stamkos has garnered attention not for his goals or assists but rather for his open admission of dissatisfaction with the Tampa Bay Lightning. The cause of his dissatisfaction? is the absence of contract discussions with his present group.
"I've been disappointed in the lack of conversation in that area," said Stamkos, whose name is linked with greatness on the ice. As a result, there have been no talks. The hockey community was shocked by these simple remarks. With regard to contract extension talks, Stamkos, a player with a long history with the Tampa Bay Lightning, made it obvious that he anticipated more.
The mere suggestion that Stamkos would wear a Toronto Maple Leafs shirt has generated excitement among hockey enthusiasts in the city. This rumor is based on Stamkos's own comments, in which he voiced his disappointment with his current team's seeming lack of interest in renewing his contract.
Many have begun to speculate about the top player's future in the NHL as a result, particularly in light of the fact that there have been no serious discussions about extending his contract.
Related: Nikita Zadorov ROARS against Russian invasion unleashing a fiery stand for peace while facing career turbulence
The anxiety and frustration, according to Steven Stamkos
Sincere comments made by Steven Stamkos have generated serious concerns about his long-term future with the Tampa Bay Lightning. His remarks caused quite a stir in the hockey-mad country of Canada, where the game has a particular place in many people's hearts. A player of Stamkos' quality doesn't often voice such dissatisfaction with how his current club handled contract talks.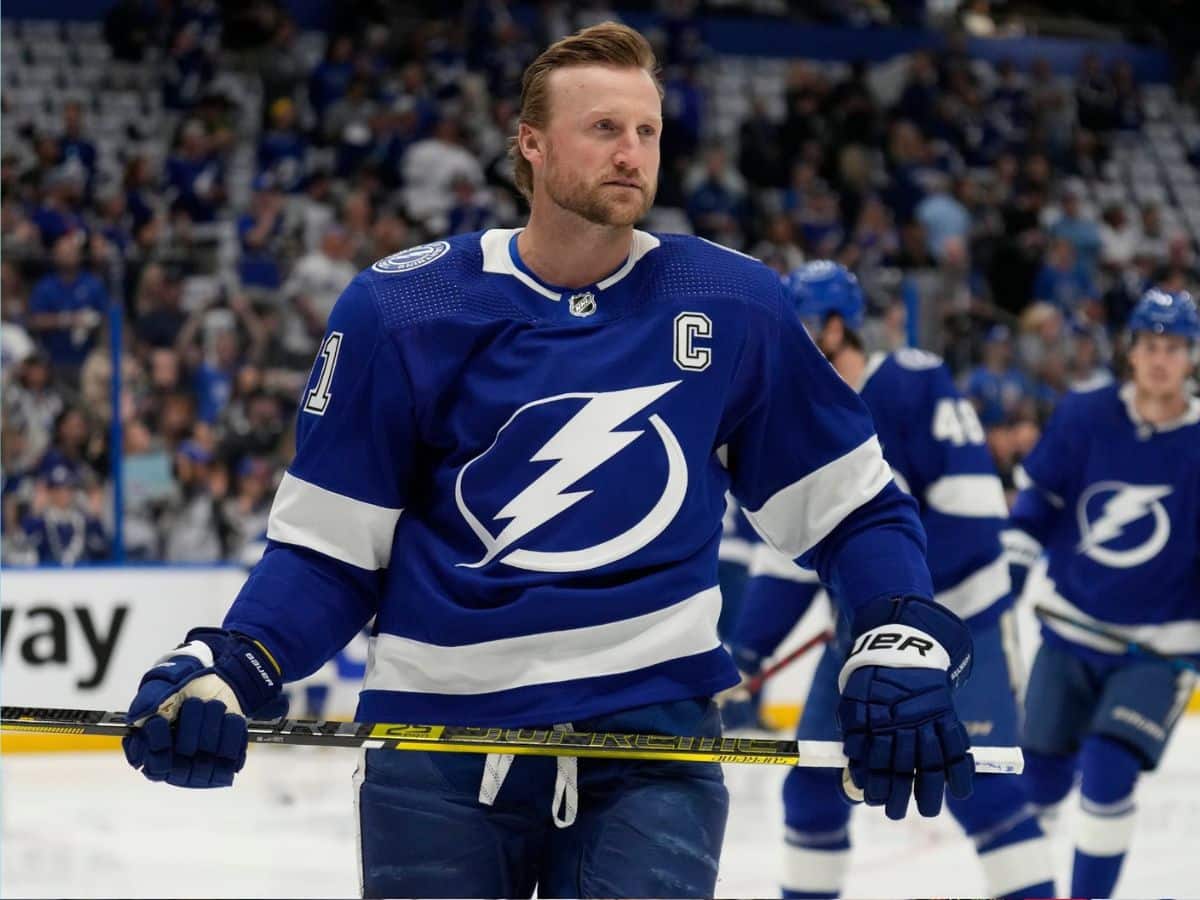 In a recent episode of the "32 Thoughts" podcast, Elliotte Friedman hinted at an unspoken belief among some close to Stamkos that Tampa may not be crushed if he decides to go. This stoked the debate. This raises questions about the Lightning's genuine motivations, which adds another level of interest to the issue. Will they attempt to patch things up and ensure Stamkos's future in Tampa, or will they let go of a guy who has been a pillar of their team?
Steven Stamkos' NHL career is still in the balance, to sum up. His open admission of dissatisfaction with how the Tampa Bay Lightning handled contract negotiations has spurred rumors of a potential transfer, with the Toronto Maple Leafs frequently touted as a prospective location.
One thing is certain as fans impatiently await fresh information: Stamkos's contract crisis has added a new level of drama to the world of professional hockey, and hockey fans across the globe will be closely watching what happens next.
In case you missed it:
Do follow Firstsportz on WhatsApp Channel