| | |
| --- | --- |
| Name | Patrick Timothy Kane II, a.k.a, Patrick Kane |
| Age | 33 years |
| Birth Date | November 19, 1988 |
| Birth Place | Buffalo, New York |
| Height | 1.78m |
| Profession | Professional Ice Hockey Player |
| Team | Chicago Blackhawks |
| Net Worth | $28 million |
| Last Updated | 2022 |
Patrick Kane is an American professional ice hockey player for the Chicago Blackhawks of the National League Hockey. He was also crowned as one of the 100 Greatest NHL Players for National League Hockey's 100th anniversary. He is also the youngest American player to have a record of 1000 career points in a regular season, in January 2020.
Kane acts as a right-winger and as an alternate captain for the team Chicago Blackhawks. Due to his power plays, he has won several giant trophies and names. Some of them include 3 times Stanley Cup champion, Conn Smythe Trophy, the Art Ross Trophy, Ted Lindsay Award, and Best NHL Player title. He has also represented the United States many times internationally including in the 2010 and 2017 Winter Olympics.
The full name of America's right-winger is Patrick Timothy Kane II. He is also nicknamed Showtime. But he is commonly known as Patrick Kane. Kane started his career at a very young age and shot up to stardom in no time. He became one of the biggest assets for the Blackhawks and is still playing with the team.
Patrick Kane Net Worth (2022)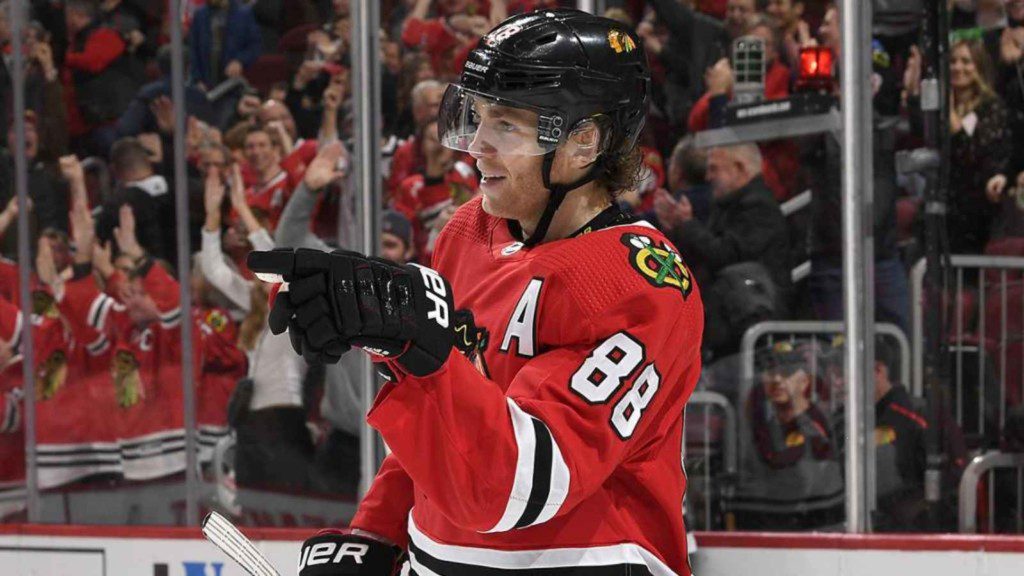 Patrick Kane had an amazing start to his hockey career, and slowly it only began to escalate. He has a net worth of $28 million and a salary of $7 million yearly as of 2022. Now, he is considered one of the richest high-scoring champions in NHL history. In the 2009 – 2010 season, Kane signed a 5-year contract extension with Chicago Blackhawks worth $31.5 million.
Also Read| "I signed with the team" – Marian Hossa's one-day contract with the Blackhawks before his retirement
Kane once again signed another 8-year contract extension with the team in 2014 worth $84 million. Kane made $13.8 million in the following 2016-2018 playoff seasons. While playing for the team, he has signed tons of contracts and got endorsement deals for large companies. His income is a mixture of both his deals with the teams and the companies so far.
Patrick Kane NHL Career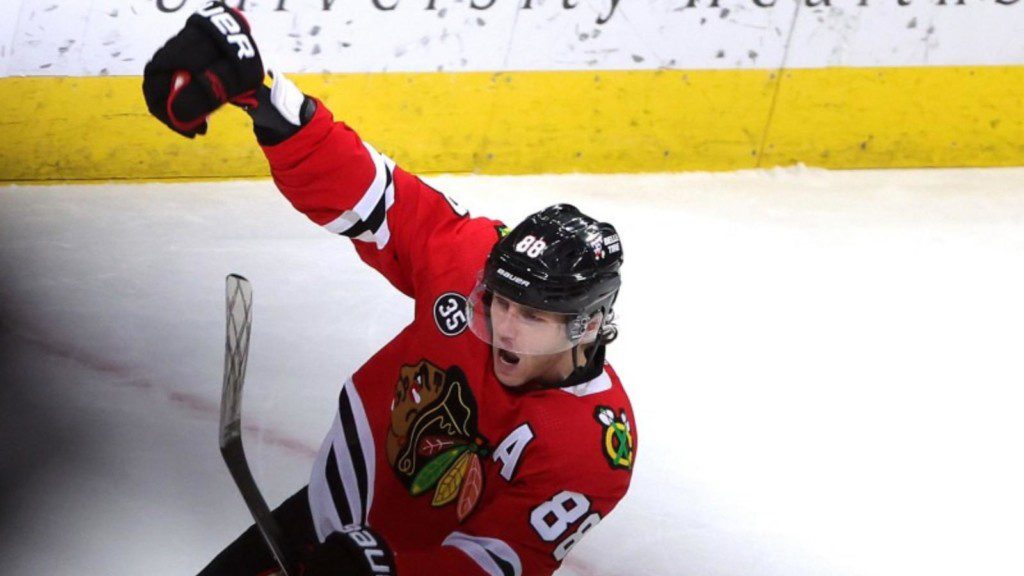 Kane had an early start with a smooth uprising till the NHL draft out. He started playing for the junior hockey team U.S Bobcats and later joined the Honeybaked AAA hockey club in Michigan. After 3 years of playing with the Honeybaked team, he was drafted as the 88th overall pick by London Knights in the 2004 OHL Midget Draft.
Later the Chicago Blackhawks drafted Kane as the 1st overall pickup in the 2007 NHL Entry Draft. On July 25, 2007, he signed a contract with the Blackhawks for 3 years. Kane made his debut as a Blackhawk in the game against Minnesota Wild in October. He scored his first goal against the Colorado Avalance on October 19, 2007. He finished his rookie season with 72 points and won the Calder Memorial Trophy. Patrick Kane scored his first hattrick against the Vancouver Canucks in the 2009 Stanley Cup playoffs.
In the 2013 Stanley Cup playoffs, Patrick Kane scored his second hattrick against the Los Angeles Kings. Additionally, he participated in both the 2010 and 2014 Winter Olympics, 2006 IIHF U-18, 2007 United States U20, 2018 IIHF World Championship as the captain of the U.S team, and lastly in the 2018 World Championship where he achieved the title of MVP.
Patrick Kane Endorsements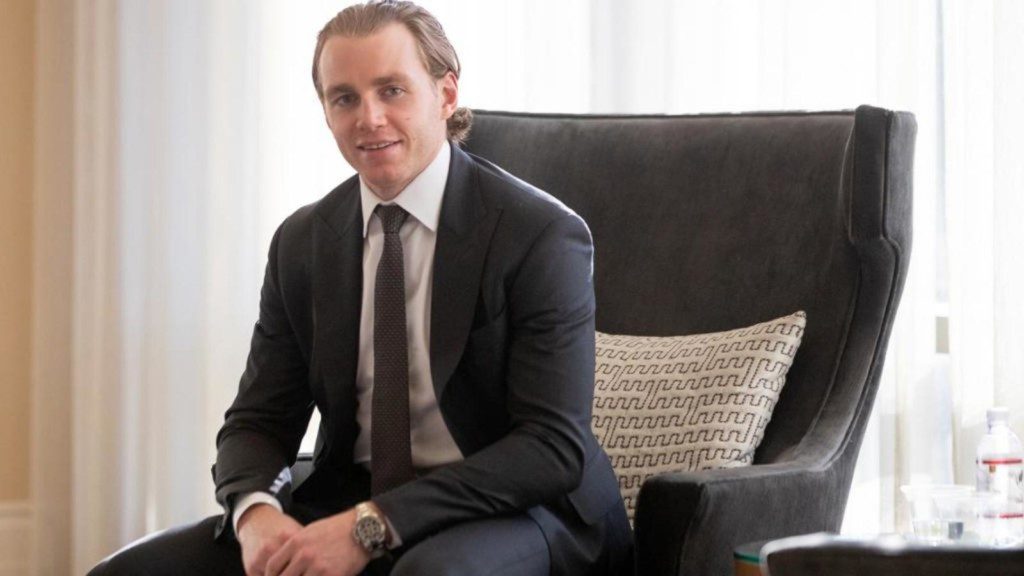 Apart from a net worth of $28 million, Patrick Kane has signed endorsement deals with Bauer Hockey, Gatorade, Chevrolet, and Mcdonald's. He has also made $7 million by participating in the 2020-2021 season. In March 2012, he purchased a $2.68 million mansion in Hamburg town in Erie County, New York. We can only guess that the rest of the companies have paid him somewhat similar deals to Bauer. Apart from these, Kane is also very invested in participating in charity works as mentioned in ecelibritymirror.com.
Patrick Kane Girlfriend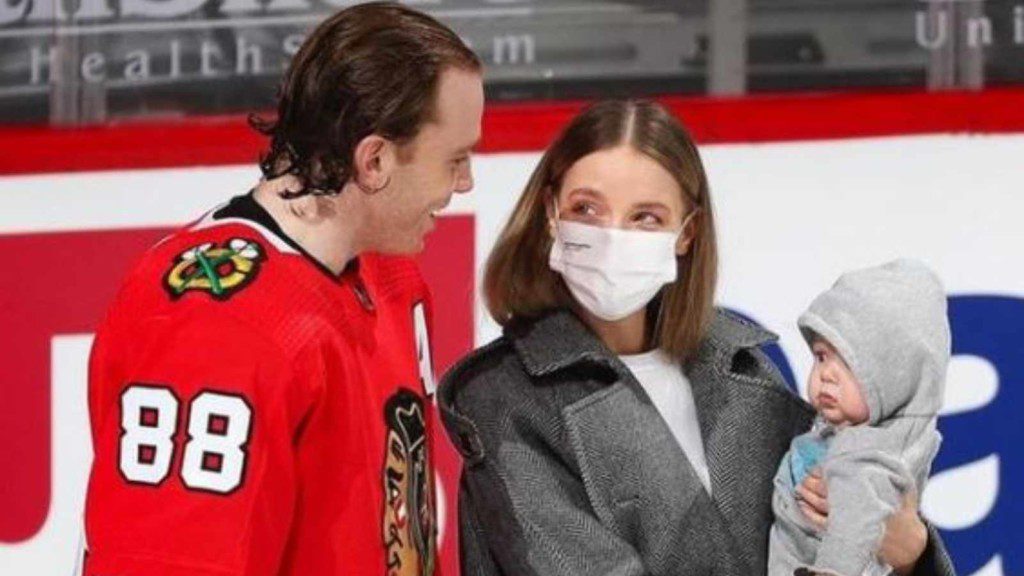 Kane is currently in a relationship with his girlfriend-cum-fiance, Amanda Grahovec. And they both have been together for more than 10 years. The couple has birthed an adorable son namely, Patrick Kane III. After their long 10 years of relationship, their engagement happed in 2019. On the other hand, there is no clear indication of them getting married. Even if they are married it is still kept under wraps. For now, no wedding news has been found. Though some sources claim that they are already married.
Q. What team is Patrick Kane on in 2022?
He is still with the Chicago Blackhawks
Q. Did Patrick Kane win any Stanley Cups?
Patrick Kane has won 3 Stanley Cups as of 2022.
Q. Is Patrick Kane married?
Partick is in a long-time relationship with his girlfriend Amanda Gravhovec. They both have a son. But any news pertaining to his wedding is yet to be disclosed.
Q. How much is Patrick Kane's salary worth with the Blackhawks?
Partick Kane has signed an eight-year contract with the Chicago Blackhawks worth 84,000,000 million.
Also Read| Who is Patrick Kane's girlfriend? Know all about Amanda Grahovec