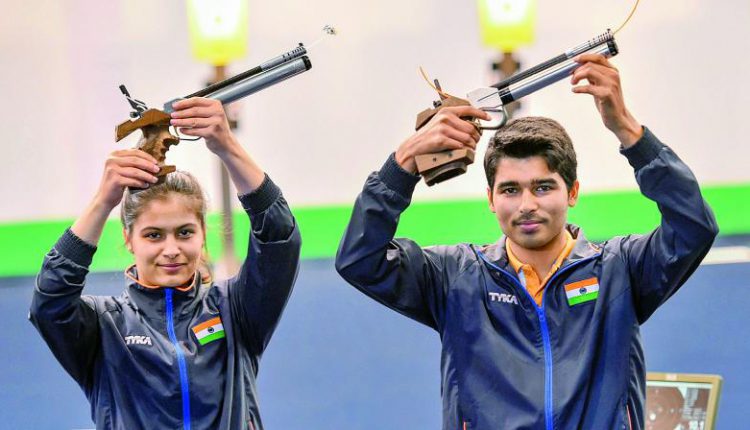 If there were any doubts over how Saurabh Chaudhary would make a return after the long break, they were promptly laid to rest after completion of the Men's 10m Air Pistol Trial 1.
Manu Bhaker also shrugged off her finals woes in 25m Pistol to win her favourite 10m AP event.
Men's 10m Air Pistol T1
Saurabh's stunning show was the highlight of the day. His score of 246.9 is more than the current finals World Record of 246.5 set by North Korean Kim Song Guk in 2019. Equally impressive was 18-year old Saurabh's qualification score of 590.
After a slow start in the 1st series of the finals, Saurabh churned out shots in the high 10s and was well into the lead by the middle of the match. 2nd-placed Anmolpreet Singh though did try his best to keep up with the UP-based prodigy. Anmolpreet's final score of 244.5 would have been good enough for a win on another day.
Shiva Narwal was 3rd while Olympic hopeful Abhishek Verma was eliminated in 4th place.
Saurabh's qualifying score of 590 was also well ahead of others in the field. This despite a high-quality round with 7 out of 8 shooters scoring 580+. 2nd in qualifications was Shahzar Rizvi with 584-23x. Abhishek's 583-18x got him 4th place. Shiva Narwal was 8th with 579-21x.
Women's 10m Air Pistol T1
Manu Bhaker yet again showed her consistency in this event after topping both finals and qualifications. Her performance might be up-and-down in 25m Pistol but she is undoubtedly the best in the country when it comes to Air Pistol.
Manu with 239.3 finished 0.9 points ahead of 2nd placed Shri Nivetha P. Like Saurabh, Manu too struggled at the beginning but soon got into the groove. Neha of UP finished in 3rd place.
Manu shot a good score of 580 in qualifications. 16-year old Esha Singh was 2nd in with 576 and finished 4th in he finals. Olympic quota winner Yashaswini Singh Deswal qualified 8th with 570.
Trial 2 in this event will take place tomorrow.