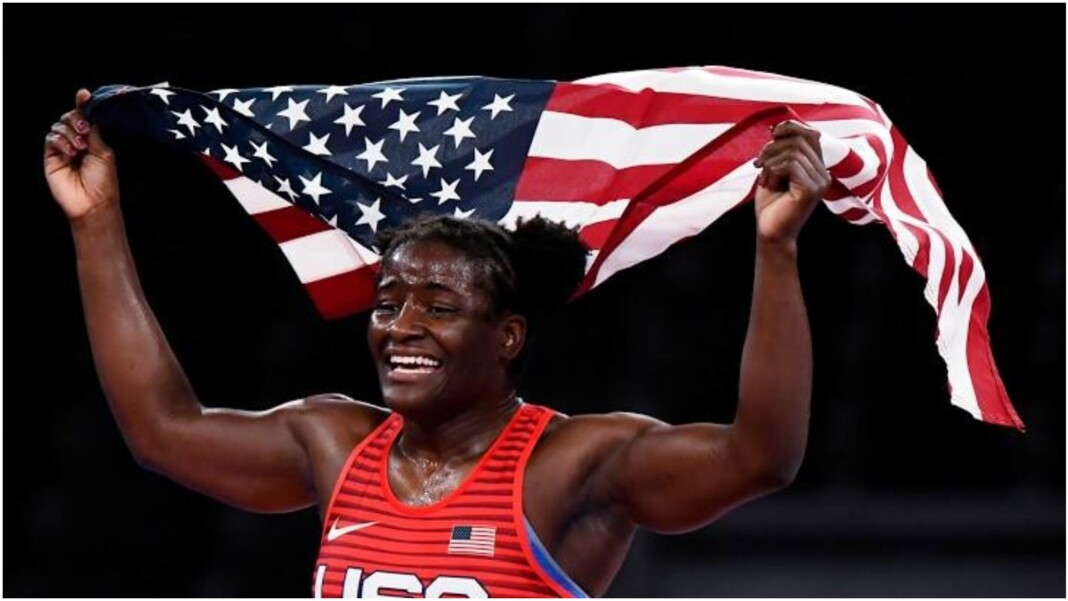 Tamyra Mensah saw the USA flag fly high after her stunning victory in the Women's 68kg freestyle that took place on the 2nd and 3rd of August at the Makuhari Messe in Mihama-Ku. A total of 16 women from 16 nations took part in the competition. A total of 4 medals were handed out to 4 participants from 4 different countries.
Tamyra Mensah beat Blessing Oborududu of Nigeria in the finals to win the Gold medal for the first time. Mensah is a one-time World Championship Gold medalist. She won the Gold medal at the Championships held in Nur-Sultan, 2019. Prior to that, she had won the Bronze at the same event the previous year (held in Budapest 2018).
Tamyra Mensah coasted past her opponents!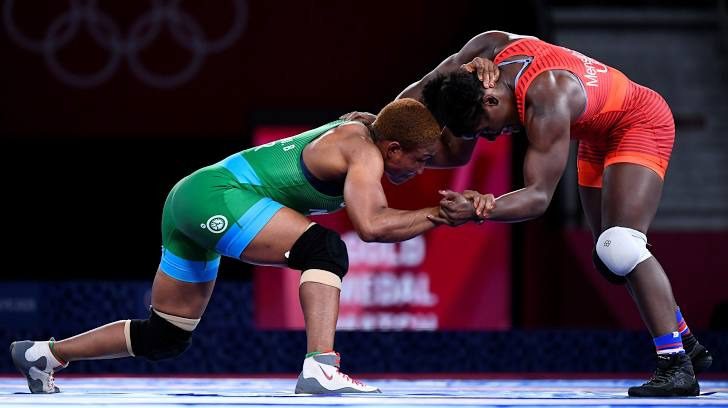 Mensah took on Sara Dosho of Japan in the Round of 16. Mensah scored 10, as opposed to Dosho's 0. In the quarter-finals, Mensah scored the same 10, as opposed to her opponent's zero. This time she beat Zhou Fheng of China. In the semi-finals, Mensah beat Alla Cherkasova of Ukraine scoring 10-4, before going on to beat Obodududu of Nigeria in the finals.
Blessing Oborududu of Nigeria drubbed Elis Manolova of Azerbaijan in the Round of 16, scoring 13 while Manolova scored just 2. The quarter-finals was a bit difficult as she came out unscathed against Meerim Zhumanazarova of Kyrgyzstan winning by a point (3-2). She took on Soronzonboldyn Battsetseg, the Mongolian, and scored a 7-2 win.
Alla Cherkasova and Meerim Zhumanazarova win bronze medals!
Alla Cherkasova of Ukraine and Meerim Zhumanazarova of Kyrgyzstan won the bronze medals. Cherkasova beat Agnieszka Wieszczek of Poland 11-0 in the Round of 16, before blanking Anna Schell of Germany. She then lost to the Gold medalist Tamyra Mensah in the semi-finals and headed directly to the Bronze medal match via the repechage. Cherkasova beat Sara Dosho of Japan to win Bronze.
Zhumanazarova fell to silver medalist Oborududu in the quarterfinals and headed to the first round of repechage. The Kyrgyzstani beat Elis Manolova of Azerbaijan 4-1 before beating Soronzonboldyn Battsetseg of Mongolia 10-1 in the Bronze medal match.
Twitter reactions to Tamyra Mensah historical feat
UFC President Dana White reacted to Tamyra Mensah's incredible accomplishment at Tokyo Olympics on Twitter. He wrote, "Congratulations Tamyra Stock for being the first black woman to win a wrestling gold medal. I love your energy, I love your positivity, and we couldn't have a better representative of our country."
The senator of the United States, Ted Cruz also went on Twitter to congratulate the world champion.
Popular Television host, Megyn Kelly was filled with joy as she expresses in her tweet after the USA bagged gold in wrestling.
Also Read: "I go out there and I get it" – Kamaru Usman feels he could beat Boxing great Canelo Alvarez
Also Read: "Stop with the excuses" – Leon Edwards ready to fight Jorge Masvidal