Cody Simpson, an Australian pop singer, has dropped a fresh hint regarding his future aspirations. Qualifying for the global event has consistently been his primary objective. Prioritizing his childhood aspiration of swimming for Australia, he made the personal choice to temporarily halt his music career.
Despite not securing a spot in the Olympics yet, it seems like he is already thinking about reducing his swim-related responsibilities next year, no matter what happens. Simpson achieved great success at the Australian short-course championships last weekend. He achieved an unexpected victory by winning two gold medals and one silver, much to the surprise of both him and the Queensland community.
In order to train, I traveled to Sydney last week and took part in a race. He said on Wednesday that he was excited to be very close to his best times even though he was tired from training. His collection of two gold medals and one silver indicated that Paris 2024 could be the point where he ceases swimming professionally.
Simpson stated that he took part in the Australian short-course championships for the second and last time. "It's been real." Almost three months after the Olympics, the short-course championships are scheduled to occur in October for the upcoming year. Simpson will have one more opportunity to qualify for the Paris 2024 Olympics in June next year during the swimming trials in Australia.
In previous discussions, he has mentioned the possibility of continuing his swimming career after the Olympics. In order to balance his training, competitions, and music career effectively, he would have to make more precise plans. Australia's best swimmers often choose not to participate in events like the short-course championships in order to stay rested and ready for important competitions.
Simpson's deep involvement in swimming has developed since he began participating in the sport. Currently, he is involved in a committed romantic partnership with Emma McKeon, an Australian Olympic champion, and the two of them have recently purchased a house on the Gold Coast. His closest friends, including Mack Horton, are also thought of as his teammates by Simpson.
Having already participated in the Commonwealth Games, he is patiently anticipating a chance to make a substantial impression by joining the world championships or Olympics. Prior to his career change, Simpson stated, "I'll always have music, but there's a limited time for swimming and I just want to be able to, win or lose, look back one day and say, well, at least I gave it my best shot."
Also Read| "Ready to go back" – CWG gold medalist Cody Simpson reveals probable plan to return to music career
Cody Simpson's journey from being a famous singer to becoming a swimmer
Simpson always had a desire or a goal. The intention was never for it to gain worldwide recognition and admiration, but rather to date models and celebrities, perform on Broadway, and make TV appearances. Everything that has occurred to the star who was born on the Gold Coast – however, his aspiration was to participate in swimming competitions for Australia, just like his parents.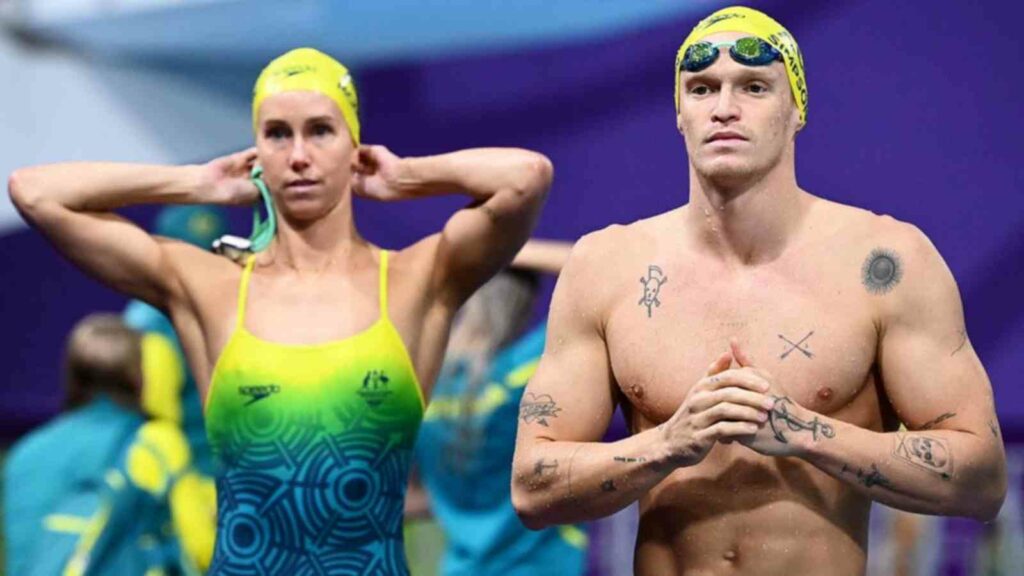 Angie Simpson, Simpson's mother, participated in the 1987 Pan Pacific Games representing Australia. Brad, his father, participated in swimming representing Australia during the 1994 Commonwealth Games. Simpson won two first-place prizes at the 2009 Queensland swimming championships. However, during that very year, he uploaded a few songs on YouTube which drew the attention of Shawn Campbell, a Grammy-nominated American record producer.
He is looking straight ahead. Simpson expressed his disappointment about not getting selected for this year's championships by stating that his experiment in the pool had its share of positive and negative aspects."We had a week of races at our 2023 Australian Trials, where we achieved some of our best times. However, I still need to work on the swimming techniques that I have been practicing in the training center."
In 2010, Simpson and his family relocated to Los Angeles after he signed with Campbell's Atlantic Records. His desire to swim was set aside or deferred. In 2011, Justin Bieber's manager convinced Simpson to become his client. Simpson, who is from Australia, traveled around the United States with Bieber, who is a famous pop singer. Simpson's music became popular and appeared on the Billboard charts. He also released EPs which received praise.
In case you missed:
"Aussie Pop star wins gold"- Cody Simpson's stunning transformation pays off at Commonwealth Games; Emma McKeon creates history with 10th title
"Knew how to deal with it" – Cody Simpson set for 2022 Commonwealth Games after return to 'first love' swimming from music career