Noah Lyles, who is the current world champion, had a really great season in 2023. People both loved and got angry at him for all the amazing things he accomplished. Even though he has done impressive things, an experienced American track and field athlete did not choose Lyles as someone who will carry on the sport in the future. The focus of this news is Noah Lyles and his recent loss at the 2023 Prefontaine Classic.
Social media featured a post that included Justin Gatlin, a renowned sprinter representing America. The message contained a video in which he revealed the identity of the highly anticipated star athlete in the realm of track and field. According to Gatlin, a competitor from a different nation is exceptionally swift and outperforms Noah Lyles. Despite encountering obstacles, the person Gatlin brought up is expected by Gatlin to excel and surpass the abilities of everyone else.
The Tidal League Podcast recently featured an episode with Justin Gatlin. On a podcast, the Olympic gold medalist discusses Noah Lyles' upcoming 2023 season and shares his personal journey. Gatlin's statement about Botswana sprinter Letsile Tebogo being the future of track and field left everyone astonished.
Despite discussing Noha Lyles' impressive season extensively on the podcast, the previous renowned American sprinter still made that comment. A short Twitter video was posted by The Tidal League podcast's official X account, where he delivered his statement.
In Gatlin's opinion, Tebogo is the upcoming talent in men's sprinting in track and field. "The way he runs, I truly admire it. I admire his approach to doing things, his consistent happiness, and his unwavering commitment. He possesses exceptional ability in outwitting others and has a high level of expertise."
At the World Under 20 Championships, Letsile Tebogo, a 20-year-old athlete, emerged victorious and secured two gold medals. Additionally intriguing is the fact that Noah Lyles has emerged victorious over Gatlin, a formidable competitor, on two separate occasions during this year's World Athletics Championships.
Related | Track and Field News predict Neeraj Chopra to finish at podium with a silver medal at Tokyo Olympics
Despite Noah Lyles claiming to break Usain Bolt's record, the sprinter has yet to do so
Noah Lyles often earns comparisons to Usain Bolt, being hailed as the next big thing in sprinting. His frequent conversations revolve around his aspiration to outdo the current world record in the 200-meter race, held by the fastest man. He has become more open about it and now claims he will overcome this obstacle in a short period of time.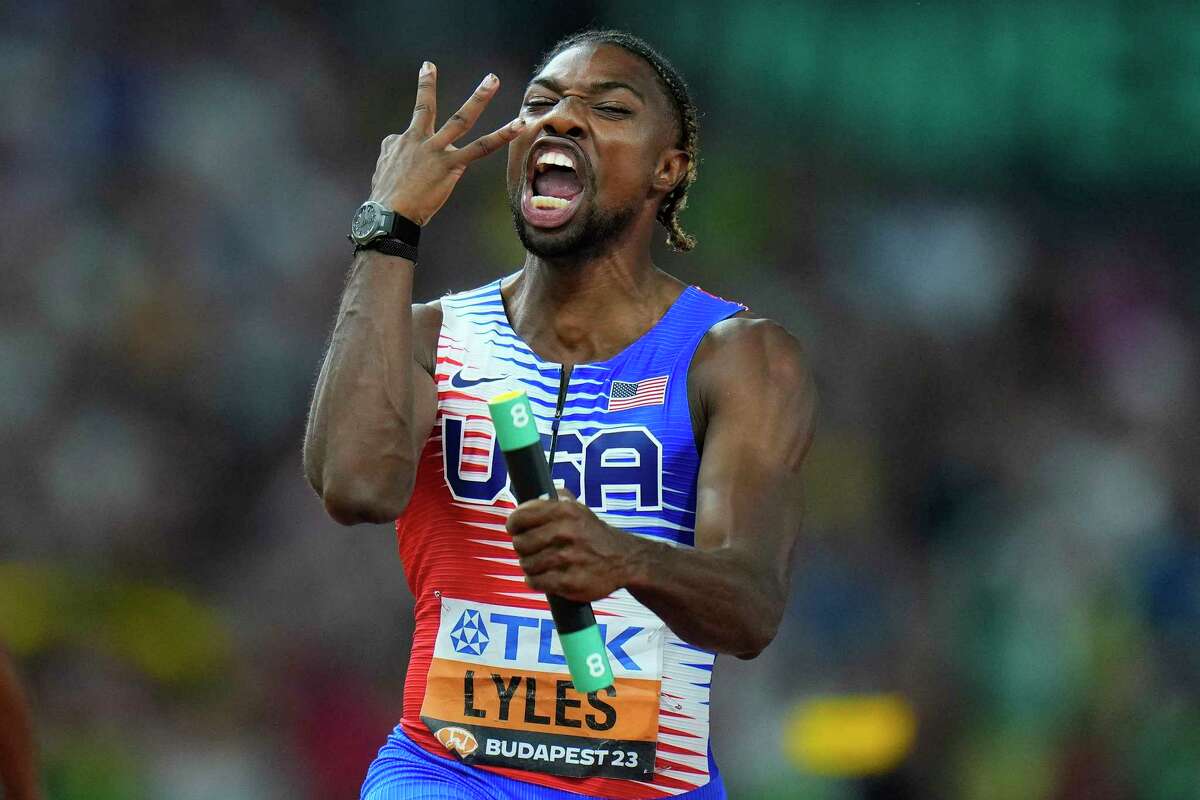 Asked by USA Today, Noah Lyles shared his thoughts on Usain Bolt's unparalleled record-breaking time. He answered, "I am aware that I will damage it. Lyles firmly believes that his recent achievement of breaking Michael Johnson's 1996 record will lead him to immense fame. In contrast to Johnson's 19.32-second record, Lyles completed the race in 19.31 seconds.
The objective of the individual, aged 26, is to exceed the incredible record established by the athlete who emerged victorious with eight Olympic gold medals during the 2009 World Championship. In an interview, Lyles conveyed his aspiration for triumph in the 100m and 200m races at the forthcoming 2023 World Championship in Budapest, Hungary, with the goal of earning two coveted gold medals.
In addition, he expressed his aspiration to achieve a new personal best in the 4x100m relay. Despite the runner's efforts, they were unable to surpass the record and instead completed the 200-meter race in 19.52 seconds, securing the victory. It is anticipated that he will participate in the upcoming 2024 Paris Olympics, affording him an additional occasion to substantiate his statements.
In case you missed it: