Olivia Dunne, a gymnast for LSU and one of the highest-paid female athletes in collegiate athletics, just released a TikTok video that has gone viral online. In the advertisement for the energy drink Accelerator, Dunne danced to the beat of a Justin Bieber song.
She was sporting a grey crop top, pink sweatpants, and fashionable red sunglasses while moving with an engaging charm. But it wasn't only her dancing that had people talking; she also hinted in the post that she had a "crush on Accelerator."
Dunne, who joined Accelerator as an ambassador in July, had great things to say about the merchandise. She mentioned the long list of well-known athletes who also support it. Millions of people have now seen the video, making it a phenomenon. The gymnast, who is well-known for her expertise on uneven bars and All-American honors, is about to begin her fourth and last season at LSU. She has shown her abilities in the realm of sponsorships outside her gymnastics accomplishments via Name, Image, and Likeness (NIL) partnerships, which are approved by the NCAA.
Additionally, Dunne's private life has drawn notice; she is in a relationship with MLB prospect Paul Skenes and recently had an appearance in the swimsuit issue of Sports Illustrated. Her journey strives to highlight the fact that women can achieve success in both modeling and athletics while displaying power and independence.
Related: Olivia Dunne and Paul Skenes IGNITES stardom as 'ultimate power couple' in world of sports, redefines celebrity relationship goals
College sports rising star Olivia Dunne
Olivia Dunne has had nothing less than incredible success in college athletics. Her ability on the uneven bars has made her an All-American gymnast, which is a testimonial to her commitment and talent. But Dunne stands out for her capacity to grasp chances off the gymnastics floor.
She demonstrated her talent for forming clever alliances when she was named an ambassador for the well-known energy drink Accelerator. She enthusiastically embraced Name, Image, and Likeness (NIL), a relatively new way for collegiate athletes to get money, seeing its potential. Her TikTok video, which combines entertainment and advertising, is a prime example of the complex function that today's athletes play.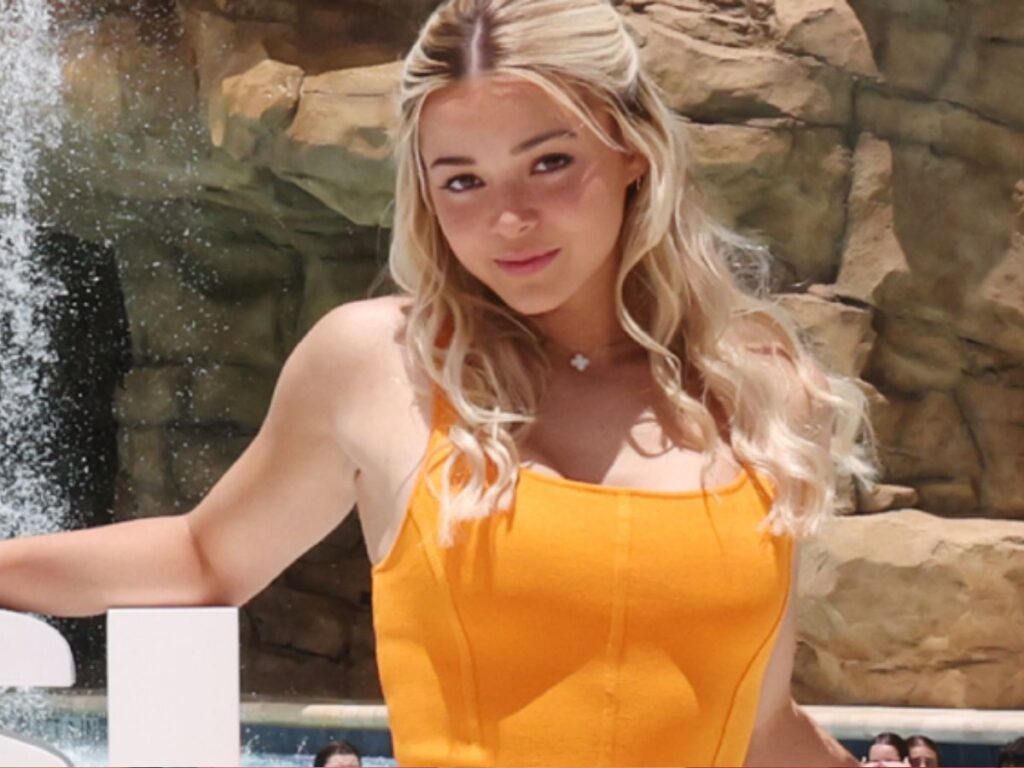 Dunne jokingly refers to her support for Accelerator as having a "crush on it." This endorsement, though, represents her development into a marketable figure and goes beyond merely a snappy caption. With well-known sportsmen on her side and a successful modeling career, Dunne is on a mission to break down gender stereotypes in both athletics and modeling.
The evolution of collegiate athletics is shown through Olivia Dunne's path from a gymnastics star to a multifaceted athlete and influencer. Her TikTok video, in which she displayed her seductive dancing talents and declared her "crush on Accelerator," is only one illustration of her capacity to hold viewers' attention.
Her tale keeps inspiring others as she prepares for her last season at LSU and shows that bravery, independence, and accomplishment have no bounds. Not only in the sphere of athletics, but also in the larger context of influence and empowerment, Olivia Dunne is a name to keep an eye on.
In case you missed it:
Follow FirstSportz on WhatsApp Channel