As much as Olivia Dunne is a star on social media, so are her teammates. Louisiana State University gymnast Elena Arenas is another fan-favorite personality on the LSU gymnastics team, and she has just wooed the fans with her latest social media post.
Elena has recently posted two snaps of her in an LSU gymnast outfit. She looks stunning as she poses in front of the camera while sitting on a chair. Such is her charm that some fans have started commenting that her snaps should be 'illegal.'
Arenas also has a growing social media presence ever since NCAA allowed players to use their likenesses for profit and monetization. Her fellow LSU teammate, Olivia Dunne, has benefitted the most from this prospect, becoming the most well-known college athlete in the United States.
Related: Olivia Dunne's social media hype largely aggravated the hooliganism of fans in the LSU gymnastic event
Olivia Dunne's teammate Elena Arenas makes everyone gush over her Instagram pictures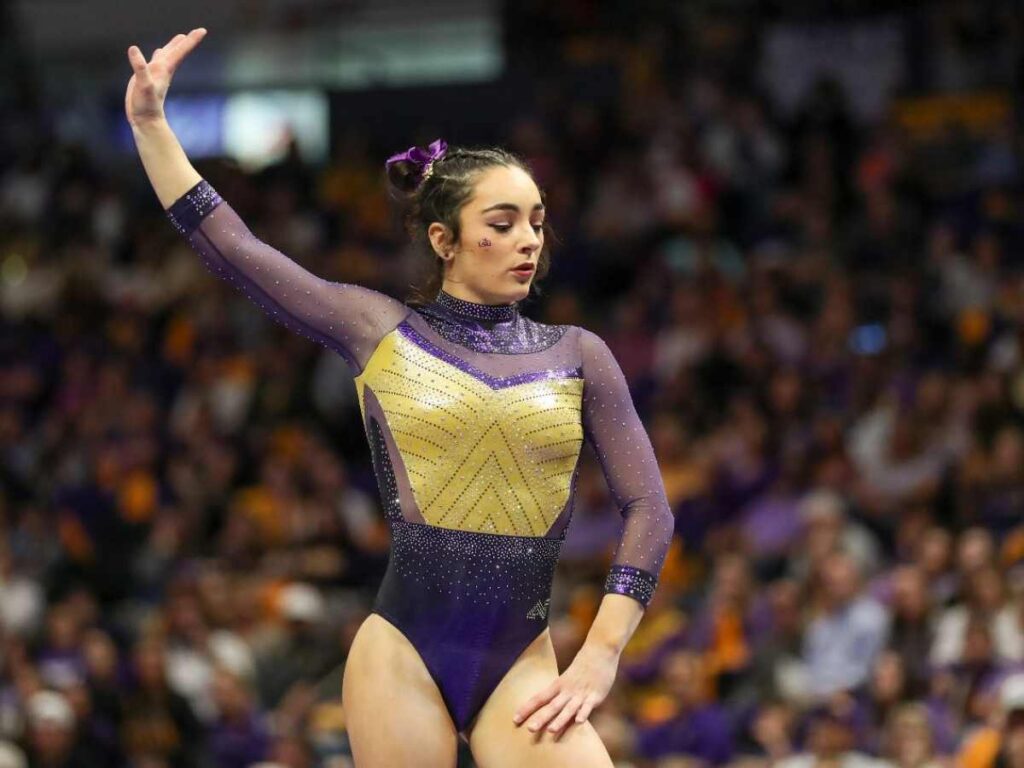 Like Olivia Dunne, Elena Arenas has started creating waves on the internet. Like her fellow LSU teammate, she has also followed suit in uploading two pictures in her team gymnast outfit. Arenas looks absolutely stunning in the outfit, with her hair tied behind while sitting on a chair and posing.
While Olivia Dunne boasts a massive social media following, Elena Arenas isn't far behind. She has over 210K followers on TikTok and recently crossed 100K followers on Instagram. Her fans absolutely adore her charm and gush over every picture that she posts on her social media.
Livvy and Elena share a good bond of friendship with each other and often update their fans through their social media. In this new post, Livvy is very much impressed by the new snaps from Arenas and comments, "Give me a cookie." This 'cookie' sharing trend is quite amusing between Elena and Livvy as she commented on Livvy's last post, "first cookie?"
Other than that, gymnasts Aleah Finn, Haleigh Bryant, and Kim Johnson also showered their praises on Arenas. Aleah Finn writes, "That's our girllll," showing her love and support for the LSU gymnast. Furthermore, Haleigh Bryant also seems to be a massive fan of Arenas' game and says, "that's our beam queen."
Fans are gushing all over her pictures, and the comments are proof of the same. One fan has already declared Elena Arenas as their wife and writes, "This my wife guys she just ain't know it yet." Another fan rightly puts the emotion for everyone stating, "Your post are on line saying it should be illegal." Well of course, this was put sarcastically as a form of appreciation.
Recently, the social media frenzy of the fans over the LSU college athletes has caused havoc in the game arenas. Through a Twitter post, Olivia Dunne had to request her fans respect the other gymnasts. Since then, several veteran players and game experts have questioned such frenzied fan following and hooliganism in matches.
In case you missed it
Scores of teenage boys pour in to see Olivia Dunne despite her not competing
Olivia Dunne reveals her major turn-offs when it comes to dating