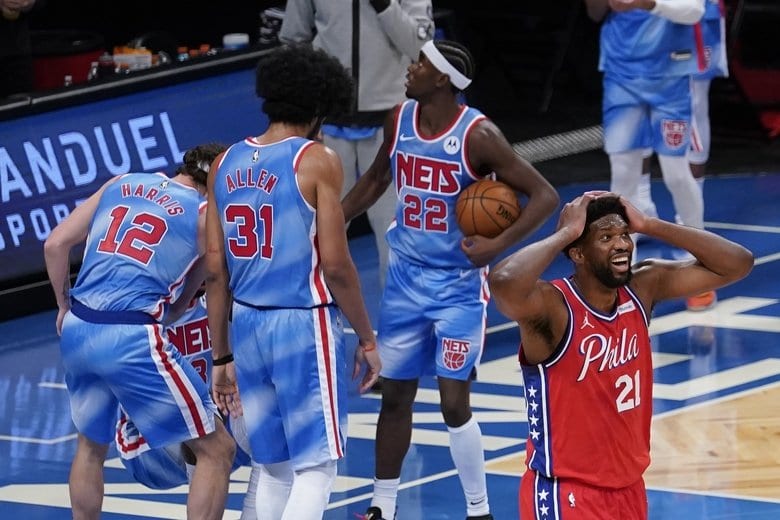 While Brooklyn Nets played without most of their marquee players from the tip off. While Philadelphia 76ers looked in no mood to back down. Joel Embiid led the 76ers with a significant double-double of 39 points and 13 rebounds to help Philadelphia reach #1 spot in the Eastern Conference.
The Philadelphia 76ers moved back atop the standings and have the No. 1 seed in sight with just 17 games left this season. While Nets were without James Harden, Kevin Durant, Blake Griffin and LaMarcus Aldridge. With the Nets standouts hurt or just rested, the game had more of a preseason feel than a possible preview of the conference final this summer.
Joel Embiid led Philadelphia 76ers past Brooklyn Nets to grab #1 spot in EC
The Philadelphia 76ers more than 4,000 fans spread around the arena to watch Joel Embiid have another stellar outing against the undermanned Brooklyn Nets. He scored 21 points by halftime, his 14th 20-point 1st half this season, which is the most in NBA.
Kyrie Irving scored 23 points in the first half, his 8th 20-point first half of the season and finished with 37 points. Irving sat out as the deep reserves helped the Brooklyn Nets rally from 22 points down to make it 118-115 with 1:15 left. Landry Shamet scored 17 points and DeAndre Jordan had 12 points and 14 rebounds. 
Having said that, Harden is out with a strained right hamstring and Durant got a night off after playing 27 minutes against the Timberwolves. The Brooklyn Nets are taking it easy with Durant as he comes back from a nagging left hamstring injury.
Also Read: