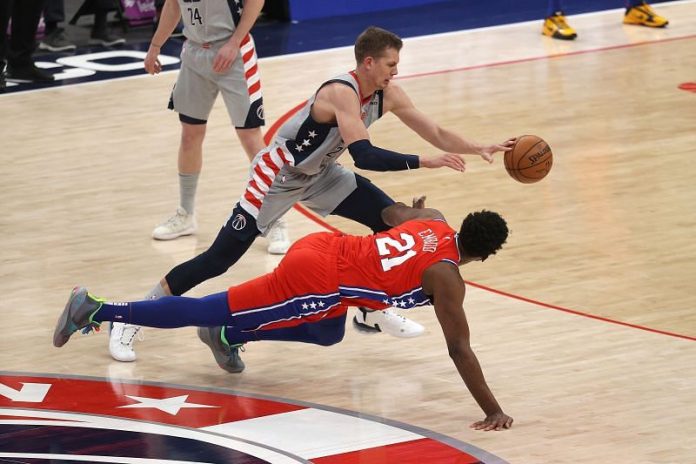 Philadelphia 76ers' marquee player Joel Embiid suffered from a leg injury in the team's previous game against the Washington Wizards. Embiid was helped by his teammate to be escorted outside the court and was told earlier that the big Spanish Guard has suffered from a leg injury.
Now it has come to light that Embiid has suffered from a bone bruise in left knee and would be undergoing re-evaluation in 2 weeks' time. Embiid underwent the MRI immediately after returning to Philadelphia late on Friday night, sources said. Joel Embiid's ACL and meniscus are fine, sources said, and there's significant relief within the Sixers that the injury isn't something much worse.
Joel Embiid's suffers from bone bruise in left knee; what next for Philadelphia 76ers?
Joel Embiid went down after the dunk, his full body weight landed on that left leg — causing it to hyperextend, sending him falling to the court and causing him to writhe around in pain.
After staying down for a few minutes, Embiid eventually got to his feet and walked off under his own power, though with a fairly pronounced limp as he went straight back to the visitors' locker room inside Washington's Capital One Arena.
Embiid was in the midst of the latest dominant performance of his MVP-caliber season, scoring 23 points on 8-for-11 shooting to go along with 7 rebounds, 3 assists and 2 blocks in just over 20 minutes, when he caught a pass from Tobias Harris and flew in for a dunk to give Philadelphia an 80-60 lead with 6 minutes, 20 seconds remaining in the third quarter.
Also Read: Domantas Sabonis' triple-double helps Pacers to overcome in-form Suns 122-111