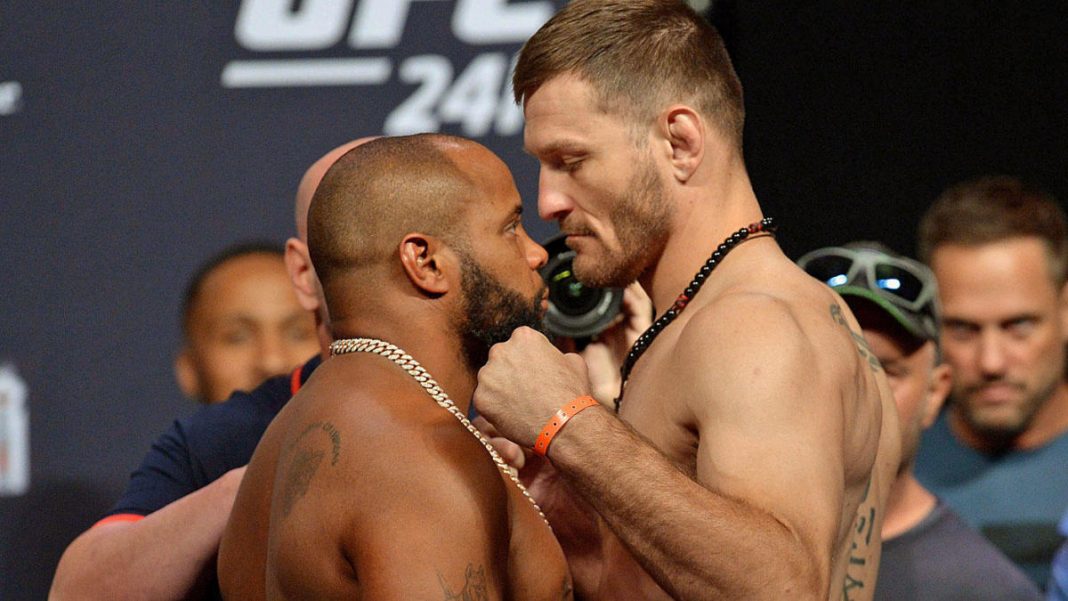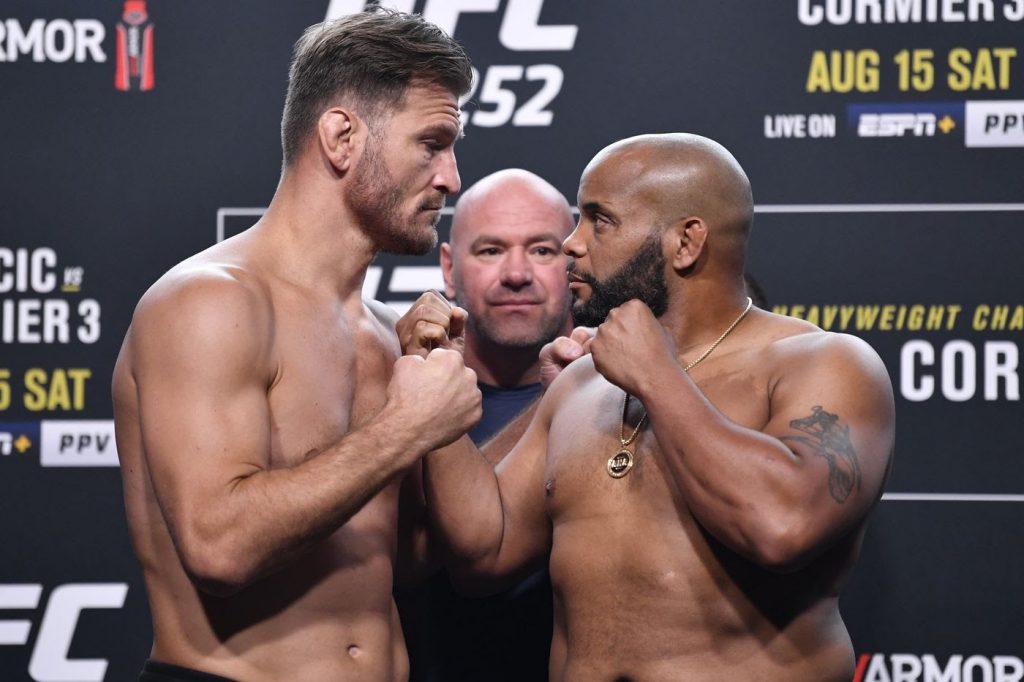 The biggest, most hyped and highest earning heavyweight match of UFC 252. Having two fierce rival wanting to rip off each other to assert their authority over one another. It was Daniel Cormier vs Stipe Miocic. With the rivalry having to go on for more than 3 years in the octagon itself, it wasn't just the Heavyweight Title on the line. But also pride and dignity.
Having won, one match each against each other via TKOs. Cormier and Miocic wanted to leave no stone unturned before the last battle in this trilogy.
Round 1
As the date has arrived for the biggest showdown in heavyweight division's history. As much as the hype, the 1st round was as good. Both Miocic and Cormier landed thunderous strikes and body blows. Cormier landed several right as well as left hands, while Miocic used his height effectively to land devastating leg kicks and punches.
Round 2
When Round 2 kicked off Miocic started poking Cormier with some leg kicks. But not for long could the latter hold on, Cormier landed 3 heavy lunches on the head of Miocic. Right Jabs we're quite an asset for Daniel Cormier so far in the fight. But towards the end of round after escaping Cormier's punches, Miocic landed big left hook which has left his rival in some pain. A shot for a shot. That was how the fight was being fought in the first 2 rounds. No fighter was letting his opponent get on top.
Round 3
Round 3 started, and it was all to see if Cormier was hurt or not with the last blow of the previous round. Cormier started backpedaling and Miocic was stalking and popping off jabs, followed by a big right hand. Miocic pushed Cormier against cage many a times, which some would suggest, helped the victim regain his energy. But the reigning Champ delivered a blow to Cormier, who took a huge eye poke at the end of Round 3.
Round 4
His eye looked swollen and looked bad as he came out for Round 4. Miocic seemed to gain momentum round after round, with all due respect, he was using his height to great advantage. Seemed like Cormier couldn't see after his eye got swelled up. Miocic quickly pressed Cormier against fence, only to deliver him a huge right hand. But Cormier was not fuelled out yet. He landed a jab as well as a 1-2 behind it. Even when Miocic delivered a fierce pinch towards the end of the round, Cormier reciprocated with his own attack on the champ,landing several right hands, hooks to the body and kicks. Yet more often than not Miocic was able to press him against the cage.
Round 5
Heading into last and final round of the fight, Cormier's corner wanted him to try for an early takedown. The fighter tried delivering, dint connect cleanly. Cormier came with an aggressive mindset and pushed Miocic to the cage, only to be over turned. Every punch seemed pulled fanatics to the edge of the seat. However this last battle did not end in a KnockOut and it was all up to the judges to decide the winner.
OFFICIAL RESULT:
Miocic won via Unanimous Decision, where in 2 judges scored the fight 49-46 and 1 scored it as 48-47.
Also Read: UFC 252 : Sean O' Malley registers 1st defeat as Vera smashes him within 30 seconds