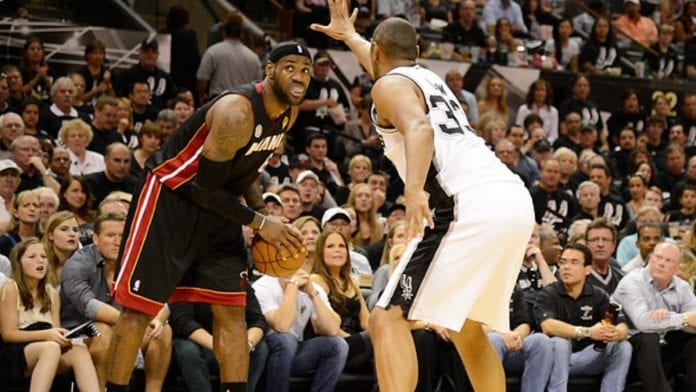 When it comes to defense, the NBA athletes take it way too casually. However, it is really difficult to do so when going against legendary players like LeBron James. It is a legitimate issue defenders face against LeBron James on court. Even in his 18th season, LeBron James sees no stopping. He just tanks his way in to finish strong under the ring. LeBron James' physical strength coupled with his dynamic abilities are literally anything a player dreams of. He cruises against the defenders while driving into the paint. Former NBA player Boris Diaw revealed how tough it was for him to guard the 'king' LeBron James.
LeBron James and the Los Angeles Lakers' roster have found their momentum. After winning a title last year Bron was meritious to pull off another win as well. However, his recent injury forced the king to back out. He has suffered a high right ankle sprain before getting benched. LeBron James was in his prime during his Miami Heat days. It was very difficult to stop the dozer. The 2014 NBA finals witnessed the clash between Miami heat and San Antonio Spurs. While LeBron James was playing an elite level game, Boris Diaw was given the responsibility to defend the King.
Boris Diaw locks up LeBron James
After losing the 2013 NBA finals, the Spurs were very determined to get their hands on the title. In the quest to it, they had to go pass super team Miami Heat and survive the LeBron James scare. Gregg Popovich's dream strategy to contain the big three in Miami put Diaw guarding LeBron James. He recently reacted to the 4-1 win in the series. He expressed, "I didn't do it on my own, first of all, it was a team effort. Yeah, I was thinking of clothesline but I didn't do it. I was like, that would be the last resort…".
He added, "At the time he was different. People were asking me that also, because I was watching the last finals and he was still going off and he was amazing in those finals. But I'm like, he's better now than he was back then. I don't think I could've guarded him the same way now… because back then his shot was not as reliable as it is now."
Boris Diaw added, "So pretty much it was like, pick your poison. I was taller and big, so that's why I could guard him closer to the basket because I could match. I was maybe heavier than him as well… Yes, deceptively quick. I had long reach, and long arms, you know back up a little bit, give him some space. All I wanted to do was him not going by me. So as long as he was shooting over me, then it was like, okay what is the percentage gonna be." The L-train is just a scare to the defenders. LeBron James' comeback this season will determine whether the Lakers can captivate the title or not.
Also Read: "Best player in the World": Jrue Holiday compares Giannis Antetokounmpo and Anthony Davis