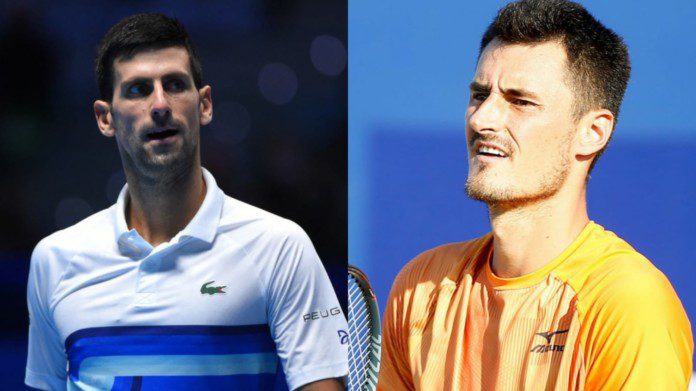 Novak Djokovic has been miles ahead of everyone since the last 2 years. He has dominated the sport single-handedly and is cementing himself as the Greatest player of all time. In 2021, he won 5 titles including 3 majors and was just a win away from winning the historic calendar slam.
Some years ago, Djokovic turned vegan and revealed how the vegan lifestyle has helped him both on and off the court. Taking inspiration from him, Australian tennis star Bernard Tomic too decided to shift to vegan lifestyle.
In a recent podcast, Tomic spoke about the topic and revealed how turning vegan was one of the best decision he made. She started by explaining how bad his eating habits were. "Yes, like you know, I wasn't very professional with the outside stuff I was doing, with the eating, with the training obviously," Tomic said.
The Australian then spoke about how veganism has helped him and revealed that he was actually inspired by Djokovic to stop eating meat. "You know I changed to Vegan two and a half, three years ago and I love it, it's an amazing feeling," he said. "A lot of successful people are vegan. I got inspired actually by Novak, so it was something I tried and it worked for me. I don't think I'll ever go back to eating anything else so I'm a proud vegan."
Tomic believes in 'karma'
Going ahead, Tomic added that although the taste of meat is 'unbelievable', he doesn't crave it anymore because animals are involved in it. He said that he believes in Karma and hence doesn't want to harm animals.
"The taste of meat, don't get me wrong, it's unbelievable but like I don't miss it because there's animals involved and I'm all about that. I mean I believe in Karma, you know you do the right thing and there's always something around," he said. "It's not just that but for my health as well. I mean my health has overall gone a lot better in the last couple of years."
Also read: WOW! Tennis Great mesmerized by this heartful Human-Animal Bond!