Australian tennis star Alex de Minaur recently secured a thrilling victory in the Mexican Open, defeating American player Tommy Paul in a closely contested final. The win marked de Minaur's first ATP 500 title, and it was a moment of great pride for both the player and his loved ones. The ATP 500 tournament win is the biggest of de Minaur's career after six 250-level triumphs since 2019.
Among those celebrating de Minaur's victory was his girlfriend, Katie Boulter, a British tennis player who has also had her share of success on the court. Boulter took to social media to congratulate her boyfriend on his achievement, but not without a little bit of cheeky humor.
In a tweet, Boulter shared a video of de Minaur holding his trophy and wrote, "Some people deserve it all, some people is this guy @alexdeminaur Next stop ~> a haircut." The comment was met with laughter and appreciation from de Minaur's fans, who praised the couple's lighthearted banter.
De Minaur and Boulter have been dating for several years, and their relationship has been a source of inspiration and support for both players. They have often been seen cheering each other on from the sidelines at major tennis events, and de Minaur has credited Boulter with helping him stay focused and motivated on the court.
De Minaur's victory in the Mexican Open is a significant milestone in his career, and it is clear that he has the love and support of not just his family and friends but also his talented girlfriend. With Boulter by his side, de Minaur is sure to continue achieving great things in the world of tennis.
Related: Famous Australian Radio host calls for another 'Deportation' of Novak Djokovic following the Serb's 'Ungracious' comments on Alex de Minaur
Katie Boulter Exits ATX Open After Tough Battle with Peyton Stearns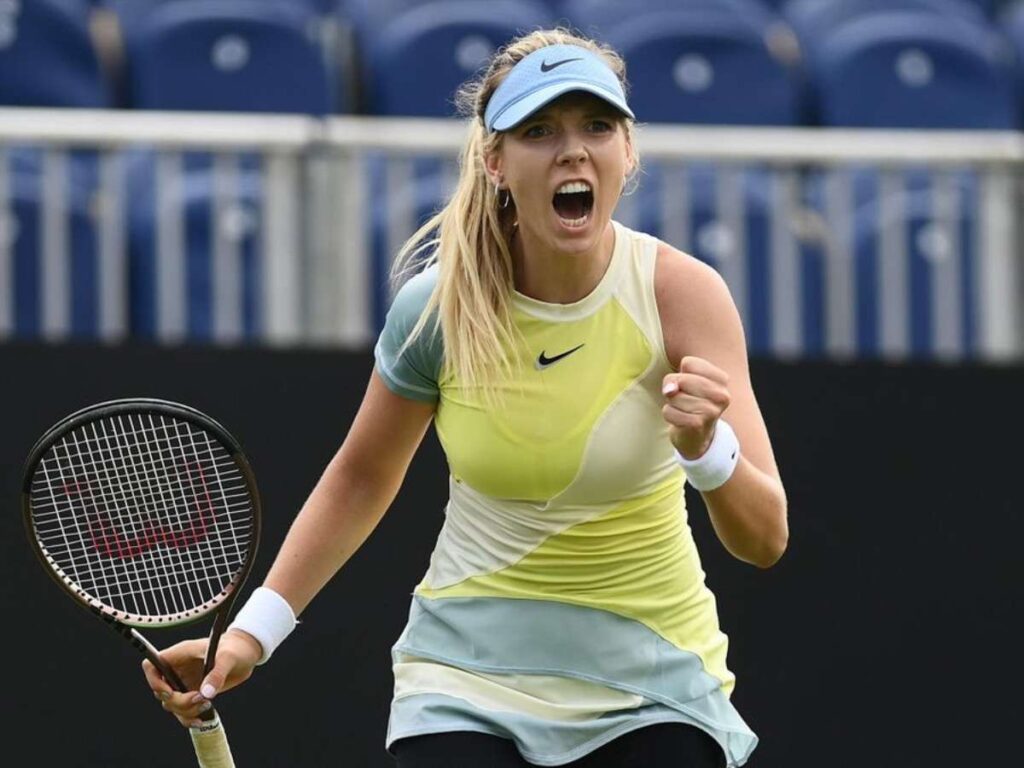 British tennis star Katie Boulter has been knocked out of the ATX Open after a grueling match against Peyton Stearns. Boulter fought hard throughout the match but ultimately fell to the French player in three sets.
The match was a tightly contested affair, with both players showing their skill and determination on the court. In the end, it was Stearns who emerged victorious, winning the set 7-5 and securing her place in the next round of the tournament. Despite the loss, Boulter can hold her head high after a strong showing in the tournament. Her powerful serve and aggressive playing style were on full display throughout the match, and she pushed Stearns to the limit in what was a thrilling contest.
Boulter will now look to regroup and prepare for her next tournament, where she will no doubt be looking to build on her recent successes and continue to climb up the rankings. Tennis fans around the world will eagerly follow her progress, as she looks to establish herself as one of the sport's top players.
Incase you missed it :
"It's pure talent," Daniil Medvedev names Carlos Alcaraz and Holger Rune as successors to Big-3
"Monte Carlo is probably the next," Novak Djokovic losing hope of playing in the Sunshine Double this year