The young sensation Carlos Alcaraz has finally addressed the prospect of pairing up with Spanish legend Rafael Nadal for doubles in the 2024 Paris Olympics. Alcaraz expressed excitement about Nadal's return to the court and the latter's desire to play with him.
A few days back, Nadal talked about his comeback and how 2024 might possibly be his last year as a professional tennis player. In the same conversation, he cleared the speculations of both the tennis players coming together and playing in the Olympics. Nadal acknowledged the possibility of seeing the two Spaniards together. "Regarding the fact of playing doubles with Carlos, I have not had the slightest conversation with him in that regard. But I would also like [to play with him] and it would be a good motivation," he stated. (via tennishead)
Alcaraz has now responded to his idol's remarks. He established how he first wanted to see Nadal in good health and hoped he would return to his training soon. "Right now, Rafa is suffering a lot. I hope he can return to training and that he can play next year from the beginning, that we have a healthy Rafa, ready for the Games," he said.
The 2023 Wimbledon champion revealed that it will be his dream if he gets to play with Nadal. However, he also considered the fact that there is a lot of time left for the Olympics, and he needs to be healthy and prepared first if such a possibility occurs. "There are many months left until Paris, many things can happen. I have to be healthy, work hard, and be ready for this tournament. We will see what happens," he concluded via press conference.
Also read: WATCH: Novak Djokovic turns fan boy for English golfer Tommy Fleetwood at the Ryder Cup 2023
Carlos Alcaraz's longstanding dream of partnering with Nadal
Nadal, a 14-time French Open champion, has officially indicated that he would retire from professional tennis in 2024, with the Paris Olympics being one of his final goals. As the tennis world mourns the impending departure of one of its best players, Alcaraz keeps hoping to share the court with his idol. It seems as if this is one of his longstanding dreams.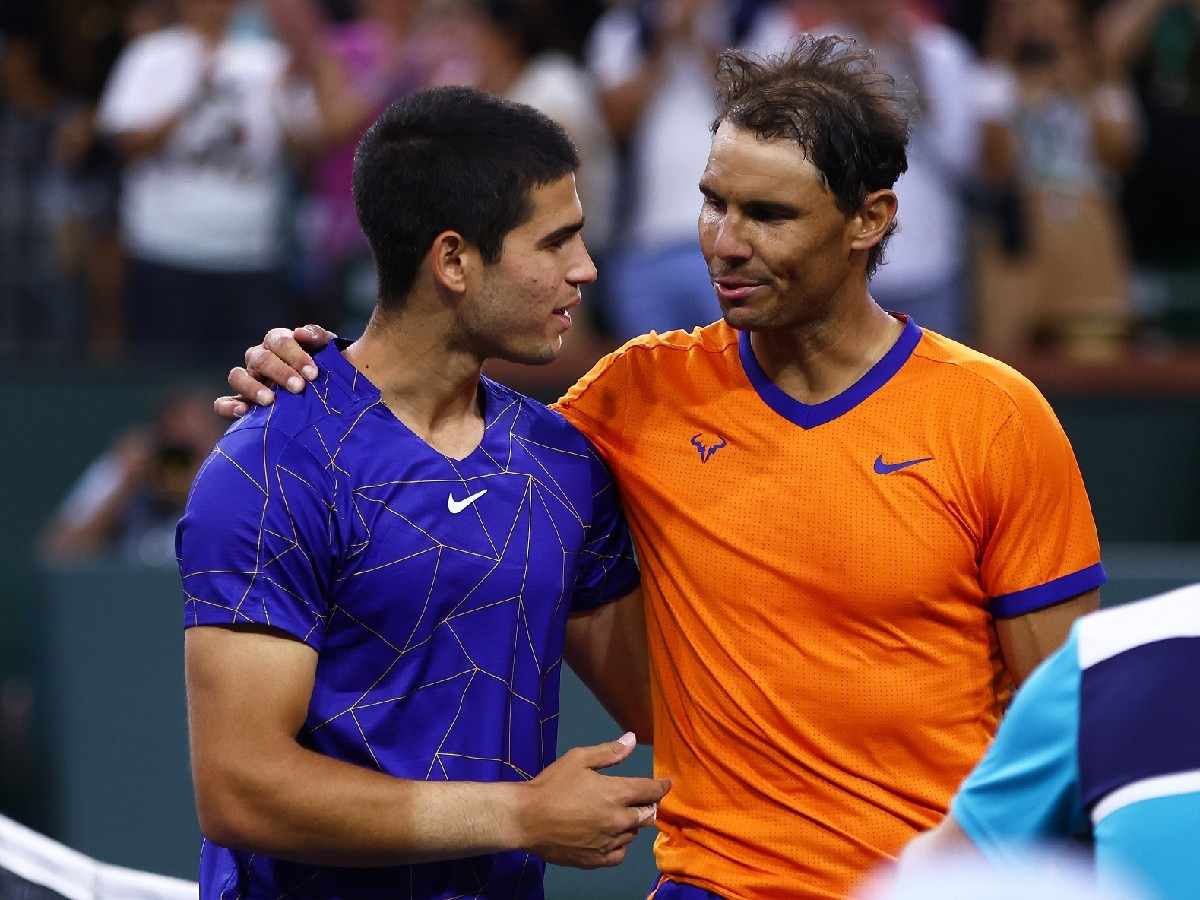 "It would be a dream. Not only to win a medal at singles or doubles, but just to live the experience of playing doubles with your idol, would be a memory that I would keep with special affection," Alcaraz revealed in an interview with COPE earlier this year in July.
Despite their age difference and divergent dominant eras, Alcaraz and Nadal share an identical goal. They want to represent Spain at the Olympics. The possibility of the two Spanish talents teaming up on the Olympic stage adds an emotional depth to Nadal's possible departure.
In case you missed it: