American prodigy Coco Gauff stormed into her third consecutive French Open quarterfinal after defeating World Number 100 Anna Karolina Schmeidlova in straight sets. The 19-year-old became the youngest player to reach three successive quarterfinals of the same Grand Slam tournament since legend Maria Sharapova did it at Wimbledon.
Gauff has matched the record of Sharapova, who reached consecutive Wimbledon quarters at the ages of 17,18 and 19. Gauff has done the same in the French Open at the same ages. The sixth seed will hope to match the Russian tennis player in more ways and go all the way and win the Grand Slam tournament too. Sharapova won the 2004 Wimbledon at the age of 17 and made it to the semifinals of the 2005 and 2006 editions.
Gauff's best result was the final she reached last year. She was knocked out of the quarterfinals in 2021. She has been on fire in Paris this year. Gauff has dropped just two sets in four wins at the 2023 French Open. Her latest victory was another testament to her status as one of the favorites at the year's second Grand Slam.
Gauff defeated Schmiedlova in 1 hour and 31 minutes on Monday to secure passage to the quarters. The 7-5, 6-2 win was secured in windy conditions. With this victory, she improved her head-to-head record against Schmiedlova to 2-0. Her quarterfinals match will undoubtedly be more difficult considering her opponent.
Also Read: Coco Gauff expresses frustration with constant chatter on her age overshadowing her performances
Coco Gauff to face Iga Swiatek in 2022 final rematch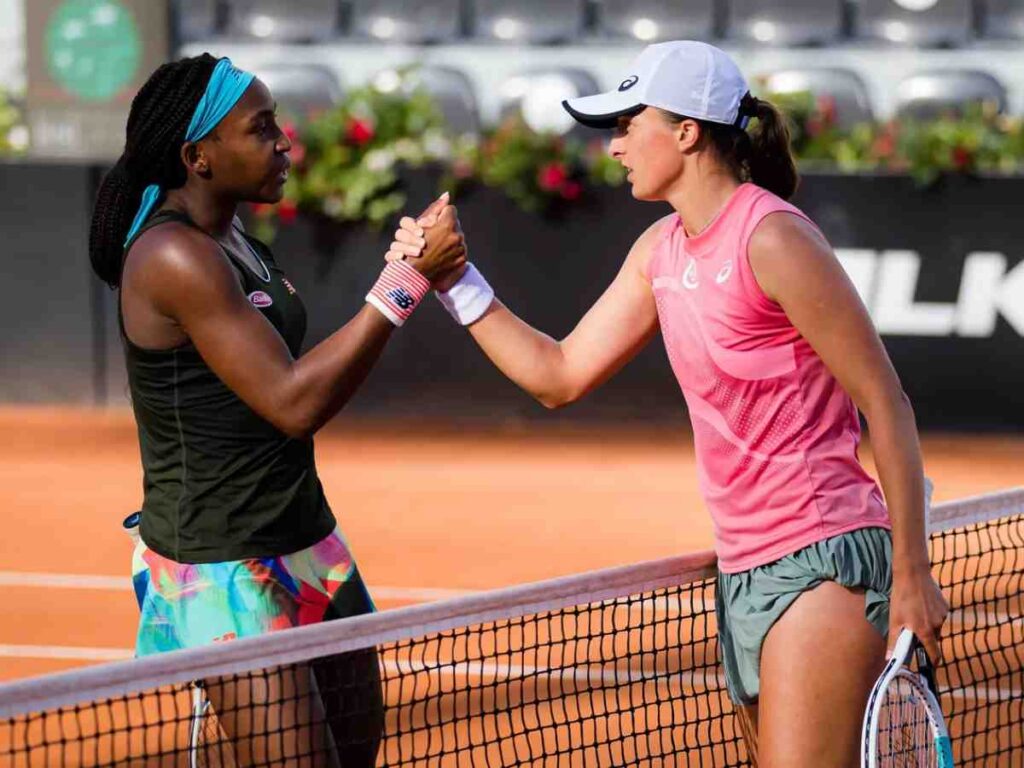 Gauff will face World Number 1 Iga Swiatek in the quarterfinals of the 2023 French Open. The American will be looking to make amends against the opponent who got the better of her in the finals of the 2022 edition of the French Open. But it will be challenging, given her poor record against the Polish star.
Gauff hasn't won a single set against Swiatek in six matches against her. She will be looking to change her fortunes against Swiatek and said she will prepare by watching their 2022 matchup. Gauff said, "I guess obviously from a scouting standpoint, I have to rewatch that match because I don't think I've played her on clay since, I've played her on other surfaces"
She is happy to be facing Swiatek in France again. "Honestly, since last year I have been wanting to play her especially at this tournament. I figured that it was going to happen, because I figured I was going to do well and she was going to do well. Didn't know what side of the draw we were going to be on obviously. … I think it would be a great battle for us and for the fans, too," Gauff said.
Incase you missed it:
Beatriz Haddad Maia reveals the secret of holding nerves citing Novak Djokovic's example after reaching the French Open quarter finals
Aryna Sabalenka receives support from French Open director Amelie Mauresmo as the Belarusian refuses to turn up for press conferences