Coco Gauff broke down in tears during her post-match press conference after her fourth-round loss to Latvian Jelena Ostapenko as she expressed her frustrations with the match. The 18-year-old admitted she felt helpless at times and her problem-solving skills were neutralized by Ostapenko's style of play.
Gauff had got to the round of 16 with barely a hitch. She had overcome three opponents without dropping a single set and was in great form. But the seventh seed ran into turbulence against the seventeenth seed Ostapenko. "I think every loss is somewhat in my control because I do feel like I'm a good player, but today she [Jelena Ostapenko] just played better," Gauff said.
"There were moments in the match where I was getting frustrated because I normally can problem solve but today I feel like I didn't have much answers to what she was doing. There were balls I was hitting deep and she was hitting them on the line and hitting them back deep, like, over and over again. It's just one of those days that just didn't go my way and went her way," Gauff said.
The 2023 Australian Open will be a great learning curve for the American teen. She, however, will be more confident about her consistency at this level. Gauff played fantastic tennis in her three wins and justified her billing as one of the most talented players on the circuit. Matching her best showing at the Australian Open will do her no harm.
Gauff has stated that she will look to go all the way and win a Grand Slam tournament this year. The 2022 French Open finalist has been steadily progressing, and it seems it won't be long before she is seriously considered a favorite at the Slams.
Related:
Coco Gauff's loss to Jelena Ostapenko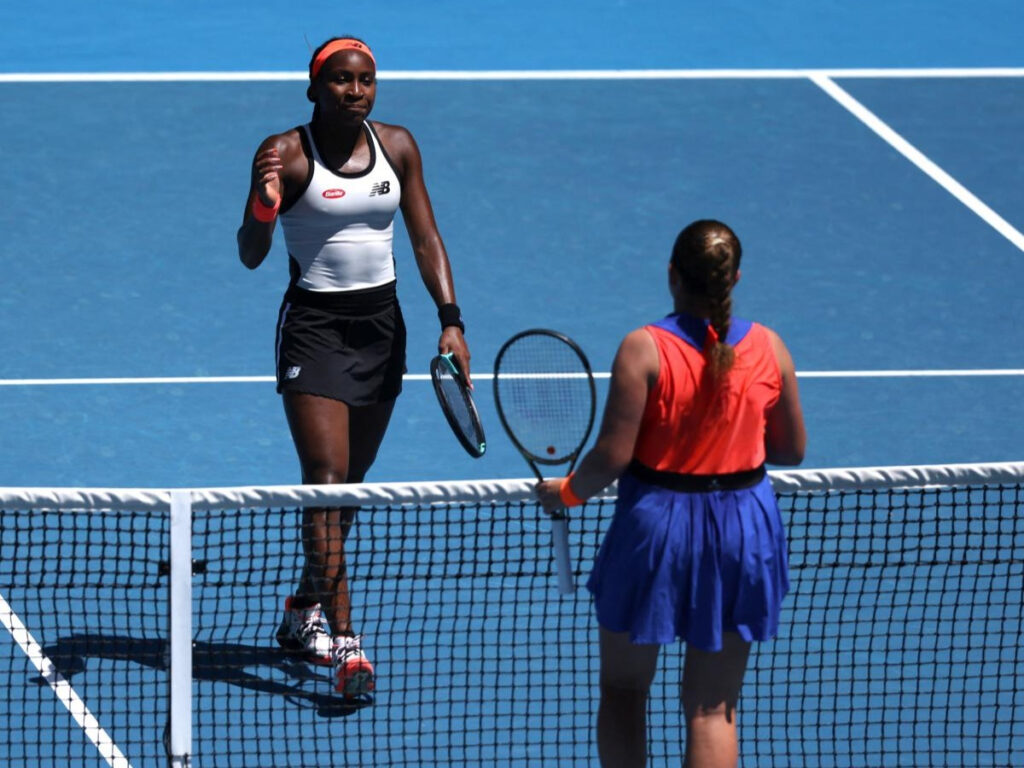 Gauff had a torrid time against Ostapenko. The American's 5-7,3-6 loss was a shock considering her form this tournament. She was on the receiving end of 30 winners by Ostapenko, who asserted her dominance.
Ostapenko is the 2017 French Open winner and played like a Grand Slam champion. Constantly finding solutions to everything Gauff threw at her, Ostapenko seemed a level above. She fought back from a 2-1 deficit in the first set to secure the set 7-5 in just 49 minutes. In the second set, Gauff just about won her service games before Ostapenko broke to make it 5-3. She then went on to secure the match with an excellent service game of hers.
This rounded up one of Ostapenko's finest wins in recent years. The Latvian will face Wimbledon title holder Elena Rybakina in the quarter-finals of the 2023 Australian Open.
Incase you missed it:
John McEnroe unimpressed by discussions surrounding subpar balls at Australian Open 2023
Fans react as Caroline Wozniacki opens up about one of her difficult practice sessions with Jelena Ostapenko