Nick Kyrgios, the loud and quite vocal Australian, made the news for a new feud. The former world number 13 engaged in a skirmish with the compatriot and former world number 17, Bernard Tomic. Tomic was a very promising young player with 2 Junior Slams. He won 9 titles in the junior circuit in his 11 ITF Junior finals. But, like many talented young players, Tomic fell from the wagon and was left behind. After his professional debut, he won just 4 ATP titles in his career and made it to the quarterfinals of the Australian Open 2011.
Nick Kyrgios on the other hand has had a better performance in the professional circuit, with 8 ATP titles and two Grand Slam quarterfinals appearance. He has also consistently been able to reach the third rounds in the US Open. Kyrgios also has a Grand Slam title in the doubles format, a victory at the Australian Open 2022. The two Aussies engaged in a heated exchange after Kyrgios used his social media handle to publicly denounce Bernard Tomic as a lesser player in all aspects.
Last weekend, Kyrgios responded on Instagram to a fan who claimed Tomic was better than Kyrgios, saying, "Better in what way? I've got a higher career high (ranking). More money, more wins and give back whenever I can."
He also added: "It's time for BT to just quiet down. He ain't even playing anymore. I got years left."
Also Read: "Didn't like the UK selling bombs to Saudi either" John Millman criticizes Wimbledon's 'holier-than-thou' attitude
A battle of words between Nick Kyrgios and Bernard Tomic.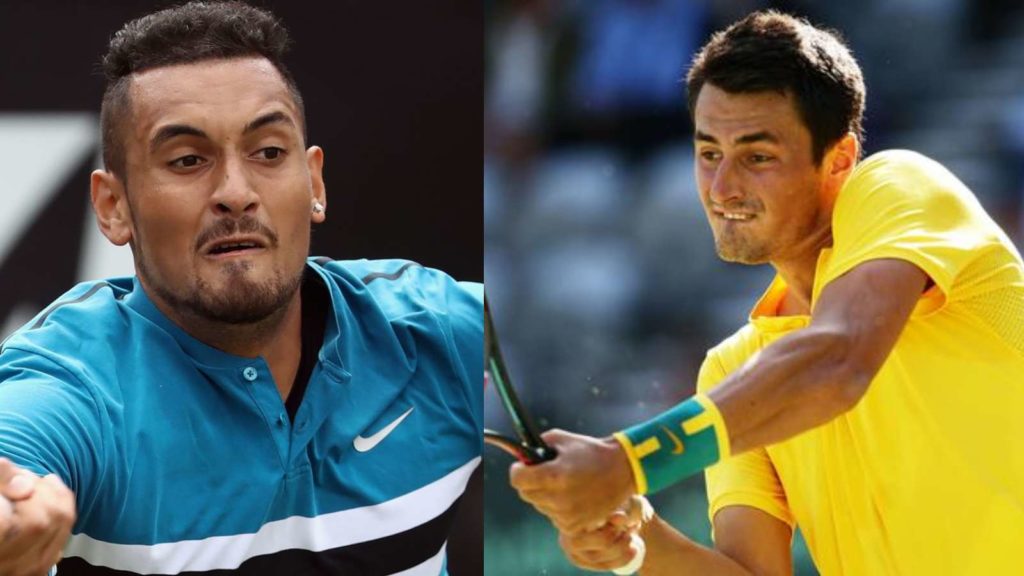 This started a row as Tomic responded to this reply with his own video. In the video, he said: "The only logical explanation is that I'm his idol. He's always been in my shadow growing up. That's why anytime someone mentions my name to him, it gets under his skin," he continued "He knows he can't re-write history. The records that I set when I was 16, 17, 18, and 19 — youngest slam quarter-finalist at Wimbledon (since Boris Becker), the biggest tournament in the world."
Bernard even claimed that he was better than Kyrgios and is willing to defeat him to prove the point. He said:
"He knows he can't change that, he can't re-write that and he would love to shut me up if he could, he knows he can't. He knows my style dominates his and he knows he will lose."
Kyrgios is never the one to back down. He continued this debate by some very personal digs at Tomic. He responded:
"Hahahaha re-write history, you are the most HATED athlete in Australia.
"You are right, no one can take over that."
Kyrgios then posted a screenshot of Tomic's recent results, adding: "Bernard, I didn't realise it was this bad. I low key feel bad now. Hit me up if you need me to help you remember how to play. Geezus."
Kyrgios also mentioned the incidents when he helped the latter. He pointed: "HAHA TOMIC let's not forget the time I paid for your flight home from Shanghai because you had no money,"
"I'm probably one of the only people in tennis in Australia that's stood up for him multiple times. I've done things for him, my family, my brother's done things for him."
It was an ugly scene with two tennis players trying their best to insult each other over some silly comments from the fans. This ruckus was both unnecessary and damaging to both the player's images.
Also Read: John McEnroe blames Emma Raducanu's recent struggles on the frequent coach changes and parents' intervention
Also Read: WATCH: 'Djokovic-like Disqualification?' Holger Rune hits a lineswoman with his racquet, medical staff barge in
Follow our page FirstSportz Tennis for the latest updates