Casper Ruud has described Carlos Alcaraz as a "rare" talent, based on the teenager's dominance this season. This season, the 19-year-old Spaniard has won 28 matches and a tour-leading four trophies. He has won Masters 1000 tournaments in Miami and Madrid, making him the youngest player to accomplish it in nearly two decades. Due to a damaged ankle, Alcaraz is unable to compete in the ongoing Rome Masters, but he managed to hold the debate at the Foro Italico. Ruud, who advanced to the Rome semifinals on Friday, talked highly of Alcaraz.
The World No.10 said, "I think we should all just appreciate how good he is. He is a rare talent that we have all been talking about for already some time now, and he's still so young. I mean, he's been one of the best players of the world this year. Let's see if he can keep it going. Everything is also new for him," he continued. "I guess at some point everyone will face challenges in their career. It will be interesting to see how it goes for the rest of the year because the pressure will be different for him now, people will know him a little bit more."
Also Read: "If you met him on the street you won't know he has won 21 titles," Casper Ruud heaps praise on Rafael Nadal's humble nature
The Norwegian, who has fallen to Alcaraz twice in as many matches, including in his maiden Masters 1000 final in Miami, has expressed his desire for retribution. "It's motivating to see that a young player can do big results like this. I lost to him two times. I wish to have my revenge someday. Hopefully we can play more big matches. My biggest match of my career I played against him, he was able to win. Like I said, I hope I can have my revenge someday," he concluded.
Carlos Alcaraz aims to win his first Grand Slam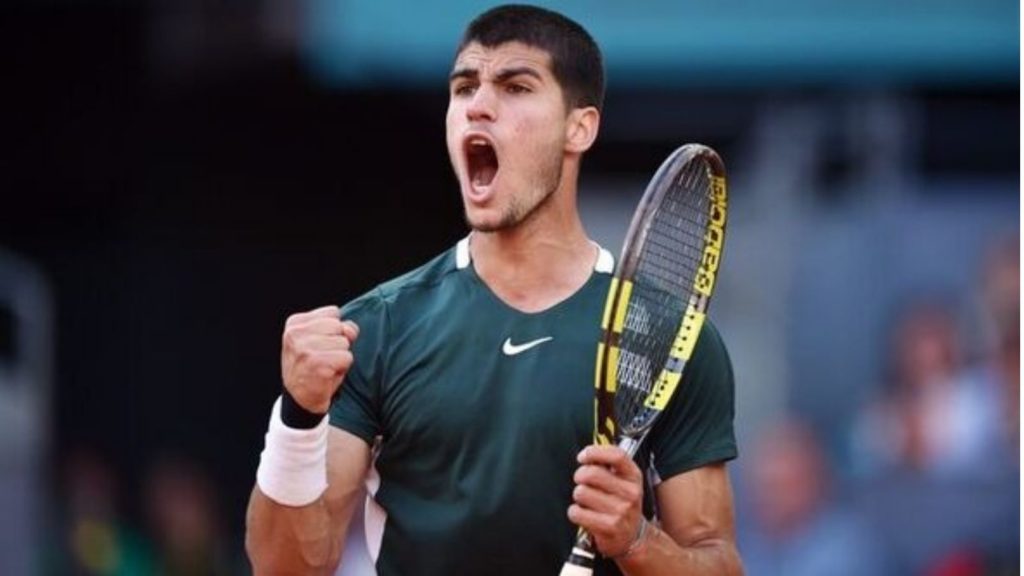 Spain's tennis star Carlos Alcaraz has set his goals clear, saying that he wants to take his game a notch up and win a Grand Slam. On May 8, the 19-year-old defeated Olympic gold medalist Alexander Zverev 6-3, 6-1 in the men's singles final to win the Madrid Open. Prior to it, the Young Turk shocked the tennis world by defeating World No. 1 Novak Djokovic and Rafael Nadal, the "King of Clay." The young Spaniard is full of confidence after defeating the duo and claims to have played his best tennis in the last seven days.
"Probably. I would say this is my best week ever. I beat two of the best players in history (Rafa Nadal in quarter-finals, Novak Djokovic in semi-finals). Beating Zverev in the final, a great player as well, number three in the world. I would say this is my best week," Alcaraz was quoted as saying. "Yes, I think so. I think I'm ready to win a Grand Slam, I think I'm ready to go for it. A goal for me this year, try to get my first Grand Slam but I'm going to work for it and let's see what happens in Roland Garros," he added.
Currently ranked No.6, Carlos Alcaraz churned out his best Grand Slam performance last year after he reached the quarterfinal of the US Open at Flushing Meadows. After coming out trumps in the Madrid Open, Alcaraz withdrew from the Italian Open due to an injury and will look forward to conquering the French Open which starts on 22nd May, Sunday.
Also Read: "They are the future" Fabio Fognini banks on Carlos Alcaraz and Janik Sinner to make it big
Also Read: "Stop comparing him to me" Rafael Nadal frustrated with constant Carlos Alcaraz comparisons