The star Russian player, Daniil Medvedev once again confesses his interest in playing the Wimbledon this year. Speaking to the Eurosport after his quarterfinal win against Borna Coric in Dubai, he revealed his desire. Wimbledon banned all the Russian and Belarusian players from playing in the tournament last year. However, Medvedev also thinks he can replicate his hard court success on the grass courts.
It will be a waiting game for him to find out if he'll be permitted to participate in Wimbledon this summer. Medvedev made the most of his chances on the grass by reaching the finals at 's-Hertogenbosch and Halle, events outside of the UK. He obtained his only non-hard court championship on the grass in Mallorca in 2021, and he believes he can perform well on this surface if he's granted the opportunity to compete in Wimbledon this year.
Speaking to the Eurosport, Medvedev said, "I like grass but it's a very tough surface, it's a little bit tougher than hard courts, and that's where I think Novak is amazing winning so many grass-court tournaments. So that's where grass is a little bit tough for me, like for example, I lost to [Tim] Van Rijthoven in the [s-Hertogenbosch] final last year and before the final I was feeling great, playing great, and he was having a good day, hitting bombs, after the match, I was like, 'okay, one hour, he just hit winners all over the place and I lost'."
Talking about his desire to play Wimbledon, he said, "This on hard courts is a little bit less probable to happen. But I want to play on grass, I want to play Wimbledon. I don't know what their decision is going to be. I'm just going to wait for it and hopefully, I can play Wimbledon this year and show some great results."
Related: WATCH: Alexander Zverev gets into argument after losing a point against Andrey Rublev by a millimeter
Daniil Medvedev crushes Novak Djokovic to reach the finals in Dubai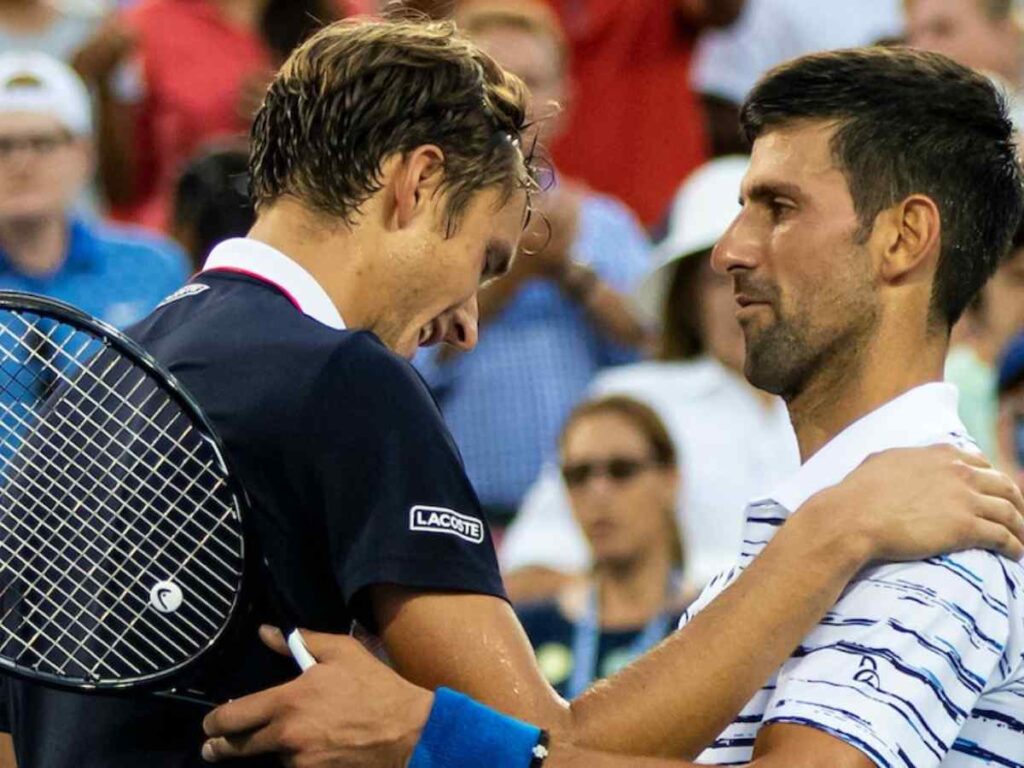 Having bounced back from his early exit in the 2023 Australian Open, Daniil Medvedev is once again flourishing on the hardcourts. His recent victory over Novak Djokovic in the semi-finals of the 2023 Dubai Championships marks his 13th triumph in just 18 days. Medvedev's impressive performance saw him defeat Djokovic 6-4, 6-4 in a 94-minute match.
After losing four straight matches against Djokovic, the 27-year-old secured his fifth victory in their 14th encounter. However, with this latest win, Medvedev advances to his third consecutive final of the season. He has already claimed titles in Rotterdam and Doha and aiming for the title in Dubai.
Andrey Rublev, the defending champion and fellow Russian, will be Daniil Medvedev's opponent in the title match. However, the all-Russian final will mark the seventh time the two players have faced each other. Medvedev currently holds a 4-2 lead in their head-to-head matches.
Continue Reading:
Rennae Stubbs wants noise around Novak Djokovic's vaccination status against Covid-19 to stop
"Really sorry," Daniil Medvedev regrets denying Novak Djokovic his Calendar Slam