Carlos Alcaraz had a stupendous rise this year. Starting the season ranked 32nd in the world, the Spaniard rose to the top of the rankings. The consistent performances saw him win five titles this year including the 2022 US Open, his maiden Grand Slam title. In the process, he became the youngest man ever to be ranked World No. 1.
Many current and former players have taken a liking to the young Spaniard as he has proven his prowess on all surfaces. Ivan Lendl, the 8-time Grand Slam champion is the latest tennis great to praise the teenager. Lendl not only praised Alcaraz but also credited his coach Juan Carlos Ferrero.
Lendl not only talked about the coaching of Ferrero but the Spanish system to groom players and coaches. He found the Spanish system thriving as they reached out to their former players to coach the upcoming generation which benefited all parties involved.
"Alcaraz is very good and will continue to improve for some time. I do not know, I don't look at things that way. I know that Carlos Alcaraz is very well-coached. He has a great team around him. These guys are very, very good at what they do, Spaniards. And Juan Carlos Ferrero is fantastic and he teaches him well.
"He teaches him the right things, teaches him all the protocols. He is an extremely polite young man. It is awesome. The Spaniards are doing something very well. The French do it too. They retain their old pros and integrate them into the programs," said Lendl on Craig Shapiro's latest podcast.
Also Read: Novak Djokovic listed faster than Erling Haaland, while narrowly beaten by Tyreek Hill
Carlos Alcaraz and Juan Carlos Ferrero won ATP year-end honors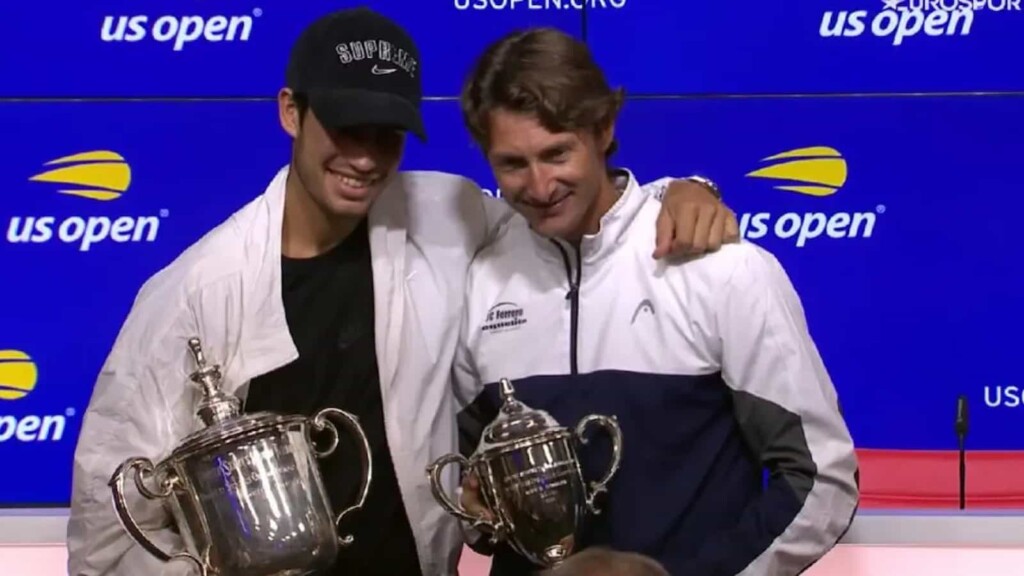 With the fantastic season that went through for both Carlos Alcaraz and Juan Carlos Ferrero, they reaped their success towards the end of the season. Alcaraz was voted in as the 'Most Improved Player' of the season while Ferrero won the ATP Coach of the Year award. The teenager was also honored with the ATP Year-End No. 1 trophy handed to him at the 2022 ATP Finals in Turin.
Alcaraz was the top seed at the Finals in Turin. He however missed out on his chance to make the debut as he suffered an untimely injury in the 2022 Paris Masters. In the hopes of not damaging his abdomen further to risk a delayed start to the 2023 season, Alcaraz withdrew from the year-end championships. He however did eventually lift a trophy there.
Alcaraz had opted out of the 2023 United Cup and will make a fresh start on the Tour. Going into the 2023 Australian Open, he will be the reigning Grand Slam champion. He will however face a tough test as 9-time Australian Open champ Novak Djokovic returns to the draw while defending champion Rafael Nadal will also be well rested for his title defense.
Also Read: Nick Kyrgios hints at doubles pairing with Novak Djokovic in the 2023 season
Also Read: "Big titles are so much more winnable," Taylor Fritz believes the Tour is ready to take on Rafael Nadal and Novak Djokovic