World No. 14 Taylor Fritz had a heartbreak in the quarter-finals of the 2022 Wimbledon Championships as he lost in 5-sets to 22-time Grand Slam champion Rafael Nadal. Nadal won the match 3-6, 7-5, 3-6, 7-5, 7-6(4) after a long battle of 4 hours and 20 minutes including an injury timeout right after the first set. Despite the injury struggle, Nadal prevailed to enter his 38th Grand Slam semi-final.
Fritz was playing in his first-ever Grand Slam quarter-finals and despite winning the first set, he could not hold on to the lead for much longer as Nadal won sets 2 and 4 to make keep the match balanced. Going into the 5th set, Fritz could not break Nadal in the 12th game with the match heading to a tiebreaker where Nadal put in a clutch performance to take home the win.
Also Read: Fabio Fognini believes Rafael Nadal faked his injury and urges fans to stop believing Rafa's antics
"Gave it absolutely everything I had but still needed more": Taylor Fritz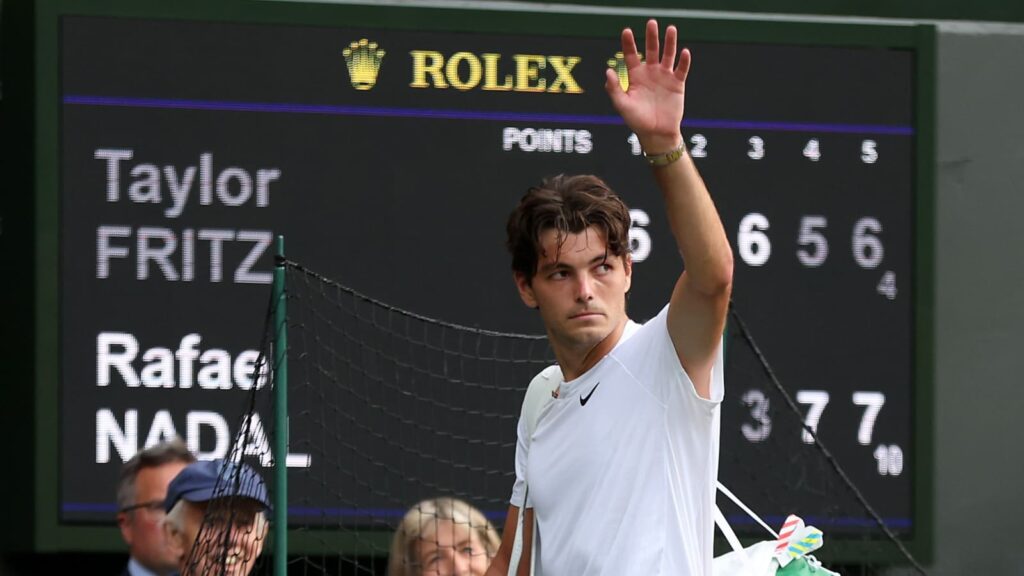 Fritz had earlier defeated Nadal in the 2022 Indian Wells Masters finals battling an injury himself but it eventually came down to the tiebreaker where Fritz likely went down due to a lack of experience in the important matches and moments like these as Nadal quickly went 5-0 up to win by 10-4 in the newly implemented tiebreak rules.
"It was a very difficult game. I've done bad things and good things. Maybe in certain phases of the game, I should have done more. I let him take the initiative on many occasions. This defeat is probably the one that hurts me the most of all the defeats I have known. When the game ended, I wanted to cry. I felt like crying. I've never felt that after a loss," said Fritz in his post-match press conference.
"The closer you come, the harder you work for it, the more it hurts in the end when it doesn't go ur way. Gave it absolutely everything I had but still needed more… Thank you for all the love and support. An honor to battle on centre court. Back to work, just the beginning," tweeted Fritz later.
Also Read: "He should tell his daughter that" When Serena Williams fired back at Novak Djokovic over his shocking equal pay remark
Also Read: "Nothing match related" Ajla Tomljanovic left frustrated with questions only about ex-boyfriend Nick Kyrgios after her quarter-final exit from Wimbledon 2022
Follow our page FirstSportz Tennis for the latest updates