The 26-year-old Russian, Karen Khachanov gives a strong counter to those who accused him of being hateful against certain people. He was seen writing messages on the camera after his wins in the Australian Open. Khachanov is supporting the Republic of Artsakh which is currently having bad relations with Azerbaijan.
The tennis federation of Azerbaijan slams this action from the 18th seed and regarded it as a hateful act. The Azerbaijan Tennis Federation also calls for appropriate and big actions need to be taken against the player with immediate effect. However, International Tennis Federation has not responded yet concerning these accusations.
In a statement to the public, ATF said "Karen Khachanov…(has) attracted attention with his hateful act. The Azerbaijan Tennis Federation letter presented facts and legal documents regarding the provocation against Azerbaijan. The ATF condemned this act and demanded the tennis player be punished and urged the (ITF) to take harsh measures for prevention of such incidents in the future."
Khachanov gives a counter to these allegations made and said "I didn't hear anything about that … so far, no."
Related: "They deserve it more than me," unbothered Carlos Alcaraz accepts the possibility of Djokovic or Tsitsipas replacing him as the World No. 1 
Karen Khachanov enters his consecutive Grand Slam tournament semis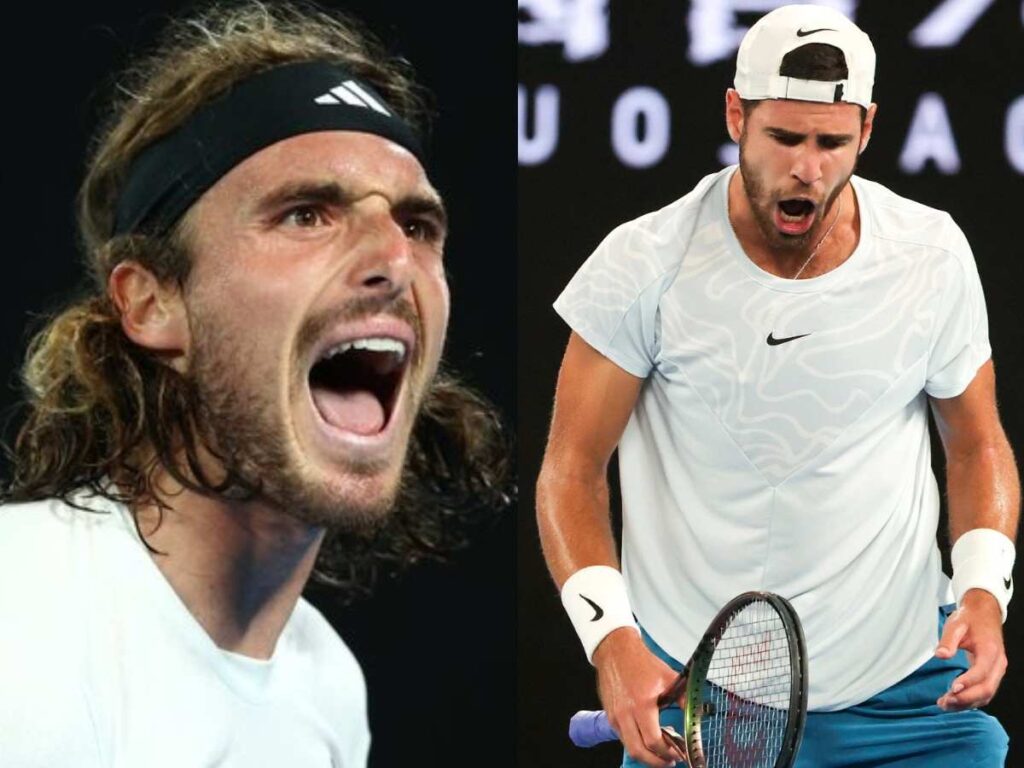 The 18th seed, Karen Khachanov's Grand Slam run has been a lot better than many other top-seeded players. For the first time in his career, he reached to the semifinals of two consecutive Grand Slam tournaments. For most of the tournament, he was not under the light and had some comfortable wins under him.
However, some big names and top seeds that got eliminated early helped Khachanov to go deep into the tournament and he didn't miss the opportunity. He just lost two sets on his way to the semis and had a big win against the American Frances Tiafoe. In the quarterfinals, he was leading 2-0 against Sebastian Korda when the American left retired hurt.
However, Karen's biggest challenge is ahead of him in the semifinals. He will be facing the third seed, Stefanos Tsitsipas. Karen lost to Casper Ruud in the U.S. Open semifinal last year and looks for a better result this time. On the other hand, Stefanos also lost last year's Australian Open semi-final and want to change it this year.
Continue Reading:
"Give it another try with Djokovic or Nadal," Fans boo Netflix's 'Break Point' following the show's failure to attract viewership after the initial excitement
"Just one strange move and…" Pat Cash fears Novak Djokovic's hamstring is about to ruin his 2023 Australian Open campaign