Life comes full circle for Novak Djokovic at Melbourne Park. Playing in the 2023 Australian Open, he once again proved his authority in the Rod Laver Arena. Up against Stefanos Tsitsipas in the finals, the Serb clinched the title by beating the Greek 6-3, 7-6(4), 7-6(5).
He is now the owner of 10 Australian Open trophies and 22 Grand Slam singles titles. While his tally Down Under is unmatched, he instead ties Rafael Nadal for most Majors won. Nadal had broken away from the three-way tie of the Big-3 in the 2022 Australian Open winning his 21st last year. Djokovic, deported, watched his rival go ahead on TV. A year later, the same venue, the same trophy, it now has Nole's name yet again.
After cruising through in the first set, Djokovic saw things slipping momentarily in the second set. He had to save a set point on his serve before forcing a tiebreaker. In the third set, Stef once again started strongly but couldn't hold the level. With yet another tiebreaker at hand, Djokovic served with three championship points at hand.
Tsitsipas managed to defend two but the third time was the charm for Nole. With the win, he now rises back to World No. 1. He had lost the rank last year due to the deportation drama. Aussies that berated him last year were heard chanting his name this year as he has now won four titles in his last four appearances at the tournament.
Related: WATCH: An emotional Novak Djokovic breaks down hugging his mother DIjana after winning his 10th Australian Open title
Feats achieved by Novak Djokovic after winning the Australian Open 2023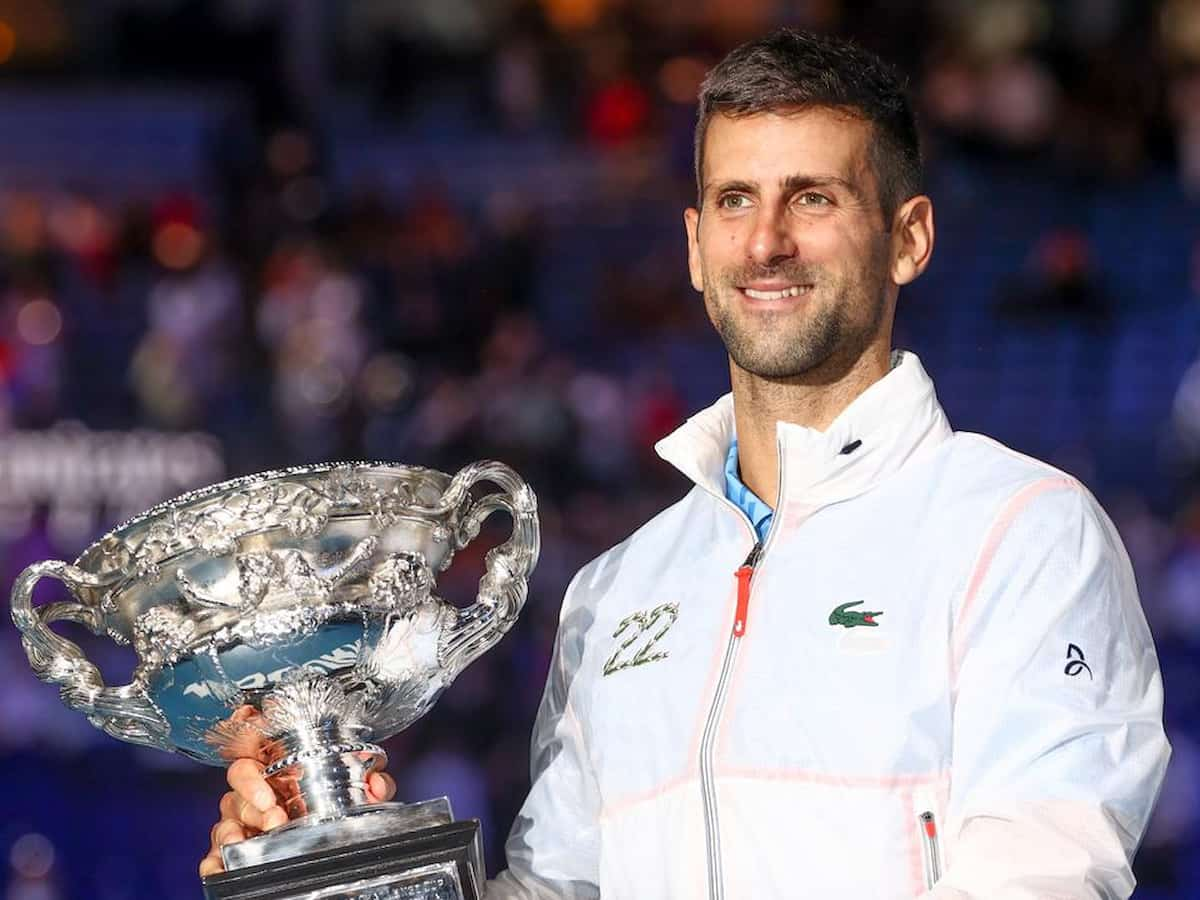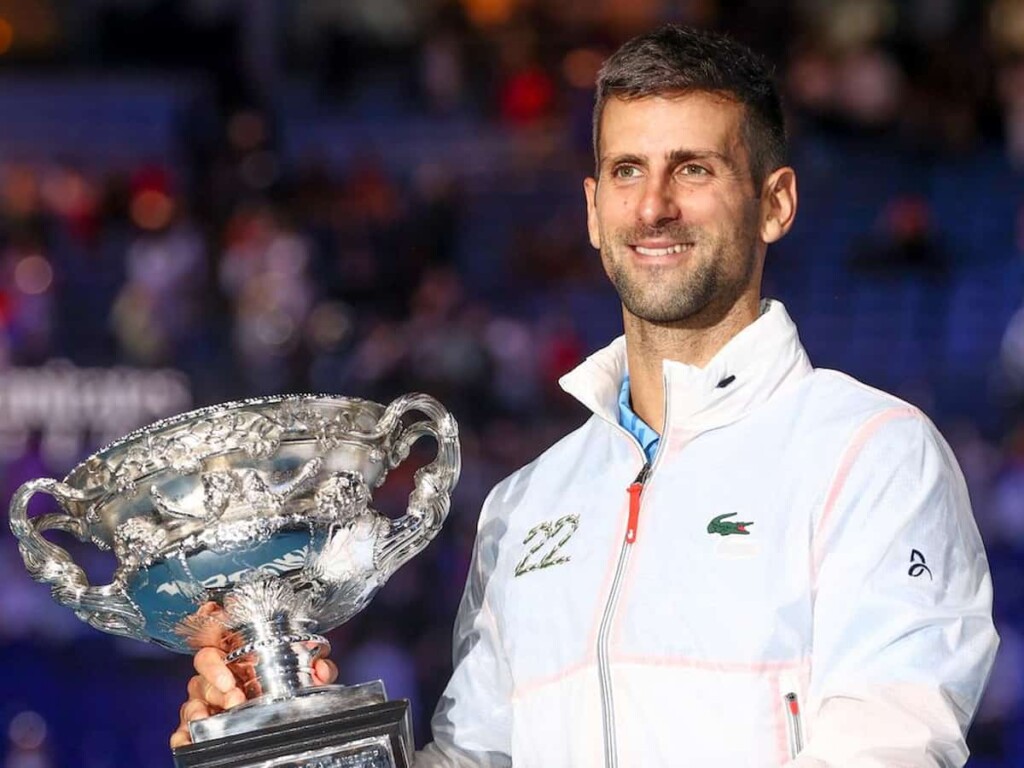 Everything that Novak Djokovic touches, becomes Gold. Every match that he plays, he forces updation in the record book. Today was no different. With a rise back to the World No. 1, the 10th Australian Open title, and the 22nd Major title, these are just the top of a long list of records that he broke tonight.
Novak Djokovic is now tied on the top spot alongside Rafael Nadal for the most Grand Slam singles titles (22) won by any man.
He is now the fifth player in history to own 22 Majors. Margaret Court (24), Serena Williams (23), Steffi Graf (22), and Nadal are the other four.
Nole rises back to World No. 1 starting his record-extending 374th week as the top-ranked male. He is now four weeks shy of matching Steffi Graf's all-time record of 378 weeks.
Djokovic is now the third oldest player to win a Grand Slam singles title. Ken Rosewall (won the 1971 Australian Open aged 36 years 73 days and the 1972 Australian Open aged 37 years 72 days) and Roger Federer (won the 2018 Australian Open aged 36 years 173 days) are the other two.
Novak Djokovic overtakes Roger Federer for the span between his first and latest Major title. Federer had 5320 days between his 2003 Wimbledon and the 2018 Australian Open. Djokovic now has 5467 days between his 2008 Australian Open and 2023 Australian Open titles.
Novak Djokovic with his 67 hardcourt titles closes the gap to Roger Federer who leads with 71 titles on hardcourts.
Novak Djokovic overtakes Rafael Nadal for most ATP titles with the Serb on 93 and the Spaniard on 92. Next up is Ivan Lendl with 94.
Djokovic has 89 main draw wins at the Australian Open and becomes the fifth male player with the joint-most wins in a single Grand Slam tournament in the Open Era equalling Roger Federer (89 wins at the US Open).
Novak Djokovic overtakes Martina Navratilova's 9 Wimbledon titles to occupy the third spot on the list for most titles won at a single Major. Margaret Court with 11 Australian Open titles and Rafael Nadal with 14 French Open titles are the only ones ahead of Nole.
Novak Djokovic is the only man to have won 4 Australian Open titles since celebrating 30th birthday.
The Serb now extends his unbeaten record at Australian Open to 28-0 having overtaken Andre Agassi who won 26 consecutive matches from 2000 to 2004.
Djokovic is now undefeated in Australia for 40 matches and counting.
Continue Reading:
"He has believed in me before anyone else did," Elena Rybakina backs her coach, Stefano Vukov, after the rumors about his 'Improper' coaching at the Australian Open
"Greatest that has ever held a tennis racket," Stefanos Tsitsipas heaps praise on Novak Djokovic despite losing the Australian Open final