Swedish golfer Ludvig Aberg was appreciative of professional tennis player Novak Djokovic's support at the Ryder Cup as he called the Serb the 'GOAT' of all time. The GOAT of tennis debate has been an integral part of the tennis world for the past few years, and many professionals, in and outside of the tour have often established their belief on the topic.
Following the Serb's participation at the Ryder Cup all-star match. He was accompanied by the likes of Gareth Bale and Formula 1 driver Carlos Sainz. Following his participation at the event, Djokovic stayed back to support Ludvig Aberg at the Ryder Cup match. According to the Swede, he had received immense support from Novak Djokovic.
The Ryder Cup is a golf tournament which sees the contest between two teams- Europe and the United States. According to Aberg, Djokovic was eagerly showing his support for the European team. "I got a high five from him at the end of the round and that was pretty cool and really special. Obviously he is the GOAT of tennis and to see him supporting us, I think everyone really appreciated, " said the Swedish golfer.
The 24-time Grand Slam champion has always been central to the Greatest of All Time debate. In the race for the title of GOAT, he is accompanied by the rest of the Big 3, Roger Federer and Rafael Nadal. While all three players have made incredible contributions to the sport, Djokovic has been one step ahead of the rest in terms of numbers. He is the only male player in tennis history to win 24 Grand Slam titles.
Related: WTA China Open 2023: Elena Rybakina vs. Qinwen Zheng Live Stream, Match Timings, Prediction, and Preview
Novak Djokovic makes an appearance at the Ryder Cup all-star match
The 24-time Grand Slam champion might be on a break from tennis. However, still manages to keep himself busy. Following his Davis Cup success, the Serb has graced the Ruder Cup all-star match, accompanied by many other sporting greats.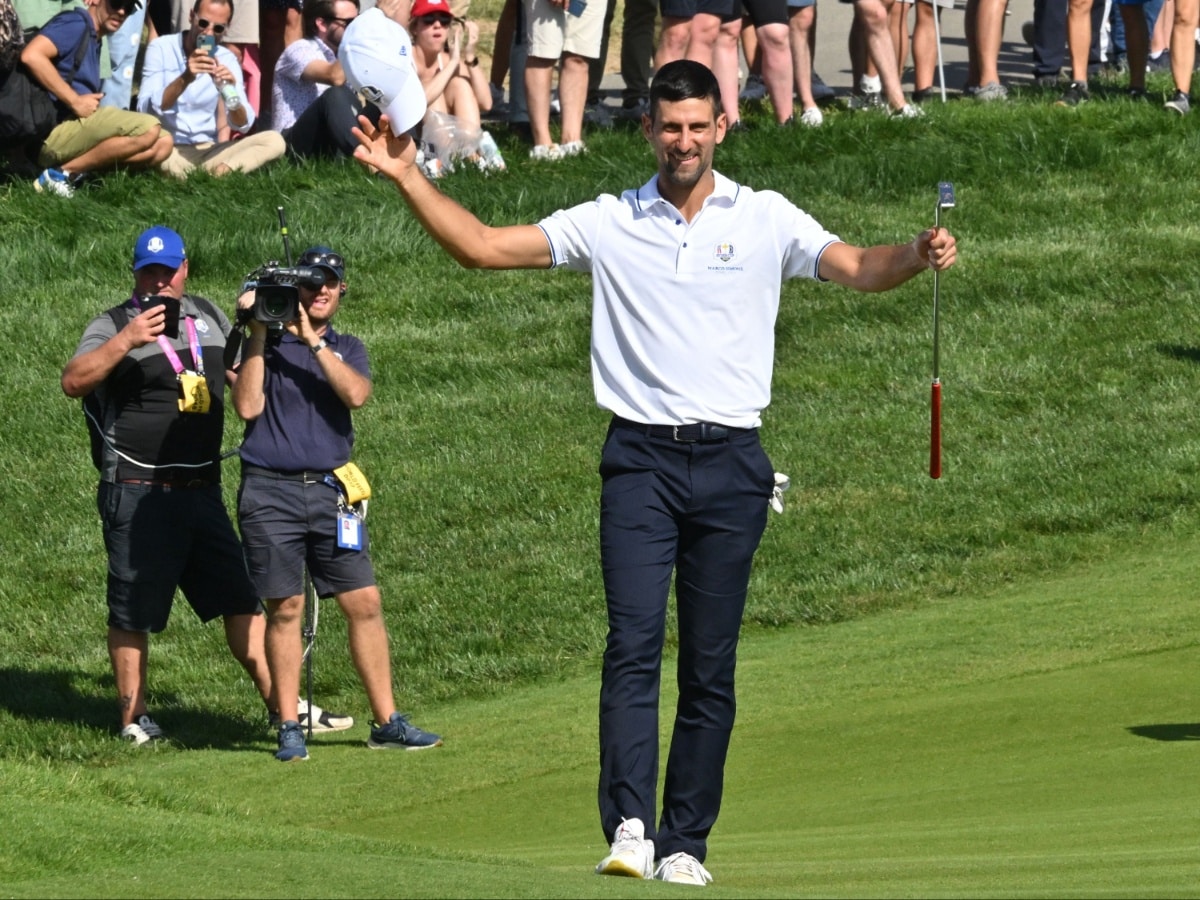 In the golf event, Novak Djokovic put his golfing skills on display. Along with his were stars from other fields, like Gareth Bale and Carlos Sainz. After his historic victory at the US Open 2023 and a surge back to the top of the rankings, Novak Djokovic is enjoying his well-earned break golfing.
The Serb has won the title at three Grand Slam titles in 2023. With the exception of Carlos Alcaraz winning the Wimbledon championship, the Serb has managed to pocket all of the major trophies. This consistent performance by the World No.1 has earned him a comfortable lead at the ranking table.
In case you missed it:
Do follow us on: Facebook | Instagram | Twitter
Follow FirstSportz on WhatsApp Channel