Nick Kyrgios always had a bad-boy persona in tennis. It is primarily because he gets irritated by the slightest of things, but mostly he creates issues to get irritated on his own. He often unloads on the umpires, argues with their calls, and even tries to bully them at times. Line judges and opponents as well are the subject of his mumblings and sarcasm. It seems like he loves chaos and thrives in it, as evident from his third-round match against Stefanos Tsitsipas. He was able to get under Stef's skin and ultimately he lost his cool and lost to Kyrgios.
Pat Cash, the former Wimbledon champion and a fellow Australian had heavily criticized Kyrgios's actions in his match against Tsitsipas. He said that the Aussie brought disgrace and shame to the sport by diminishing the level of the match and creating a toxic environment during the match. He even said that Kyrgios's manipulation and bullying of umpires and line judges could be even termed cheating. Cash didn't hold back in his criticism of Kyrgios's disgraceful behavior at Wimbledon. Piers Morgan, a British broadcaster and TV personality also discussed Nick Kyrgios on his show.
Also Read: "Listen Rafa sing and Adele play tennis" Iga Swiatek chooses a funny swap in response to a tricky question
Nick Kyrgios gets heavily bombarded on the Piers Morgan Show.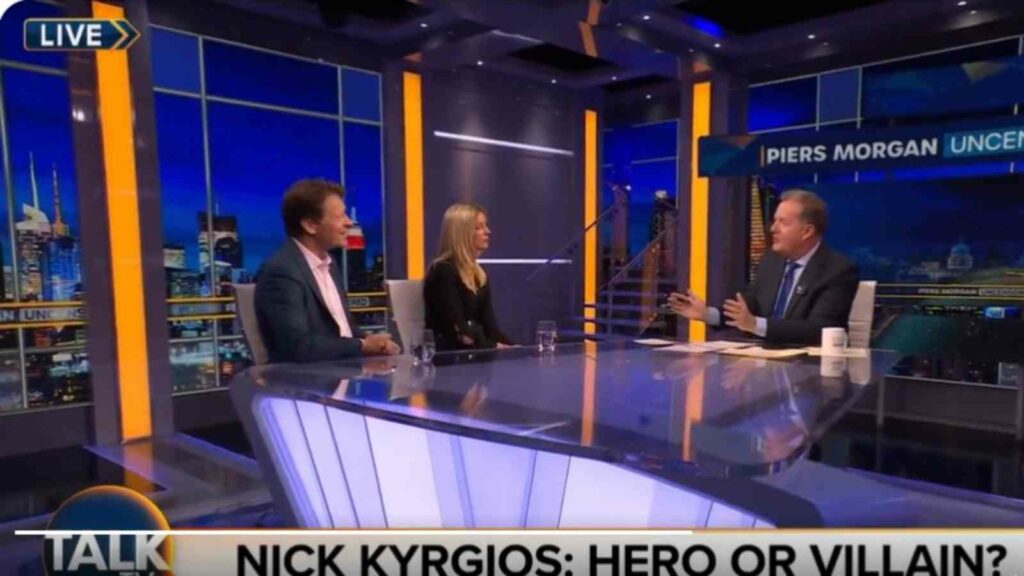 On the Piers Morgan Uncensored, Morgan, political journalist Ava Santina and Richard Tice discussed Pat Cash's statement and their general opinion on Nick Kyrgios. Ava said: "It's disgraceful. It's not even about tennis. Just as a man, I would be humiliated if I saw anyone I knew in my life acting like that, it's utterly disgraceful. What bothers me about it that Serena Williams in 2018 at the US Open, she was called hysterical because she got upset when she lost her match. She broke her tennis racquet, fine she was angry! But why aren't we calling him hysterical and why aren't we calling him the baby he is."
They also talked about how Nick Kyrgios uses this to get fired up and as a tool in his arsenal, but it hasn't been that effective. Richard Said: "It's not tennis, it's not Wimbledon. But in a sense, there's a chunk of the crowd that loves a villain." They also compared Nick's antics with John McEnroe's tantrums but they also highlighted the fact that Kyrgios is not remotely as successful as McEnroe was in his tennis career. Even though Richard felt that Kyrgios might be able to become a more tolerable person in 20 years, Piers disagreed and he said: "I'm going on Friday[in the Wimbledon semifinal] and he gets knocked out in front of me and the last sight he would have is me waving goodbye"
Also Read: Wimbledon 2022: Order of play for Day 10 Wednesday, 6th July 2022
Also Read: Wimbledon turns a blind eye to the charges of Nick Kyrgios assaulting his girlfriend
Follow our page FirstSportz Tennis for the latest updates