It was not too long ago when Novak Djokovic's father made a comment that went viral in the tennis world. "I don't know why Roger Federer is still playing; he is already 34," he had said. Little did anyone know that Djokovic himself would surpass that milestone and continue to thrive in the world of tennis as he turned 36, becoming one of the most dominant forces the sport has ever seen.
When Djokovic's father, Srdjan Djokovic, made that comment, it sparked a debate among tennis enthusiasts and pundits. Many questioned Federer's decision to keep playing at an age considered relatively late for an athlete. However, Djokovic's journey since then has been nothing short of extraordinary, proving that age is merely a number when it comes to the pursuit of greatness.
As Djokovic is in his 36, it is an opportune moment to reflect on his evolution as a player and the unwavering determination that has propelled him to the pinnacle of the sport. From his early days, Djokovic displayed exceptional talent and ambition, showcasing the potential for greatness. He worked tirelessly to refine his skills, improve his physical fitness, and strengthen his mental resilience.
Throughout his career, Djokovic has encountered his fair share of challenges, setbacks, and doubts. However, it is his ability to transform adversity into fuel for success that sets him apart. Instead of succumbing to the limitations of age, Djokovic embraced it as an opportunity to push himself further, constantly seeking improvements in his game and maintaining an insatiable hunger for victory.
Also Read: Patrick Mouratoglou backs Simona Halep as he presses the ITIA to stop harassing the two-time Grand Slam champion
Roger Federer and Novak Djokovic: Two Titans Redefining Tennis Excellence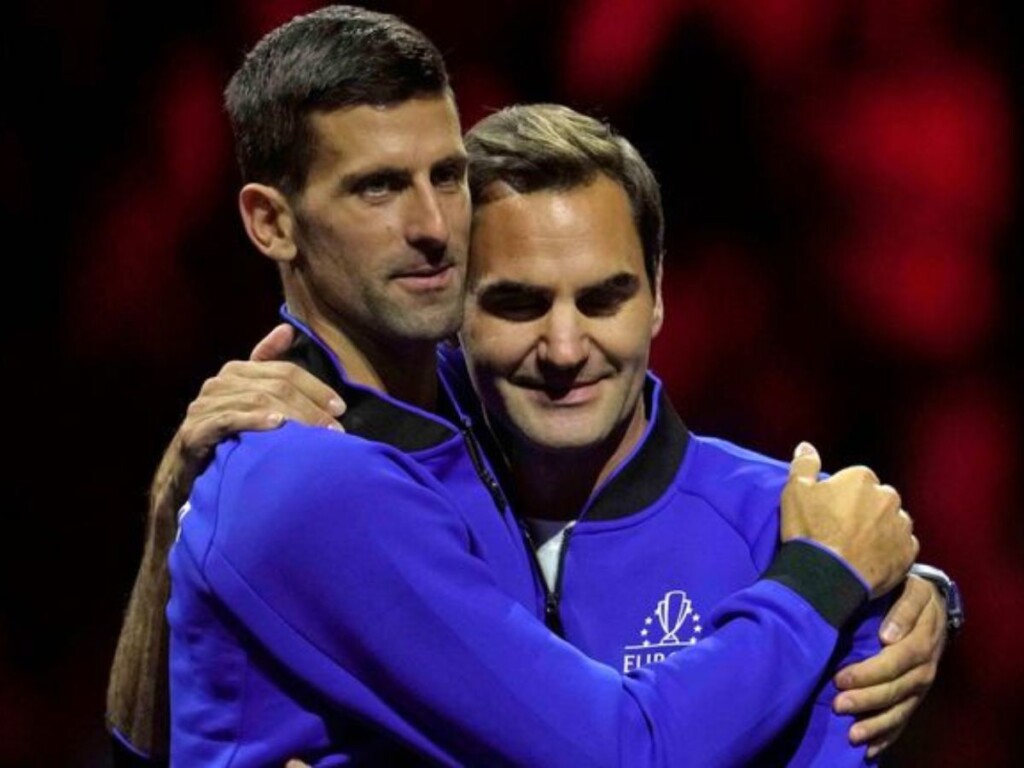 In the annals of tennis history, few names shine as brightly as Roger Federer and Novak Djokovic. These two remarkable athletes have left an indelible mark on the world of tennis, captivating fans and redefining the boundaries of excellence in the sport. Let's explore the extraordinary contributions of Federer and Djokovic, highlighting their unique styles, records, and lasting legacies.
Roger Federer, the Swiss maestro, brought elegance and grace to the tennis court. With his fluid strokes, unparalleled shot-making ability, and effortless movement, Federer captured the hearts of fans around the globe.
His exceptional versatility across all surfaces, particularly his dominance on grass, earned him the reputation of being one of the greatest players of all time. Federer's relentless pursuit of perfection and his unwavering sportsmanship has endeared him to both peers and fans, making him a true ambassador for the sport.
On the other hand, Novak Djokovic, the Serbian powerhouse, has brought a unique blend of athleticism, mental resilience, and unparalleled consistency to the court. Djokovic's unrivaled ability to retrieve seemingly impossible shots, coupled with his exceptional return of serve, has established him as one of the greatest defensive players in tennis history. His unyielding determination and unwavering self-belief have propelled him to numerous Grand Slam titles, including multiple Australian Open triumphs.
Both Federer and Djokovic have been instrumental in shaping the modern era of tennis. Their captivating rivalry, along with their battles against other tennis greats like Rafael Nadal, has provided fans with unforgettable moments and epic matches that will be cherished for generations. Their duels on the grandest stages of tennis, such as Wimbledon and the Australian Open, have become the stuff of legends, etching their names in tennis folklore.
In case you missed it: