Novak Djokovic, considered by many as the greatest returner of tennis ball, has been acclaimed as the best of all time in terms of two-handed backhands by Serena Williams' former coach Rick Macci. Williams' childhood coach took to social media to praise the world no.1 for his game on the backhand side.
"The best 2 handed backhand of all time is Novak Djokovic.The ball hits the String but it seems like the ball is on a String because Biomechanically he does the PULL/PUSH method which is best friends with Mr. Control and hangs out a lot with MR. POWER," Macci shared on the social media site 'X'. Rick praised Djokovic's textbook technique of playing the shot saying that he mastered the art of combining aggressiveness and control of the shot in order to curb unforced errors.
Macci has often advocated the push/pull method of playing backhand as the optimal option for playing the shot bio-mechanically. According to this technique, the pull of the dominant hand is helped by the push of the non-dominant hand, helping generate more power as compared to the one-handed backhand.
Djokovic's backhand has often been praised for its laser precision in finding the line in crunch situations. A rhythmic and coordinated piece of artistry, Djokovic's backhand is a true powerhouse. His childhood coaches convinced him to hit his backhand with two hands instead of the single hand used by his idol, Pete Sampras.
Keep Exploring : WATCH: Novak Djokovic gets flooded by fans for photos as he attends Red Star's Euroleague debut
Novak Djokovic keen on keeping his world no.1 title as he looks to return at the Paris Masters
24-time Grand Slam Champion Novak Djokovic and world no.2 Carlos Alcaraz have shared the top-2 spot in the ATP rankings over the last 2 years. The Serb regained the top spot from the Spaniard after his historic title win at the 2023 US Open championship. Talking to Eurosport, the 36-year-old expressed his desire to finish as the year-end world no.1 for a record-extending 8th time.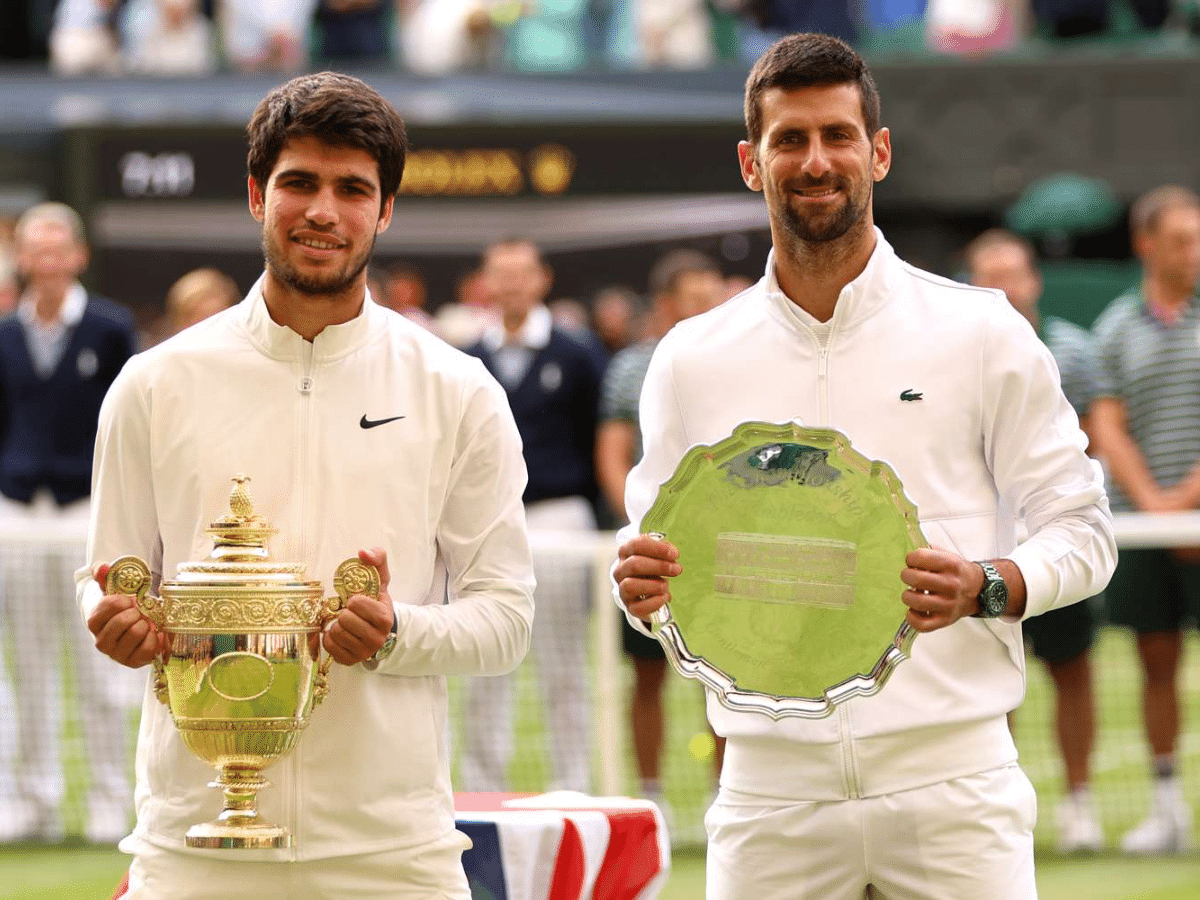 Earlier Djokovic announced that he'd return to the tour at the Paris Masters, starting 28th October. Novak has won the tournament a record 6 times. In the last edition of the tournament, in 2022, he was defeated by the Norwegian Holger Rune in a close 3-setter.
Djokovic has already sealed his spot in the ATP Finals to be played in Turin, Italy. The Serb has won the year-end championship a joint record 6 times, alongside Roger Federer.
In case you missed it :